Man Who Cheated More Than 100 Women & Extorted Money Got Arrested !!
Written by Dhiwaharan Published on Apr 27, 2020 | 10:50 AM IST | 293
Follow Us
Comments: 0
A 26 year old youth from Nagercoil has been arrested for betraying more than 100 girls in the name of love. He mostly targeted young doctors and medical students and reportedly shot intimate videos of them to extort money from them. Being an unemployed, Kasi alias Suji finished his college studies and extorted lakhs of rupees from women so far.
The case, which is similar to the Pollachi rape case which shook the nation last year, came to light when one of the victim lodged an online complaint with the Kanyakumari superintendent of Police on Thursday night. Kasi reportedly made girls fall for him through social media with the help of at least four men. Pretending to be a businessman or a pilot trainee or a lawyer, Kasi would approach girls through social media. He had several accounts in social media platforms such as Instagram and Facebook.
After befriending with them, Kasi would send them his gym workout videos and photographs. After meeting them in person, he would take intimate videos and photographs, ofter without their knowledge. He even took screenshots of intimate video chats of women who he couldn't meet.
Reports suggests that Kasi had threatened to upload their photos and videos in social media if they refuse to give money. He uploaded few of such details of the women who refused to give him money. Talking to the media, Kanyakumari SP N Sreenath said "In most cases, the women did not come forward in the fear of being exposed by the accused. More than 100 girls and women many have been exploited by Kasi. Most of the women are in Chennai and many of them are doctors"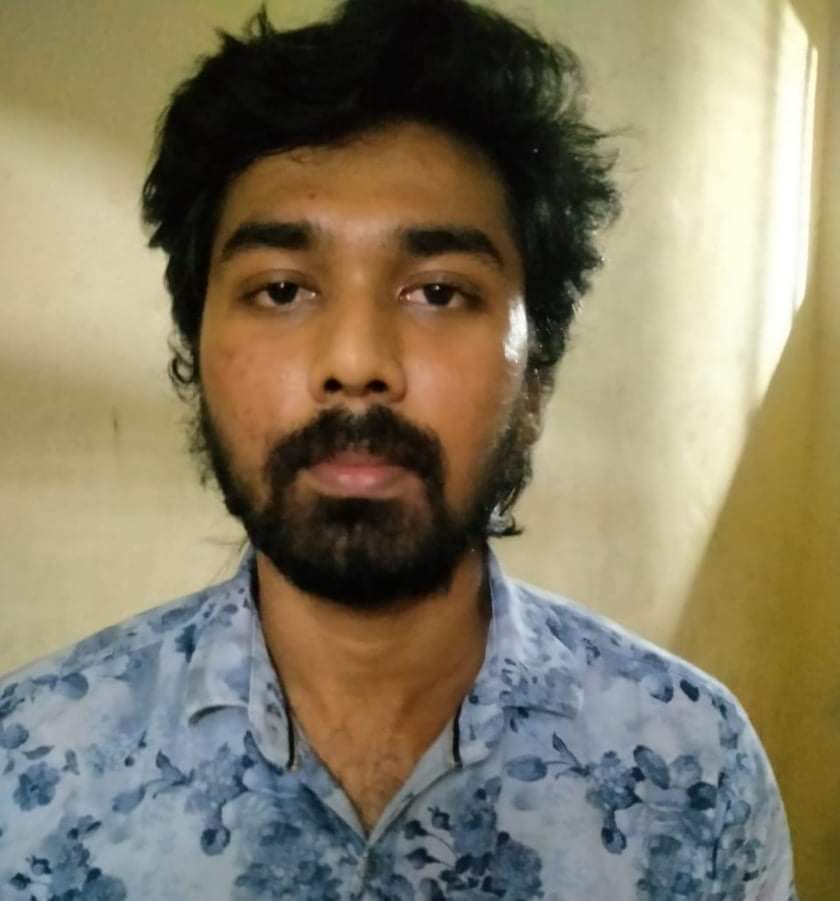 After receiving an online complaint on Thursday night from a medical student in Chennai, Kasi was arrested on Friday. A team led by Nagercoil All Police Station Inspector Santhakumari made the arrest. SP N Sreenath said that his cell phones, hardiscs were confisticated from the house of the accused. Sreenath asked the victims to reach him directly on his mobile number "9498111103" to make a complaint. "Victims can also make complaints against culprits through text message form. Strictest action will be taken against the culprits and the identity of the complainants will be kept secret" he said.
Here's the press release of Kanyakumari police regarding the case :
April 26, 2020
Kasi had been cheating low profile girls from Kanyakumari and high profile girls from Chennai over the last six years, the initial investigation had revealed. "The complainant alone had lost Rs.7 lakh to the accused" the police said according to The Hindu.
Source : Vendhar TV
It is notable that the guy released a video years ago blaming girls for becoming victims for sexual harassment. Singer Chinmayi who is known for raising voice for the victims of sexual harassment had warned girls of him in her social media accounts.
So many women on Instagram and I remember raising complaints about this guy. Finally this man is in jail. pic.twitter.com/pmEjUs3QJX

— Chinmayi Sripaada (@Chinmayi) April 24, 2020