Udayanidhi Stalin is an Indian film producer and actor, who has worked on Tamil-language films. He entered the film industry as a film producer and distributor with his production studio, Red Giant Movies, and made films including Kuruvi (2008), Aadhavan (2009) and Manmadan Ambu (2010). He subsequently made his debut as an actor through the romantic comedy, Oru Kal Oru Kannadi (2012), and has since continued producing and starring in his own films.
Stalin had initially featured in a cameo appearance as an actor in Aadhavan, while turning down the opportunity to feature as an actor in Pandiraj's village drama, Vamsam (2010), fearing he would not suit the role. In 2012, Stalin debuted as a lead actor in M.Rajesh's romantic comedy Oru Kal Oru Kannadi (2012), co-starring with Hansika Mothwani and Santhanam. Stalin received positive reviews for his performance of an unemployed youth.
[wp_ad_camp_1]
The success of Oru Kal Oru Kannadi prompted Stalin to continue acting and he appeared in Ithu Kathirvelan Kadhal (2014) and Nanbenda (2015), both films featuring him opposite Nayantara. He worked on Gethu (2016), with Amy Jackson and then performed in the courtroom drama Manithan (2016), with Hansika Mothwani, a remake of the Hindi film Jolly LLB.
Several of his relatives of him have been actively involved in politics and Tamil cinema since the 1960s. His cousins Arulnithi and Dayanidhi Azhagiri are an actor and producer, respectively. He is married to Kiruthiga, who heads the lifestyle magazine Inbox 1305; she also directed the film Vanakkam Chennai (2013) for Red Giant Movies. Udhayanidhi Stalin is the son of former Deputy Chief Minister of Tamil Nadu M.K Stalin and the grandson of former Chief Minister of Tamil Nadu late M.Karunanithi.
[wp_ad_camp_1]
The actor has been very active on social media platforms where he often seen interacting with his followers. In one such incident he responded to one of his fan's post where he shared the picture's of Stalin helping the Gaja Cyclone affected victims.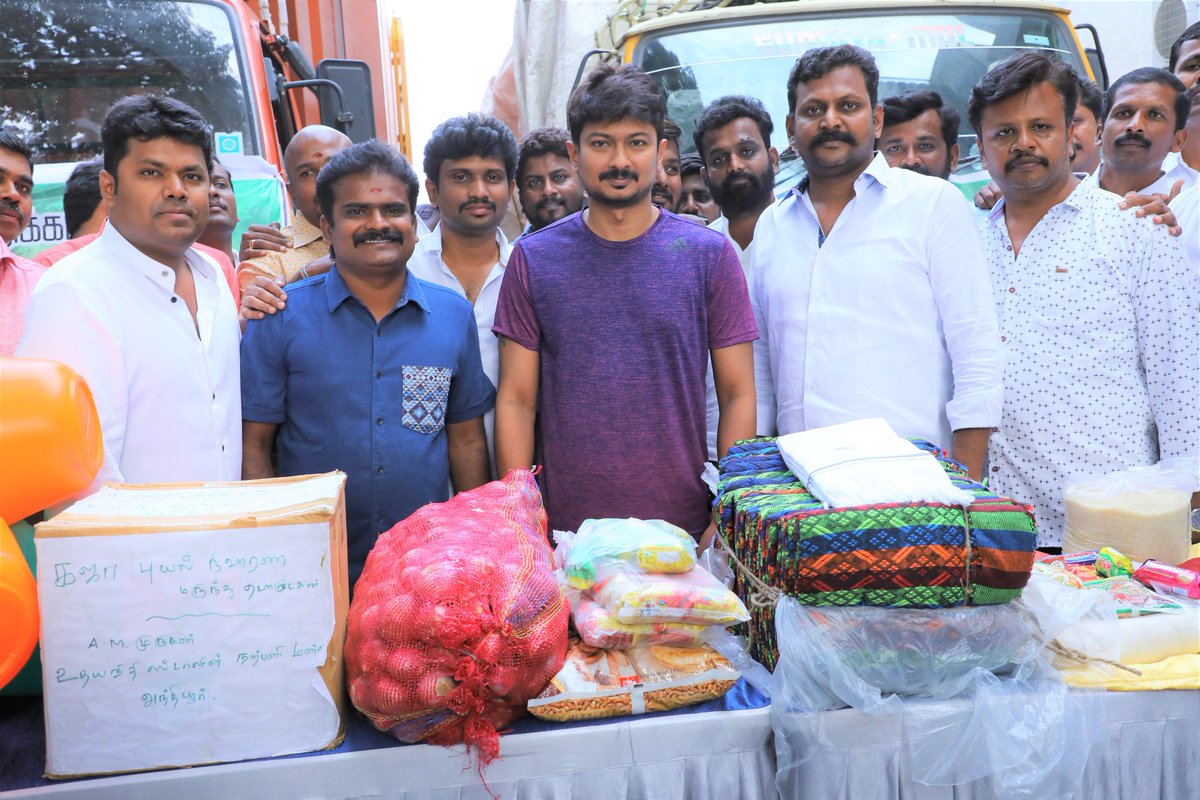 The fan added  "On behalf of Kovai, Tripur, Erode, Madurai, Neelagiri, Karur Udhayanithi Fans club, the relief materials has been provided to the cyclone affected victims. Udhaynithi thanked the council members."
கஜா புயலால் பாதிக்கப்பட்ட மக்களுக்கு கோவை, ஈரோடு ,திருப்பூர் ,கரூர்,மதுரை , நீலகிரி உதயநிதி ஸ்டாலின் ரசிகர் நற்பணி மன்றம் சார்பாக நிவாரண பொருட்கள் அனுப்பிவைக்கப்பட்டது,மன்ற தோழர்களுக்கு உதயநிதி ஸ்டாலின் நன்றி தெரிவித்தார் @Udhaystalin @Anbil_Mahesh @anbilRaja @babu2577 pic.twitter.com/V3Kr4SEPFl

— irugurudhayaboopathi (@covaiboopathi) November 23, 2018
On seeing this post Udhaynithi Stalin shared the post in his official twitter account with applaud emojis.
— Udhay (@Udhaystalin) November 23, 2018
For this post a twitter user mocked Udhaynithi Stalin by asking "Yov @Udhaystalin unaku fanslam iruka…" (Do you have fans and all??)
Yov @Udhaystalin unaku fanslam iruka…😁

— Minna🔥 (@its_Minnaminhaj) November 23, 2018
Generally people who are involved in politics and cinema would not mind these kind of negative trolls. But to the contradiction, Udhaynithi took efforts to reply to this user. He reply to the troller read "Fans laam illa nanba.. நற்பணி செய்ய எப்பொழுதும் தயாராக இருக்கும் நண்பர்கள் !" with laughing emoji. (They are not fans my friend. They are my friends who are always ready to do Good service)
Fans laam illa nanba.. நற்பணி செய்ய எப்பொழுதும் தயாராக இருக்கும் நண்பர்கள் ! 😁 https://t.co/5CupHekFiu

— Udhay (@Udhaystalin) November 23, 2018
This reply form the actor received many applause as he did not have any compulsion to reply to those trolls.  Check out some of the reactions he received :
மரியாதை இல்லாமல் கேட்பவரிடம்👊 மரியாதையாக பதில் சொல்பவர்💪

— arun (@rockersarun) November 24, 2018
சிறப்பான பதில்…
கிண்டல் பன்னின நண்பர் இருக்காரா இல்லை அவமானத்தில் ஏதாவது செய்துகிட்டாரான்னு பாருங்க

— V Rajavelu Raja (@Rajamalarvelu) November 24, 2018
தம்பி Minna உங்கள் முகத்தை கூட உங்களால் திருப்பி பார்க்க முடியவில்லை …புறம்முதுகு காட்டி நிற்க்கின்றாய் ..நீங்களாம் கேள்வி கேட்கலாமா…

— ஒரத்தநாடு சிலம்பரசன் (@Silamba98038521) November 24, 2018
Good bro Pls cinema la acting continue panuga Manithan,Nimir nalla movies panuga

— Local Boy😎 (@LocalBo91059863) November 24, 2018
[wp_ad_camp_1]
அப்படி என்றால் உங்களின் சொத்துகள் அனைத்தும் விற்று உங்கள் திமுகழகத்தின் ஏழை உடன்பிறப்புகளின் வாரிசுகளுக்கு எழுதிவைத்துவிடுங்கள் .நம்புகிறோம். நற்பனி செய்பவர் என்று…சரி

— இராவணன் (@parthibang1509) November 24, 2018
Last seen playing a photographer in Priyadarshan's Nimir, actor-producer Udhayanidhi Stalin's next project Kanne Kalaimanne – named after the popular song from Kamal Haasan's Moondram Pirai. It is also reported that Udhay has replaced Shanthanu Bhagyaraj in Myssikin's upcoming flick.