Man Said "Nothing Wrong In What Madhavi's Father Did" !! Actor Siddharth Replied Him !!
By Dhiwaharan
Hours after the attack on 20-year-old Madhavi and 23-year-old Sandeep in Hyderabad's Erragadda by the girl's father, Madhavi remains in a critical condition post-operatively, doctors addressing the media at Yashoda hospital said on Thursday morning.
[wp_ad_camp_1]
Vascular surgeon Dr Devender Singh, Orthopedic Surgeon Dr Sunil Dachepalli, and Plastic Cosmetic Surgeon Dr Babu J Navula, part of the team who tended to Madhavi, told the media that Madhavi is on ventilator.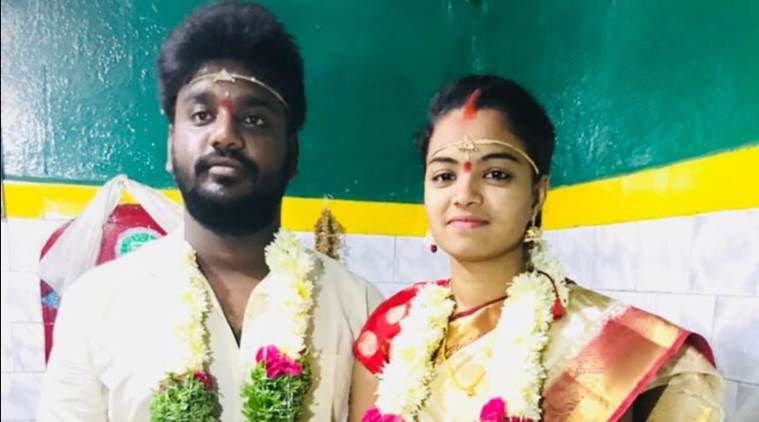 Nerve injuries can be particularly tough, and it has yet to be determined how much recovery can be expected on that front. An estimated time of at least 4-6 weeks was given by doctors for any nerve recovery to take place. They further added that it would take time for proper nerve connections to be re-established, assuming that they healed.
Madhavi married Sandeep at an Arya Samaj temple in Alwal on September 14, though her family was opposed to the same on the grounds of caste and class. Her father, Manoharachari called up his daughter on Wednesday under the pretext of buying them clothes for the wedding reception, and asked her to meet him near Gokul Theatre in Hyderabad. When the couple reached, he took out a sickle and attacked Sandeep, who sustained a deep gash to his cheek, while Madhavi was hacked multiple times and sustained severe injuries.
[wp_ad_camp_1]
Bystanders rushed the couple to Neelima Hospital, where Sandeep was stabilised. Madhavi was taken to Yashoda Hospital for further treatment, where she's currently being monitored by a team of four doctors.
Everyone created agitation against the father who planned the attack, Meanwhile a twitter user named T.S Sudhir said that as far as the occupation of the boy is concerned, Why wouldn't the father feel aggrieved over his daughter's choice?
Here's his tweet :
Violence over intercaste marriages isnt justified. But to look at it only thru the prism of caste is not right. Madhavi's family are goldsmiths, the boy she married works as a parcel boy at a biryani point. Why wdnt the father feel aggrieved over his daughter's choice? #hyderabad

— T S Sudhir (@Iamtssudhir) September 19, 2018
On seeing this tweet, Actor Siddharth one of the prominent actors of Indian films said that the twitter user named T S Sudhir is justifying the murder. Here's his tweet :
I don't know… That would depend on the boy's personality, his dreams, how much he loves the girl and the girls love for him… Just being a parcel boy at a biryani point made the boy a candidate for disapproval? I'm sure you didn't intend to but you're justifying murder. Poor. https://t.co/zPseSRIfZj

— Siddharth (@Actor_Siddharth) September 20, 2018
[wp_ad_camp_1]
C.s Amudhan the director of Tamil Padam 1 & 2 also showed his disappointment towards the tweet. He shocked after seeing the tweet and wrote wrote "What did I just read?"
What did I just read? https://t.co/a0f2mCENyo

— C.S.Amudhan (@csamudhan) September 19, 2018
What do you think on that statement ?? Do you agree ??