MAHAAN : Review & Reactions !!
Dhruv
Karthick Subbaraj
Mahaan
VIkram
1 year ago
By Dhiwaharan
"Mahaan" which marks the first collaboration between Vikram and his son Dhruv got released on Amazon Prime during Thursday night and is receiving reactions from all over the Internet. The film which was directed by Karthick Subbaraj, has an ensemble cast that includes Sanath, Bobby Simha, Simran and others. As soon as the film got released in the OTT platform, audience of online platforms, started reviewing the film through their respective social media handles.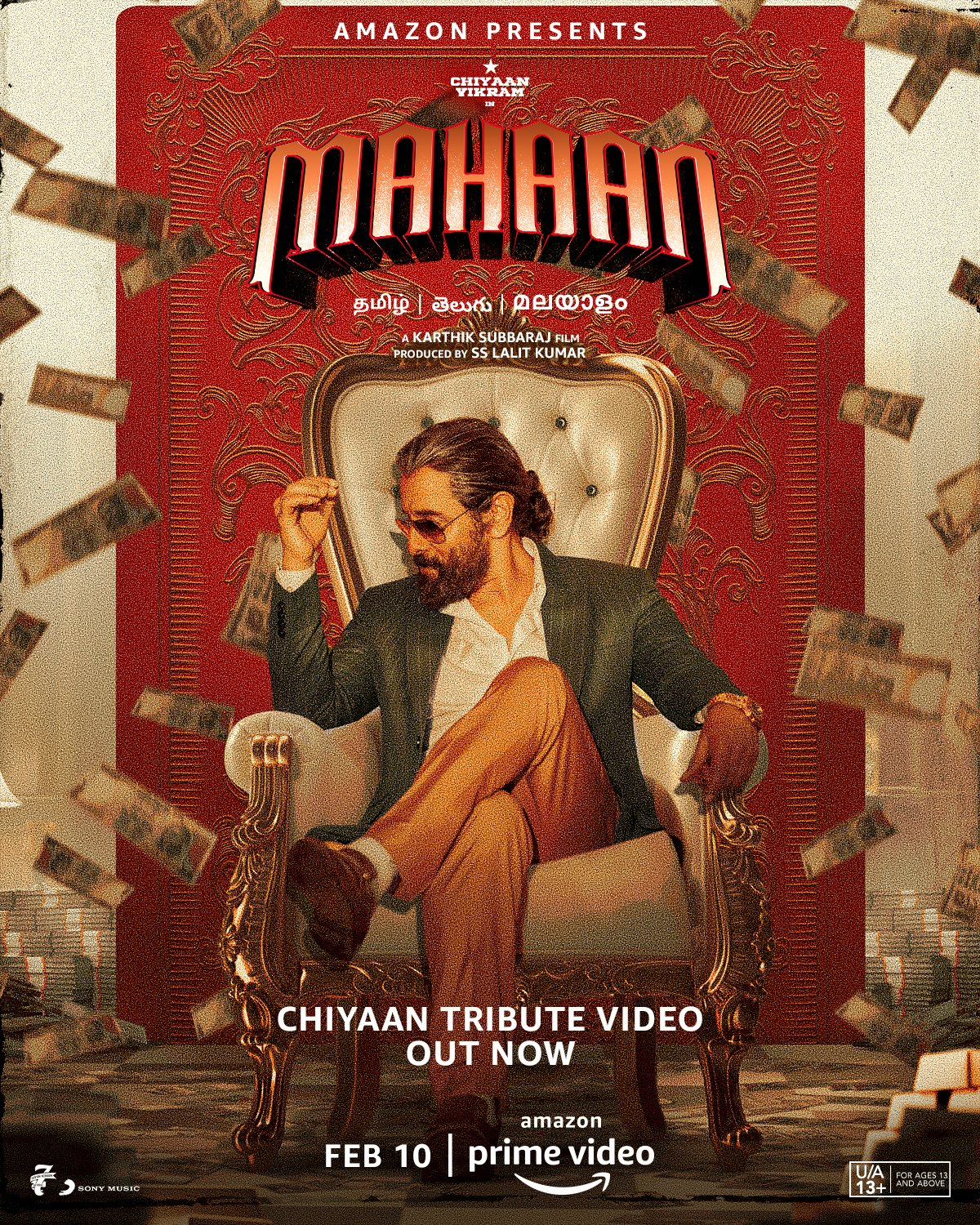 The film's plot revolves around Gandhi Mahaan played by Vikram who desperately wants to lead a life to its fullest, collaborating with his childhood friend Sathyavan played by Bobby Simha to run a alcohol brand, across the state. Gaandhi Mahaan's father wants him to become a "Mahaan" like freedom fighter Gandhi as his roots were struggled for the country's freedom along with the "father of nation".
Living an ordinary life till his 40 years of age, Gandhi Mahaan decides to operate the alcohol factory with his friend Sathyavan and becomes a leading gangster. Life goes well for Gandhi till his son turns up as a special police officer after 20 long years only to take his revenge on his father by destroying his crew. Rest of the film lies on the cat and mouse emotional chase between the father and son duo.
The film released with highest anticipation among fans as Vikram and Dhruv were collaborating for the first time. Vikram's versatility for the coming of age drama is being lauded by fans with many praising Dhruv for the performance he pulled off in his very second film. Despite the film keeps the audience engaged throughout, the hasty screenplay which is not giving details about the bond between the protagonist and other characters makes the film less interesting.
The Karthick Subbarajisque plot twist worked well but it could have given much more excitement if the arcs of the characters were sharper. For instance, Dada, being raised by his mother who follows Gandhi, a freedom fighter who preached non-violence as a powerful weapon, kills people brutally and shows no emotions over it. In fact, Dhruv seemed to have played the role Dada scene for scene, instead of grasping the entire character and delivering it as a whole.
Santhosh Narayanan's music played a huge role in elevating the film's standard and Shreyas Krishna's cinematography worked extremely well and remembered us about the classic Korean Gangster Dramas. Check out some of the reactions that surfaced in Internet for "Mahaan" :
Best review of #Mahaan so far 😂 pic.twitter.com/JZk496z1V7

— Lost Soul (@SoulaceV) February 9, 2022
Mahaan – truely international! Freaking top notch filmmaking ! Biggest surprise was Dhruv !! Mad max !! @karthiksubbaraj at his best again after jigarthanda ! Honestly was suprised !! A big inspiration to write some mad stuff !! Chiyaan & bobby !!just phenomenal !!🔥🔥

— Ashwath Marimuthu (@Dir_Ashwath) February 9, 2022
biriyani la irrukura patta maari irrukan da dhruv intha padathula.

— aspecificarea_bat (@thatvavvalu) February 9, 2022
#Mahaan – #ChiyaanVikram was terrific.🔥esp in fight & emotional Scenes. #DhruvVikram was superb.👌 Simha & sananth-👍 1st half – Decent & 2nd half – KS style avg one. climax-👍. both halves have many draggy scenes.👎 Length 🙁. Yet Father-son duo saves the show.🌟 DECENT WATCH✌️ pic.twitter.com/l8J9WbRksr

— Laxmi Kanth (@iammoviebuff007) February 10, 2022
Hands Down #Mahaan will be a huge come back for KS💥💥 @karthiksubbaraj ❤️❤️

— TJ (@Tj_tananjayan) February 9, 2022
#Mahaan – High on emotion.. #Chiyaan performance and his facial muscles does the rest 🔥🔥🔥.. A karthik subburaj twist in the last 👍. Dhruv voice and dialogue delivery 😔. Technically the best from Karthik Subburaj.. Annachi Happy 👍 A treat to chiyaan fans

— abiram (@abirampushparaj) February 9, 2022
#Mahaan 3/5 Very Good & Engaging First Half Followed By An Average 2nd Half. Chiyaan Mirattal, Dhruv Kalakkal. Liked Sananth's Character. SaNa BGM Sema. Interval Scene 🔥Stunt Scenes Ulti💥2nd Half Could Have Been Better. Decent. One Time Watchable.

— Trendswood (@Trendswoodcom) February 9, 2022
Overall Mahaan was a let down in writing with an interesting plot and a beautiful making, personally loved Sathyan's transition in the story that character deserved a better ending.

— Prabha Rio (@prabh_here) February 9, 2022
Ommale the one take fight sequence was kickass #mahaan 👌👌💥💥💥

— 😎😎 (@Kaushik962) February 9, 2022