Director Atlee's Mersal was a magnum opus that fetched over Rs 200 crore at the box office. The film, which had Vijay in three different looks, spoke about corruption in the medical field. The film courted controversy for criticising Demonetisation and GST.
Part1: Thenandal Studio's PAY ME!!! #mersal #fraud #emptypromises #ethics #honour @VJFansToronto @ThenandalFilms @Hemarukmani1 pic.twitter.com/GShfOGfwsD

— Raman Sharma Magic (@RamanMagic) November 15, 2018
[wp_ad_camp_1]
After over a year since its release, the makers of the film is in the news yet again for not paying a worked who worked for the film. On November, Popular magician Raman Sharma, in a series of tweets, revealed that the producers of Mersal (Thenandal Films) haven't paid him his remuneration yet. The guy who is a magician by profession played a scene from the movie "Mersal" and said that the production house of the film owe him 4 lakh rupees for his work in the movie.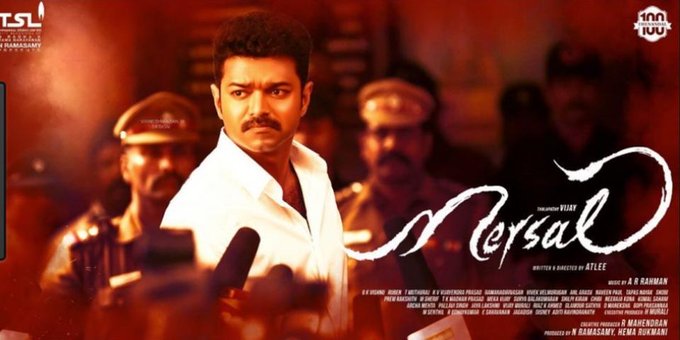 Now in the video he posted today, Raman has said that he came all the way to Chennai from Canada on April 2019, to hire a lawyer and to file a lawsuit against the production house. Raman says that he also met Vijay and Atlee in the sets of BIGIL and he says that hadn't told them about the issue he is having with Thenandal films as he thinks that there is no necessity to drag them into this matter.
WATCH THE VIDEO OF RAMAN HERE :
@ThenandalFilms law suit!! #stillnotpaid #fraud #madrashighcourt @ChennaiTimesTOI @IndiaToday @News18TamilNadu @newsminute @igtamil @news7tamil @VishalKOfficial @tamilfilms_offl @chennaitodaynew @StarCinema pic.twitter.com/kX4qYfT833

— Raman Sharma Magic (@RamanMagic) August 30, 2019
[wp_ad_camp_1]
Raman also added that he met few other people on the sets of BIGIL who worked in "Mersal". He seems to have learnt that they too had not been paid completely yet for working in the film.
Raman says that few people told him that Thenandal producers are not doing well financially since the release of the movie. To prove them wrong, Raman showed an Instagram post of Thenandal chief Hema Rukmani where she posted a picture of herself with a caption saying "Whoever said money cant buy happiness, simply didn't know where to go shopping – Gertrude Stein"
Check out some of the reactions for his video :
தமிழ் சினிமாவின் மானத்தை வாங்குறங்க 😤

— lockie (@nameisloki) August 30, 2019
They have no money bro so dontwaste your more money in the court expenses .leave it 🚶

— வடைங்ண்ணா (@wigvisay) August 30, 2019
vetchikitta da kudukaama irrukaanunga. avanunga kittaye onnum illa da 😂😂

— NKPᴺᴼᴹᵉᵃⁿˢᴺᴼ (@shankar18167840) August 30, 2019
Mersal is a 2017 Indian Tamil-language action thriller film Tamil language action thriller film directed by Atlee. The film stars Vijay portraying three roles alongside Nithya Menon, Samantha Akkineni and Kajal Agarwal. The background score and soundtrack were composed by A. R Rahman, while the cinematography was done by G. K. Vishnu and edited by Ruben.
The film began production in February 2017 with actors Sathyaraj, S.J Surya and Vadivelu amongst others in supporting roles. It is also the 100th production of Thenandal Studios Limited. The film was released worldwide on 18 October 2017, coinciding with Diwali.
[wp_ad_camp_1]
Vijay has been honoured with the Best International Actor Award by the UK-based International Achievement Recognitions Awards (IARA) for this movie. The IARA is not the first international accolade for the Atlee directorial. Mersal also won the Best Foreign Language Film at the 4th edition of the National Film Awards UK 2018 in April.