Madhumitha Getting Thrashed For Cheating In Captaincy Task !! Videos Going Viral !!
CM / Updated: 2019-08-17
16:20 IST
By Dhiwaharan
After creating furore in Abhirami Venkatachalam- Mugen issue during the 2nd week of Bigg Boss show, Madhumitha again getting attention for not so right reasons. Madhumitha featured in the most number of footages in this week as she confronted Kavin, Losliya, Tharshan, Sandy and also Mugen. She also involved in quarrel during the Mugen-Abhirami issue and to our surprise, she even won the captaincy task in the last day of the week which means she is not going to get nominated in the coming week.
[wp_ad_camp_1]
Despite her irrelevant statements in issues and unnecessary arguments with contestants, she was saved in number of times audience for the "Tamil Ponnu" image she created in the initial weeks. Now she is facing the wrath of Bigg Boss audience as she evidently cheated in the "Captaincy" task in the yesterday's episode.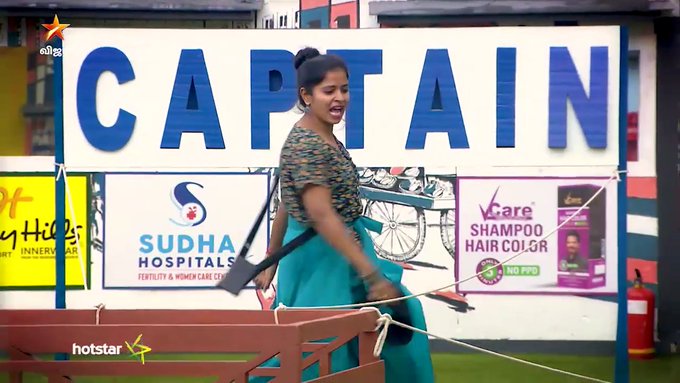 Tharshan, Sherin and Madhumitha contested for the Captaincy task in which they were required to arrange the letters of "CAPTAIN" with a given color by being blindfolded. When Tharshan and Sherin were struggling to add the letters, Madhumitha completed it with ease without much struggle which caused Netizens to take a close look at her activities during the task.
[wp_ad_camp_1]
Madhumitha seems to have cheated by seeing things through the improper blindfold. After winning the task, she said that she won it by following the instructions of Cheran accurately which was not even audible for the audience as many co-contestants shouted during the game. She grabbed her blue coloured "C" from Tharshan who took it accidentally and placed "T" and "P" without much struggle which is nearly impossible for someone who really blindfolded.
Did #madhu Cheated? All clippings in a single video.
Comment pannunga#biggbosstamil #biggbosstamil3 #பிக்பாஸ் #பிக்பாஸ்3 pic.twitter.com/RPuKznuP3n

— Imadh (@MSimath) August 16, 2019
Netizens who caught Madhumitha red handedly sharing the videos of her malpractice with furious captions. "Alien level precision" wrote one of a Twitter user on seeing her performance in the task. Check out some of their reactions here :
Alien level precision pic.twitter.com/h0XPRnHrf9

— Iam (@ilovepeeace) August 16, 2019
the letter "T" too she fixed exactly without an inch of missing

dei enna namma muttal nu nenakirangalaa !! #BiggBossTamil3 pic.twitter.com/mEquVdgPGi

— pandu boss (@pandu_bb) August 16, 2019
Nalike mattum frooti caller of the week enaku kuduthangana. Andha #madhumita va …..#vijaytv #BigBoss3tamil pic.twitter.com/SZP9bUcFSB

— JAMMY🔦 (@jamshey) August 16, 2019
[wp_ad_camp_1]
I felt #Madhumita could see. The times she was struggling looked so fake. Cheater! #BiggBossTamil

— Warrrier (@JunkAddikt) August 17, 2019
#BiggBossTamil3 #BiggBossTamil some folks has commented that #Madhumita cheated today while playing captain task this is not true her secret identity is Tamil ponnu but really she is a supergirl from planet krypton have many powers like X-ray vision

— Indian Troll (@IndianTroll2) August 16, 2019
Yes here is the video showing how well #madhu has cheated just for a captaincy task @vijaytelevision@ikamalhaasanhttps://t.co/XmJYeQvWru

— Isha (@Isha01365568) August 16, 2019
I remembered two days back #Madhumitha said that she will be the first person to go out if the door is open due too adimaiythanam. Why want to be captain now? 🤔🤔🤨 #BiggBossTamil3 en ma ivvalavu scene? pic.twitter.com/lUX6QDPA3P

— Rubini (@RubiniShetty) August 17, 2019
What do you think on this behaviour of Madhumitha ?? Comment your views below !!