Dhanush's "Maaran" Review Pouring In Internet In Meme Form!!
Written by Dhiwaharan Published on Mar 11, 2022 | 01:16 AM IST | 99
Follow Us
Comments: 0
The most awaited "Maaran" released in Hotstar at 5PM on Friday with much expectations among fans. The film which was directed by Karthik Naren of "Dhuruvangal 16" fame, was bankrolled by ace production company Sathyajothi films. Starring Dhanush and Malavika Mohanan in the lead roles, the film included an ensemble cast which includes Smruthi Venkat, Ramki, Samuthrakani, Ameer and others.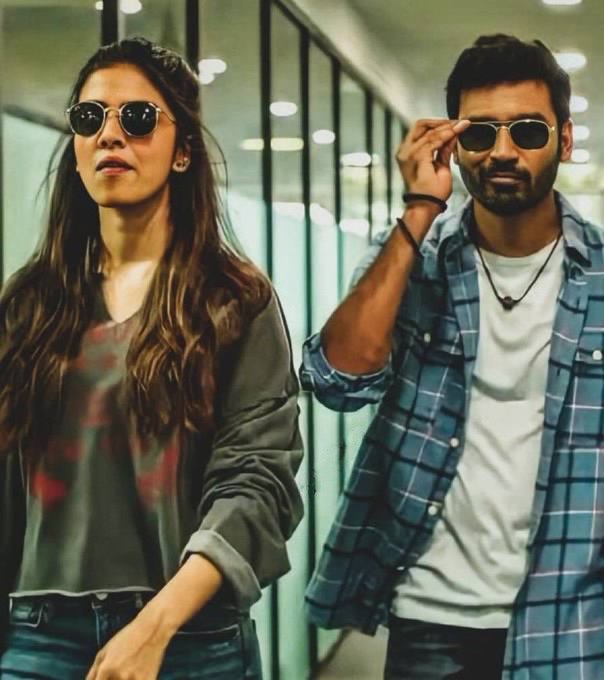 Plot of "Maaran" revolves around Dhanush who played the role of Maaran, an investigative journalist, son of a senior journalist. After the demise of his father and mother, Maaran takes care of his sister on his own and raises her with love and affection. He also grows a romantic relationship with Thaara, his colleague.
At one point, Dhanush loses his sister who means to the world to him and the rest of the film lies on who killed the protagonist's sister and on whether he found the killer or not. Despite of the much expectations created by the the new combo of Dhanush and Karthik Naren, the film seemed to have disappointed the fans which is evident through the memes and comments that are surfacing in online platforms.
A fan wondered how a 40 year experienced production house and 20 year experienced Actor delivered such a project which lacks interesting screenplay and engaging story. Another fan pointed out the news he read about Kerala writers being hired to help Karthick Naren in the pre production of "Maaran".
Check out some of the reactions that " Maaran" garnered as soon as getting released :
நாற்பது வருட அனுபவம் உள்ள தயாரிப்பு நிறுவனம், இருபது வருட அனுபவம் உள்ள நடிகர் இணைந்து எடுத்த படம் இவ்வளவு டெப்ளீட்டடாவா இருக்கும்… பட்டாஸ் வந்து தொடரி பரவாயில்லன்னு ஆச்சு. மாறன் வந்து பட்டாஸ் பரவாயில்லன்னு தோண வச்சுது.

— டீ (@teakkadai1) March 11, 2022
#Maaran ku Kerala iruthu writers laam vanthanga nu sonnanga @Karthikravivarm

— Varun (@varusath2003) March 11, 2022
ஏன்டா dream line-upனு fire விடுற அளவுக்கு மாசாமாசம் ஒரு படம் announce பண்றியே? பாக்குற மாதிரி ஒன்னாச்சும் பண்றியா நீ 🙃 😞 pic.twitter.com/O97Zcu78oz

— agirlhasaname (@humandisaster13) March 11, 2022
God knows why Dhanush sir chose to do a dull, boring and below average film like #Maaran. Expected something, got something totally underwhelming. At this point when Dhanush sir is at the level that he's at, it'd be better if he avoids doing such bad movies 🙏 Just my Opinion.

— Ahmed (@ahmedmeeranoffl) March 11, 2022
Enough 🙏🏻 #EtharkkumThuninthavan #RadheShyam #Maaran pic.twitter.com/YvnBWgwCB4

— OHO Memes (@OhoMemes) March 11, 2022
Ellarum
Dhanush ku semma lineup nu pesi pesi eh mothama mudichu vitanga

— Positive Vibes🥳🥳🥳 (@K_arthki) March 11, 2022
Sathyajyothi RN: pic.twitter.com/QJfjKaASyd

— Venba (@paapabutterfly) March 11, 2022
Vetri maaran Tholvi maaran pic.twitter.com/BODaCMbhc8

— kabil (@kabilTee) March 11, 2022
Dhanush thaane accept panirpa to act 😭
Audience don't deserve this https://t.co/xmvKrymNQV

— Vishal (@lahs1v) March 11, 2022
#Maaran Everything about this one is uninspired and just passive! A highly forgettable film!

— Arun Ashok (@arunashokhere) March 11, 2022
Naren Story + D Direction..But idhuku en da Ameer lam 🤣#Maaran

— 改善 (@sasinath07) March 11, 2022
#Maaran – Maalavika Mohanan perfomance appreciation post :

She chewed the chewing gums so well throughout the first half..🔥 what a fantastic chewing.. couldn't even imagine anyone in this character..🌟 pic.twitter.com/fbQVmPJeCX

— Laxmi Kanth (@iammoviebuff007) March 11, 2022
#Maaran 2.25/5 Dhanush & Smruthi Scenes Gud. GVP's Music Sema. Template Story. Predictable Scenes. Weak Screenplay. Flash Back Portion Not Impressive. Ameer Varadhe Konja Neram But Adhuke Naraiya Bodydouble Shots. Below Average…

— Trendswood (@Trendswoodcom) March 11, 2022
Once again proved without VettriMaran dhanush is 👎#Maaran worst https://t.co/4OEDDaCluk#Beast @actorvijay

— G⋆U⋆R⋆Uッ (@Guruoffcl) March 11, 2022
Have you watched the film ?? Comment your views !!