"Maaran 2 Eppo??" – Fan Trolled Karthick Naren!! Here's How The Filmmaker Replied
Written by Dhiwaharan Published on Apr 27, 2022 | 19:46 PM IST | 61
Follow Us
Comments: 0
Emerging filmmaker Karthick Naren who made "Maaran" with Dhanush, replied to one if his Instagram followers who mocked him by asking about the release of Maaran's sequel. Losing his cool, Naren said that he will make on as soon as the commenter gets a life. The filmmaker also replied to a follower who asked about the release of his "Naragasooran" and to another follower who criticized him based on a recent Instagram story he released post release of "Maaran".
View this post on Instagram
The most awaited "Maaran" released in Hotstar last month with much expectations among fans. The film which was bankrolled by ace production company Sathyajothi films. Starring Dhanush and Malavika Mohanan in the lead roles, the film included an ensemble cast which includes Smruthi Venkat, Ramki, Samuthrakani, Ameer and others.
Plot of "Maaran" revolves around Dhanush who played the role of Maaran, an investigative journalist, son of a senior journalist. After the demise of his father and mother, Maaran takes care of his sister on his own and raises her with love and affection. He also grows a romantic relationship with Thaara, his colleague.
View this post on Instagram
At one point, Dhanush loses his sister who means to the world to him and the rest of the film lies on who killed the protagonist's sister and on whether he found the killer or not. Despite of the much expectations created by the the new combo of Dhanush and Karthik Naren, the film seemed to have disappointed the fans which is evident through the memes and comments that surfaced in online platforms.
Now, Karthick Naren is currently busy making his next film "Nirangal Moondru" with Atharvaa, Sarathkumar and Rahman. Weeks ago, the filmmaker uploaded a picture from the film with a caption saying "Vetri's batcave"
Check out his post below :
View this post on Instagram
Among the thousands of likes and hundreds of comments, a follower came up with a comment asking Karthick about the sequel of Maaran.
Knowing that it is a question asked to him to mock him, Naren replied "As soon as you get a life bruh"
Here's the words exchange between the filmmaker and the Insta user :
Another fan referred to a story uploaded by Karthick Naren on the release day of "Maaran" and said "will this be good or you will manage it by saying "apram solren"?" Replying to him, Naren said "Here is your 2 seconds of validation before you crawl into your fake id where your life belongs bruh"
Here's the screenshot of the story uploaded by Karthick Naren on the release day of Maaran. The filmmaker deleted it as soon as it gone viral enough to make headlines.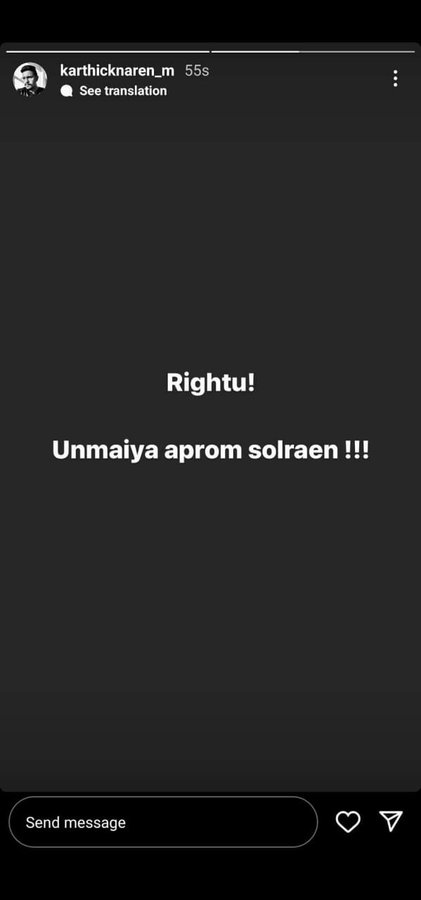 Another fan asked about the release of his "Naragasooran" and the filmmaker replied back saying "Probably the Multiverse version of me knows the answer for this bruh"
On Tuesday, Naren came up with a story in his official Instagram handle, sarcastically requesting Elon Musk to buy his film and release it before he leaves to Mars.