Lyricist Vivek Trying To Unite Vijay, Ajith Fans !! This Will Melt Your Heart For Sure !!
Ajith
Ajithkumar
Fans
Joseph Vijay
Love
Rival
Thalapathy63
Vijay
Viswasam
4 years ago
By Dhiwaharan
Within a short span of time, Vivek has started working with almost all the leading music directors of Tamil cinema including Anirudh, AR Rahman, Yuvan Shankar Raja and Harris Jayaraj.
[wp_ad_camp_1]
Vivek is now the much-sought-after lyricist in K-Town. The young talent made his debut with Siddharth's Enakul Oruvan in 2015, and in a matter of three years, he has become a leading song-writer in the Tamil film industry.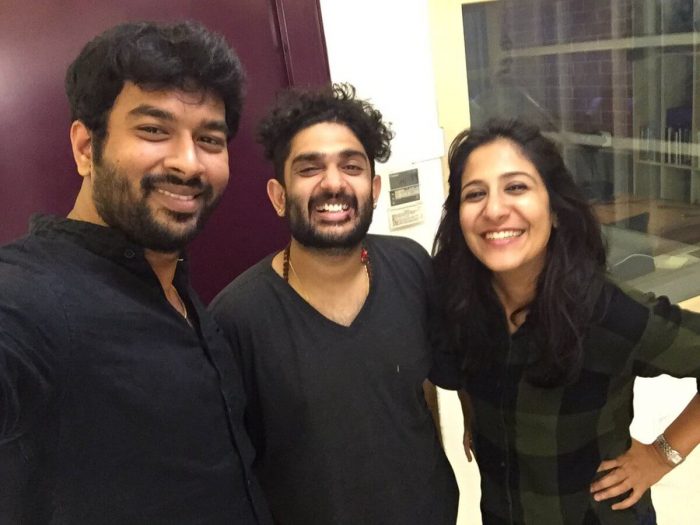 He is being appreciated for his versatility. On the one hand, his songs like Ei Suzhali from Kodi and Ennadee Mayavi Nee from Vada Chennai are being lauded for being poetic; and on the other hand, works like Aaala Poran Tamizhan from Mersal and Marana Mass from Petta are being appreciated for having mass appeal and being emotional.
Other than that the lyricist is so interactive with his followers in social media platforms, especially with the fans of Thalapathy Vijay. Fans of Vijay always poured love on him for being so friendly and responding to almost every of them. To an extent for the first time Vijay fans started fans club for this luckiest Lyricist.
[wp_ad_camp_1]
As he is owning the unconditional love of fans, Vivek decided to use that in agood cause it seems. One tweet from him united many Ajith, Vijay fans yeserday which is now a history.
His tweet said "Name one thing you like most about Thala n three fav movies of his -Only Thalapathy fans must answer"
For this tweet of him many Vijay fans stormed into the comments sections and answered the question appropriately without trolling or hating each other. The love story does not ended there, many Ajith fans replied to Vijay fans and thanked.
Check out some of the comments here :
Anna i m past 25 years vijay fan
I love ajith as an good human being
I like mangatha ,varalaru ,viswasam ,billa ,veeram ,mugavari ,vali ,villain ,attagasam

— baby சேட்டு (@SettuOfficial) January 19, 2019
@Lyricist_Vivek :: I am thalapathy fan for the past 20 years…. I love vijay as an actor and Ajith as a human being.

Ajith's fav movies ,

1) Poo ellam Un vaasam
2) Kandukonden Kandukonden
3) Mugavari

— KATHIRVEL (@kathircsm) January 19, 2019
Varalaru, villan, Mankatha 😍

— ☠Stone 🍺 Cold☠ (@Thalapathivjfan) January 19, 2019
முகவரி, கண்டு கொண்டேன் கண்டு கொண்டேன் , அமர்க்களம்

— A.R.Saravanan (@sr_twitz) January 19, 2019
Ellarayum Onnu Sekka Evlo Work Panraru annan 😅

— Theri Revanth 😎 (@revanthvsr) January 19, 2019
Style panna-#Billa
Class panna-#Viswasam
Mass&class panna-#Mankatha

— தளபதி🔥யோகேஷ்💥 (@yokesh_msd) January 19, 2019
Hardwork, dedication and perseverance
Veeram
Mangatha
Dheena

— VIJAY RAJ (@vijayrasigan226) January 19, 2019
Mangatha Kaadhal Kottai Yennai Arindhaal

— kana vfc ™ (@sarkar_nandha4u) January 19, 2019
Villian,Veeram,Viswasam

— Gokul (@Gokul79410299) January 19, 2019
Dheena🔥,Aarambam😎,vedalam❤

— Mersal Hari (@MersalH83803438) January 19, 2019
Neenga keTadHunala solren!! #vedhalam#mangatha#vaali

— Amsrikrish (@Amsrikrish1) January 19, 2019
This is such a good and commendable initiative na❤️❤️ you just earned so much more respect na, great going and so thoughtful of you at this moment where fan fights are dominating 😎😇 hope this will bring at least the slightest chg in the human in us na❤️ thank you for trying🙏

— Priyangka (@deviarunassalam) January 19, 2019
THALAyoda attitude
1.villan
2.mangatha
3.viswasam

— THALAPATHI's universe (@SShubbaiah) January 19, 2019
His Generous manners to behave to others…
Arambam
Mangatta
Verram..

Note: I am #Vijay Anna fan..😍 but not #Ajith hater😊🤗

Not only me most of us😍#peace_bro

— Dinesh Immanuel (@imman_dinesh15) January 19, 2019
Mankatha-stunt, villan -acting ,visvasam sentiment

— ◌⑅⃝●♡⋆❤Thàĺápàthÿ Kàvíń❤⋆♡●⑅◌ (@kavin70434445) January 19, 2019
His work ethics are 👌. My fav Thala movies are Mankatha, Kandukondein Kandukondein and Mugavari.

— Joseph Bharath (@BharathTinz) January 19, 2019
Thanks to all #Thalapathy fans big salute nanba ♥️ enna nadatalum naanga ongala evanakum uttu kuduka matom ♥️ #Thalathalapathy

— Kiyas Kaleel (@kiyas_kaleel) January 19, 2019
Car n bike race like in (billa&mangatha)
Fav movies
-billa
-billa 2
-vedalam

— Thalapathy fan🇲🇾 (@vijayrasigan24) January 19, 2019
Thala…always so simple and respect others…and favorite films…1.amarkalam,2.citizen,3.Giridam…

— Aravindhan TS (@aravind2123) January 19, 2019
Thala – Azhaga Kozhandhai
Movies – Vaali, Mankatha & Kaadhal Kottai

— ArvindSam (@ImArvisam) January 19, 2019
[wp_ad_camp_1]
These are only few comments that are surfaced in the comment section of Vivek. Hundreds of lovable cmments from Vijay and Ajith fans were still pouring for his tweet. Click below this to see Vivek's tweet directly in twitter :
Name one thing you like most about Thala n three fav movies of his

-Only Thalapathy fans must answer

— Vivek Lyricist (@Lyricist_Vivek) January 19, 2019
Vivek Lyricist is now part of many projects, which also include six big projects in Tamil cinema. The list includes Vijay's Sarkar, Sivakarthikeyan-AR Rahman's project, Suriya's film with Sudha Kongara, Rajinikanth's Petta, Vijay Sethupathi's Sindhubath and Karthi's Dev.
What do you think on this kind gesture of Vivek and the answers from Vijay fans ?? Comment your views below !!