Lokesh Kanagaraj Reacted To The Memes & Speculations!!
Fahad Faazil
Kamal
Lokesh Kanagaraj
Vijay Sethupathi
VIkram
CM / Updated: 2022-05-21
00:09 IST
By Dhiwaharan
Lokesh Kanagaraj of "Master", "Kaithi" fame reacted to the memes and speculations that surfaced about "Vikram" after the release of it's trailer. The filmmaker, sarcastically said that some of those speculations were new inventions for himself. At the end, Lokesh said that half of the speculations were true and half of them were mere imaginations and added that people will know about it after watching the film.
Check out some of the speculations below :
I think this child name is #VIKRAM, son of @ikamalhaasan.Kamal Haasan is a Lonely guy who lost his wife in his flashback (de ageing tech), he talks those dialogues only to this Child. #Suriya comes as VSP's successor at the climax?

VSP portions looks like in old period. pic.twitter.com/po7bHsUPIO

— Cinemapatti (@cinemapatti) May 16, 2022
okay don't hit me for decoding but i think that's his child in his arms and he seems to be crying, and vikram might not really be his name in the film!???? pic.twitter.com/gNdzAY7Io0

— Anju💛 (@JuInAWonderland) May 15, 2022
View this post on Instagram
okay don't hit me for decoding but i think that's his child in his arms and he seems to be crying, and vikram might not really be his name in the film!???? pic.twitter.com/gNdzAY7Io0

— Anju💛 (@JuInAWonderland) May 15, 2022
If my guess is Right the child name will be #Vikram , Story Plot start with this child

in Trailer End Kamal Looks into car & Shouts Named Vikram ( May be He lost this baby !! #KamalHassan – #LokeshKanagaRaj pic.twitter.com/2lIDUKeSOA

— Mukil Vardhanan (@Anniyan_AMT) May 16, 2022
View this post on Instagram
Guys is this Fa-fa's son ?? This child's cut in the trailer was too noticably satisfying in the middle of a crunching #Vikram trailer pic.twitter.com/3RdIRqdMqk

— Mukund Niranjan (@mooduman78) May 15, 2022
This child is surya, son of Kamal…
And that knife scene is also himself surya in climax, lead to Vikram -2…
And that movie( Vikram 2) is surya – lokesh kanagaraj project..
Kamal ku enna aachu nu padam vantha dha terium 😌..#vikram #VikramAudioLaunch #VikramTrailer pic.twitter.com/UeZPrBB7Up

— shadow star 🌟✨ (@shadow_star___) May 15, 2022
The name of the child in the trailer is "VIKRAM ".

Correct ah @Dir_Lokesh na😂😂 pic.twitter.com/kX3b52cxX4

— Saravana priyan S (@saravanapriyan5) May 17, 2022
Vikram will say to Rao that his wife died. But there were no proper scenes to reinstate it. Possibly the child could have survived and that could have been named Vikram (Suriya)

"Once upon a time there lived a Ghost" – The Ghost Vikram (Suriya) is Vikram's (Kamal) Child 🙃

2/n pic.twitter.com/8QIMSD92k3

— 0xPSK. (@0xPSK) May 15, 2022
Same hair style 😁
Vikram tha Suriya va🧐 #Vikram #EtharkkumThunindhavan #Suriya41

#VaadiVaasal @Suriya_offl
pic.twitter.com/p2hrBezOXu

— Logesh slw (@Logeshslw2) May 19, 2022
@ikamalhaasan sir acted as a blind in #Vikram? In the last scene of the trailer when he calls Vikram, from the way he calls, we could sense this.

Is the child's name #Vikram? Just a wild guess.. @Dir_Lokesh @VijaySethuOffl #FahadhFaasil @itsNarain @Suriya_offl @RKFI

— 🅳 for ĐⱧØ₦ł 🆅 for VłJ₳Ɏ (@ThalaPathy0722) May 17, 2022
Suriya is kamal'child
Porkanda singam .song …related to kamal singing to his child
Crying part in trailer ….
Kamal police
Suriya gangster
Son Dad combo@Im_AK19

VJS as like Porali char from particular place#Vikram #VikramTrailer #VikramAudioLaunch

— AK⚓ (@Itz_me_gak) May 16, 2022
The most awaited release of Vikram's trailer and audio happened in the evening of Sunday and raised the expectation level of audience to another level. Fans started speculating the story of the multi starrer flick as soon as witnessing the two and half minute trailer. Interestingly, a video from Lokesh Kanagaraj's "Kaithi" is doing rounds in social media platforms with fans linking the connection between Kaithi universe and Vikram universe.
The trailer and audio launch took place as a huge event with stars such as Simbu, Vijay Sethupathi, Udhayanithi Stalin, Pa. Ranjith taking part in it. The social media platforms were filled with the updates from the event which is scheduled to telecast in Vijay television at 3pm of Sunday.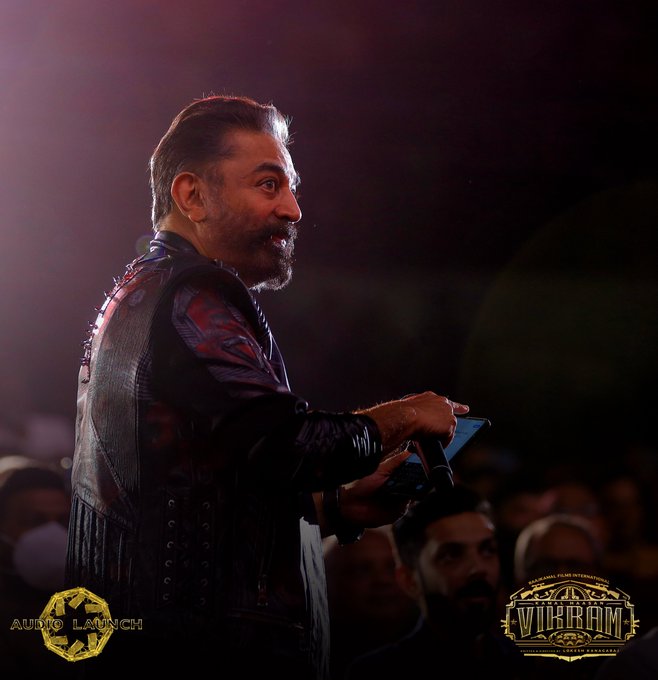 The 2 minutes 39 seconds long trailer showed a battle between a trio Kamal Haasan, Vijay Sethupathi and Fahad Faazil who were dominating promotional posters ever since the project was announced. Kamal Haasan gave a narration in the background comparing the battle field with a forest that has deadly animals such as Lion, Tiger, Leopard hunting a deer.
Vijay Sethupathi appeared as a drug Lord who was on a mission to take back his "sarakku" (scorpion printed bags that contains cocaine). Fahad Faazil was seen involving in risky stunts and has appeared as an angry cop in the film. Kamal Haasan, the mystery man shows his combat skills throughout the trailer and ends the trailer by uttering "Vikram" three times.
Surprisingly, Actor Suriya who had played a cameo role in the film, is believed to have appeared in the trailer for a shot. The trailer promised a perfect actioner with a racy screenplay. The ensemble cast added advantage to pull the crowd for a massive opening and Lokesh Kanagaraj's screenplay is expected to help the film to have a longer run.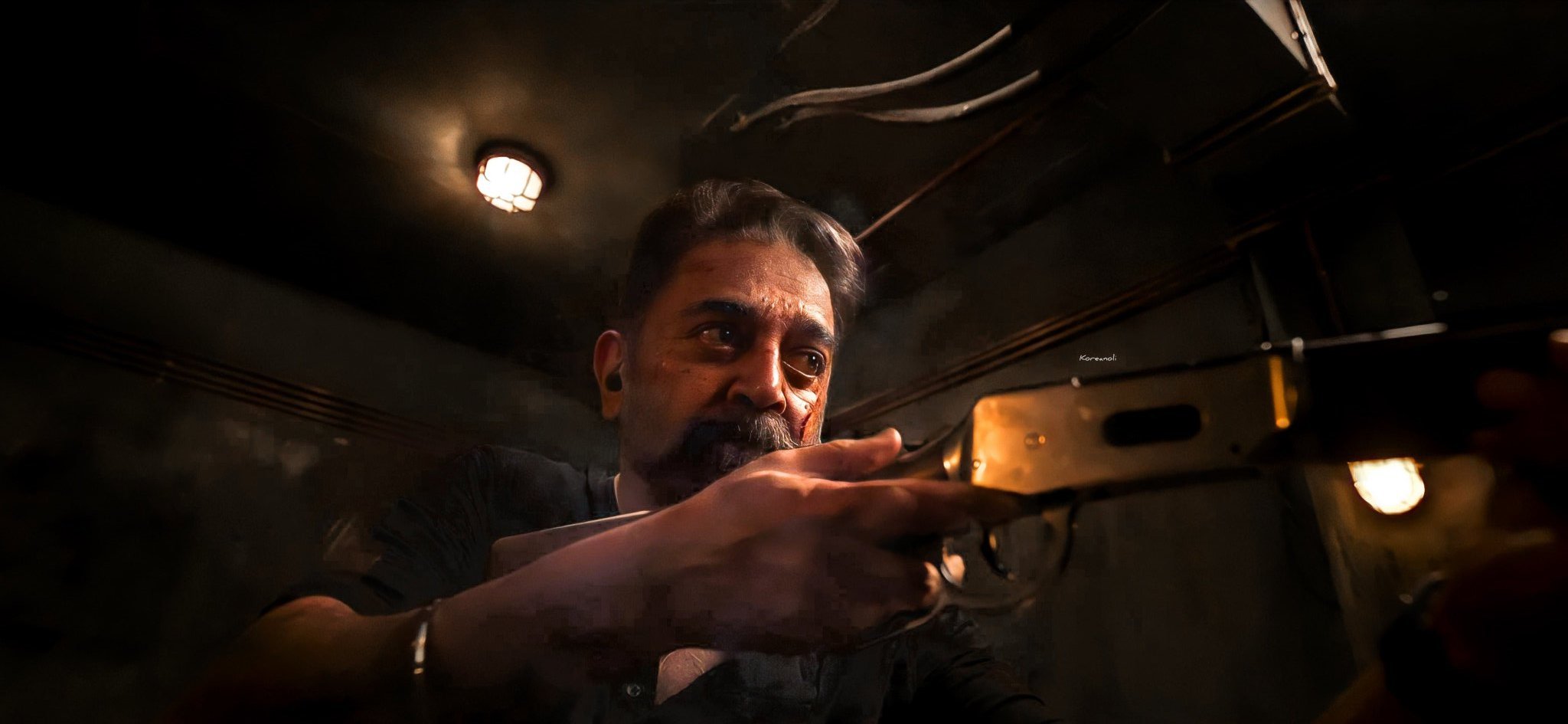 Makers of the film are busy promoting the film in every possible way as the NFTs were released at the Cannes Film Festival. In the meantime, Director Lokesh Kanagaraj has appeared in a interview and shared about his experience working in the film.
Starting from how and when the project got initiated, Lokesh explained about how Kamal Haasan helped him to write a story based on a character he had on mind. Lokesh said that he was approached to a film for Raajkamal International initially and never imagined of directing Kamal Haasan and had no story when the latter asked him.
The filmmaker said that Kamal never intervened in the story or screenplay throughout the shoot and let Lokesh make it in his own way. "In the 25 days of shooting, Kamal sir participated 60 days and he never asked me about what happened in the rest of the days. He recently watched the film and liked it" Lokesh.
About the memes and speculations that surfaced saying that Vikram involves a universe of Lokesh with the connections of Kaithi and Master. Few said that a child which was shown in the trailer was Suriya. Reacting to them, the filmmaker said, "Those discoveries are new for me myself"
At the end, Loki said that half of the speculations were true and half of them were false. "You will know after watching the film and I will explain myself as well post the film's release" he said.
Watch the interview below :