Lokesh Gave Lead To "Vikram" In "Kaithi"?? Video Went Already Viral
Written by Dhiwaharan Published on May 16, 2022 | 05:19 AM IST | 272
Follow Us
Comments: 0
The most awaited release of Vikram's trailer and audio happened in the evening of Sunday and raised the expectation level of audience to another level. Fans started speculating the story of the multi starrer flick as soon as witnessing the two and half minute trailer. Interestingly, a video from Lokesh Kanagaraj's "Kaithi" is doing rounds in social media platforms with fans linking the connection between Kaithi universe and Vikram universe.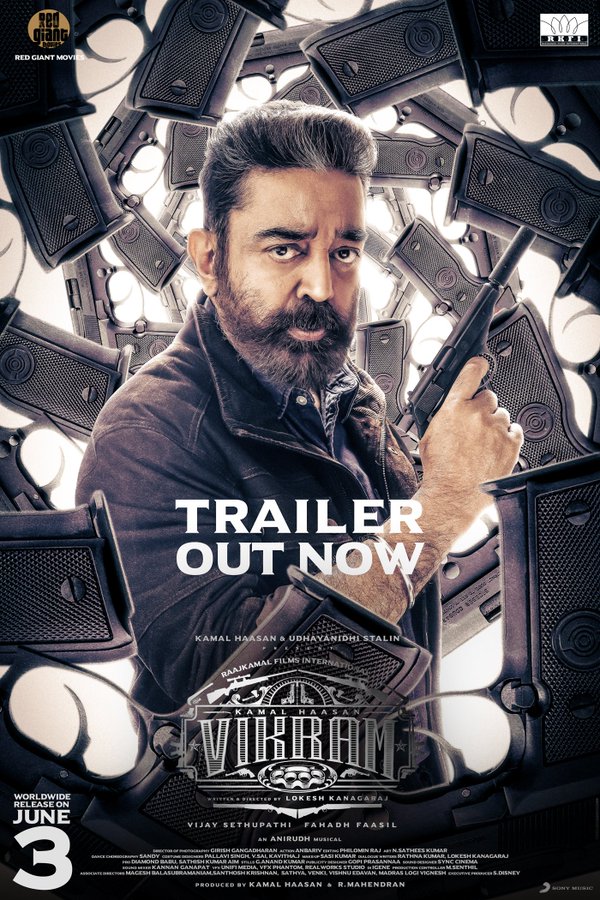 The trailer and audio launch took place as a huge event with stars such as Simbu, Vijay Sethupathi, Udhayanithi Stalin, Pa. Ranjith taking part in it. The social media platforms we're filled with the updates from the event and the trailer released around 8 pm.
The 2 minutes 39 seconds long trailer showed a battle between a trio Kamal Haasan, Vijay Sethupathi and Fahad Faazil who were dominating promotional posters ever since the project was announced. Kamal Haasan gave a narration in the background comparing the battle field with a forest that has deadly animals such as Lion, Tiger, Leopard hunting a deer.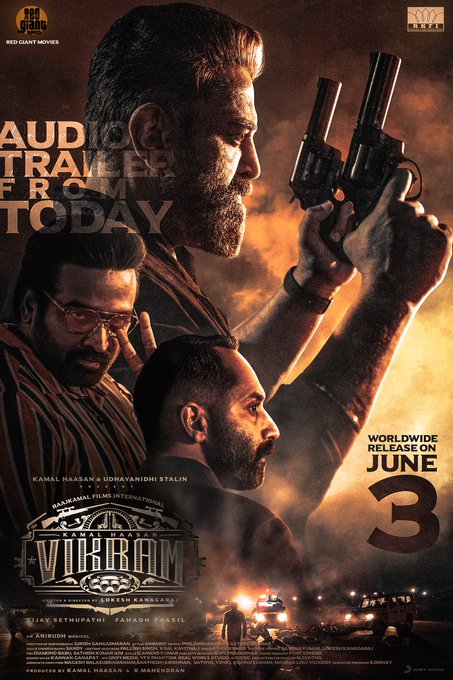 Vijay Sethupathi appeared a drug Lord who was on a mission to take back his "sarakku" (scorpion printed bags that contains cocaine). Fahad Faazil was seen involving in risky stunts and has appeared as an angry cop in the film. Kamal Haasan, the mystery man shows his combat skills throughout the trailer and ends the trailer by uttering "Vikram" three times.
Surprisingly, Actor Suriya who had played a cameo role in the film, is believed to have appeared in the trailer for a shot. The trailer promised a perfect actioner with a racy screenplay. The ensemble cast added advantage to pull the crowd for a massive opening and Lokesh Kanagaraj's screenplay is expected to help the film to have a longer run.
Watch the trailer below :

Though Loki didn't give anything out about the story through his trailer, fans are keen on finding it and has started their guessing games. Surprisingly, a video of Lokesh's second film "Kaithi" which was also a action drama surfaced in internet with fans linking both universes of "Vikram" and "Kaithi".
In the clip which is being circulated, cop Narain who played a pivotal role in "Vikram", could be seen asking about  "Ghost" to his undercover agent who has been pretending to be working for Anbu, Adaikalam's brother. When the undercover cop gives information about 900 kg cocaine, Narain asks "Ghost a pathi ethavthu information therinjuthaa? " to which the cop replies "Nan enna pesren, neenga enna sir pesitrukeenga??"
Btw #VikramTrailer MASS 🐐💥#KamalHaasan pic.twitter.com/2t6WcMtwVm

— SR 😷 (@SR_Tweets_) May 15, 2022
Ever since Vikram went on floors, the makers are promoting the film with the tag line "Once upon a time, there lived a Ghost" referring to Kamal Haasan. Fans started making speculations between a cross over between Kaithi and Vikram universe and wondered whether Kamal could be the "Ghost". Meanwhile, a set of other fans say that Suriya who played a cameo could be the "Ghost" as it is strongly believed that the actor has played the role of the Kaithi gang's main man.
Check out some of the reactions below :
#Suriya – #Ghost?#VikramTrailer #VikramFromJune3 #Vikram pic.twitter.com/mqmajDhY2d

— Midhun R Rakesh (@Midhun_Rakesh) May 15, 2022
The biggest hint from kaithi…

Who is the ghost @Suriya_offl or @ikamalhaasan ???😯🔥🥵#Vikram #Suriya @Dir_Lokesh #ghost pic.twitter.com/AgzuS4SsYU

— Amalan😎 (@ra_amalan) May 16, 2022
"Ghost ah pathi edavadhu information kedachada!!

"Once upon a time there lived a ghost"

Kaidhi x Vikram 🔥

Everything is surely connected man!! @Dir_Lokesh#VikramAudioLaunch #VikramTrailer pic.twitter.com/v87moYUvNb

— Pratheesh (@Pratheesh889) May 15, 2022
However, we have to wait till the release of the movie to make a conclusion about whether Lokesh has made his own universe or not. The film with scheduled to released on 3rd of June across the theatres worldwide.