Virender Sehwag said MS Dhoni got away lightly after he lashed out at the umpires over a no-ball controversy during Chennai Super Kings' thrilling last-ball win over Rajasthan Royals in Jaipur.
MS Dhoni was fined 50 per cent of his match fee after he stormed onto the pitch and got involved in a fierce argument with the match officials.
[wp_ad_camp_1]
Sehwag said the match referee should have banned MS Dhoni for one or two matches and set an example for other captains and players after Dhoni's furious outburst. Sehwag was worried this incident could devalue the importance of an umpire in the middle of a match.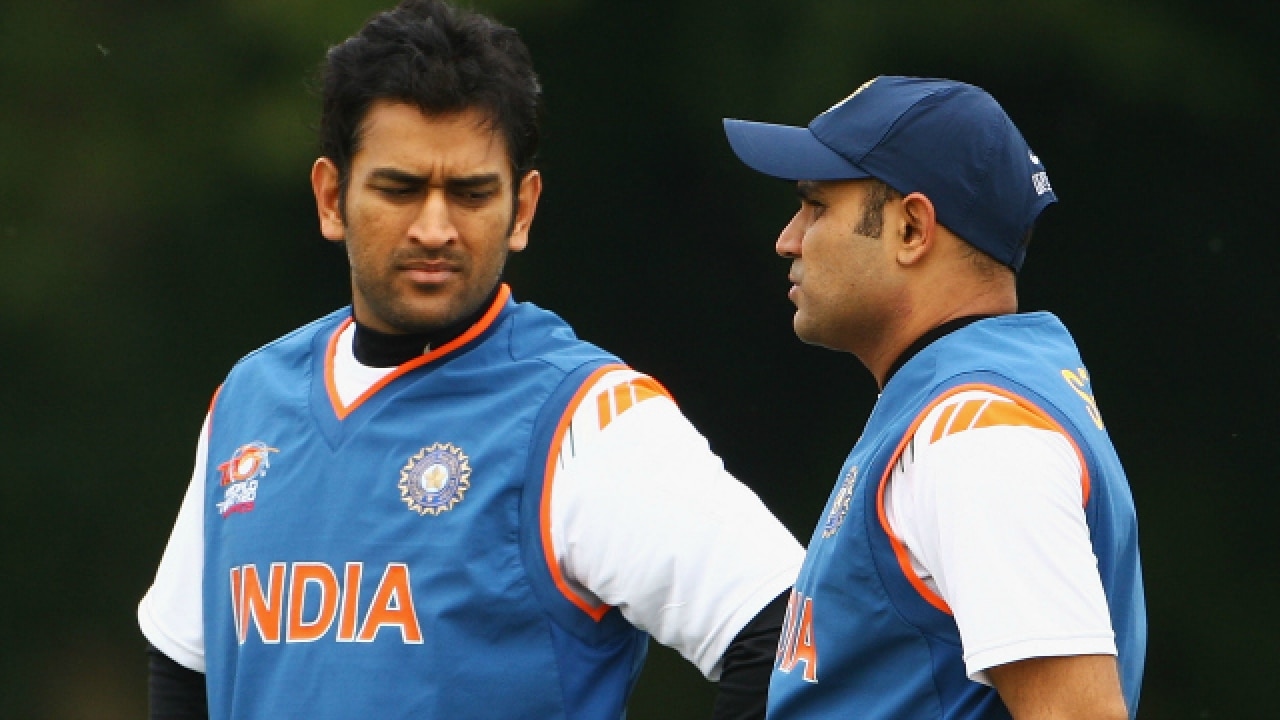 "I don't think he should have come on to the ground. There were two batsmen who were inquiring with the umpires about the no-ball. I think he was let off easily. He should have been banned for a game or two since this sets a bad precedent for other captains to interfere in the match and question the decisions of umpires. This will lessen the value of umpire," Sehwag was quoted as saying in the video.
"If he had done this for the Indian team, I had been happy. maybe he is at the point of his career that he might retire after a year, but we never saw him get angry for the sake of Indian team. He has gotten more emotional for Chennai," Sehwag made a cheeky comment on Dhoni.
"I think he was let off easily. The match referee should have set an example by banning him for a match or two. The referee should have told him that umpires on the ground are the highest authority and they control the game and no captain should influence their decisions," Sehwag was seen saying in the post-match discussion.
[wp_ad_camp_1]
When asked what Dhoni could have done to avoid the situation, Sehwag replied, "Mistakes happen, but such instances of captain questioning the on-filed umpires by interfering in the match devalues the umpires. Umpires have never questioned MS Dhoni on the mistakes he has made. He should have talked to the forth umpire or used the walkie talkie to talk to on-field officials."
For his statement many Chennai & Dhoni frans came up with replies :
I saw your interview in @cricbuzz LIVE . Sehwag @virendersehwag always looks for the opportunity to show his anger against MS. Your words reveal complete enemity and hatred against Dhoni. BTW, aap shayad gusse mein hosh kho baithe hain, no ball to thi hi. Matlab kuch bhi bologe.

— nitish gupta (@WithNitishGupta) April 13, 2019
Dear @virendersehwag
If you have never seen Dhoni's reaction on Umpires for Indian team, sorry for that. Please watch below video and change your thought. https://t.co/fVO3c25ZXU#sehwag #sehwagdhoni #Dhoni

— Bava BK Basheer (@bavadeen) April 13, 2019
[wp_ad_camp_1]
Sehwag should evaluate himself on his performance before making comment on great Dhoni.

— Sanjeev (@sanpringo) April 13, 2019
@virendersehwag Have not seen this moment??#Dhoni #Sehwag #Sehwagdhoni pic.twitter.com/FMLSm6XSQJ

— Bava BK Basheer (@bavadeen) April 13, 2019
And Sehwag was part of this match and he is saying Dhoni had never done this for India @virendersehwag #WeSupportDhoni pic.twitter.com/hhzwON8nQD

— Madhavi Msdian (@MsdianMadhavi) April 13, 2019