Legendary Director Of Rajinikanth & Kamal Haasan Reacted To Meera Mitun Issue !!
Written by Dhiwaharan Published on Aug 10, 2020 | 00:24 AM IST | 74
Follow Us
Comments: 0
In the never ending saga of accusing top-tier personalities, Meera Mitun, in her recent tweet demanded Tamil nadu media to interview lyricist vairamuthu and director Vignesh shivan who gave her the opportunity to act in "Thaana Searntha Kootam". The aspiring actress became a subject to severe online criticism after making unnecessary comments on the personal lives of Vijay and Suriya.
[wp_ad_camp_1]
Followed by several film stars including actress Kasthuri, Legendary filmmaker and the one who directed films of both Rajinikanth and Kamal Haasan released a press note reacting to the issue created by Meera Mitun, a former Bigg Boss contestant. He questioned why film fraternity is keeping mum on this issue and asked top actors to guide their fans in a good path.
Bharathi raja said that the recent happenings gave him a huge shock and he said that it seems like film personalities throwing stones from being inside a mirror room and it looks like they are spitting on themselves. In his press release, the filmmaker said that Vijay and Suriya worked hard and are leading a decent life without getting any ill name all these years. "Now their entire life is standing like a mirror in front of us" he said.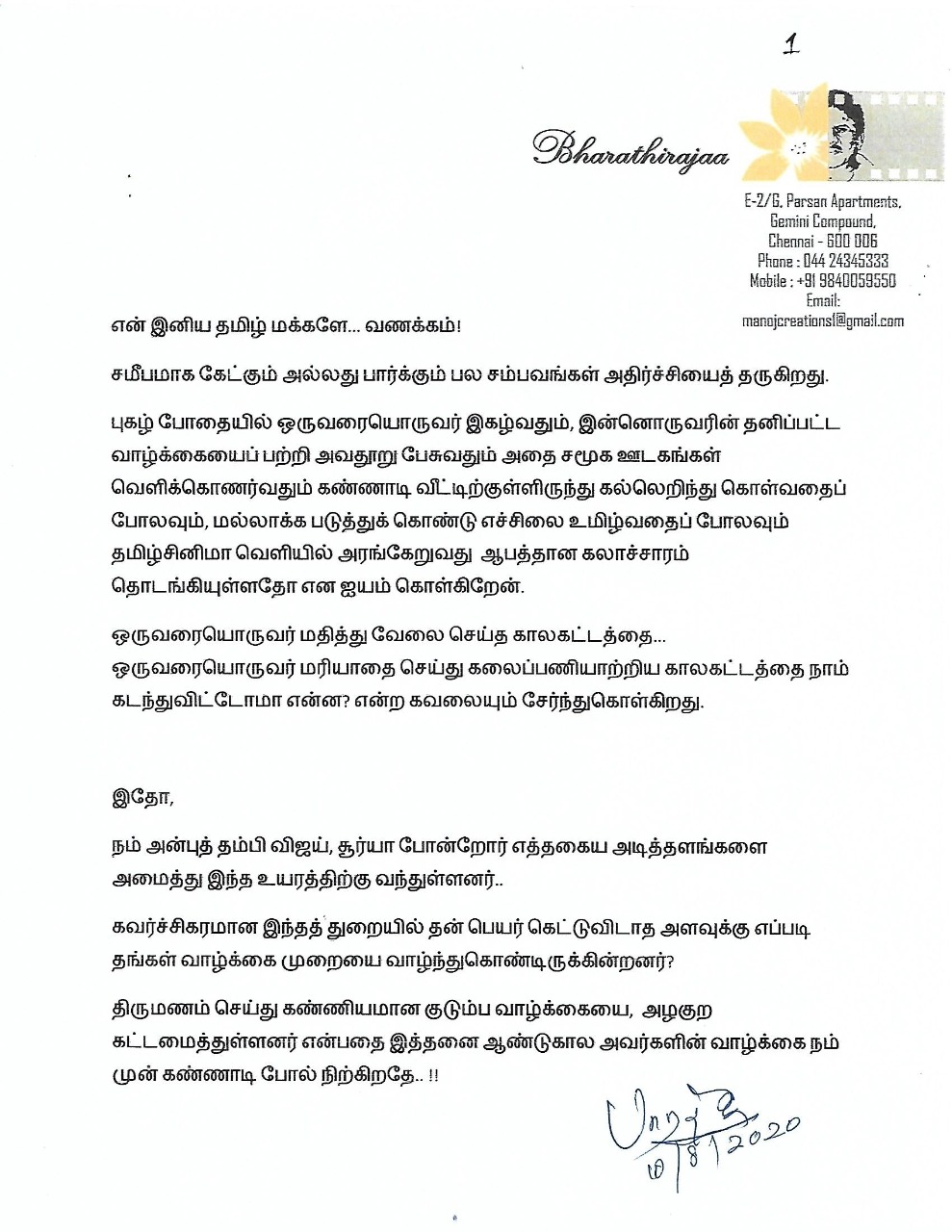 "Like throwing mud on a beautiful painting, a woman named as Meera Mitun is letting her words out without control. I feel dutiful to condemn her act as a senior person in this film industry. She must stop abusing them to get into the limelight. Film Fraternity would raise voice against her. I severely condemn what she spoke all these days. Suriya is helping so many students for their education and Vijay is helping people without publicity. Defaming such personalities and their families is not acceptable at all." the filmmaker wrote.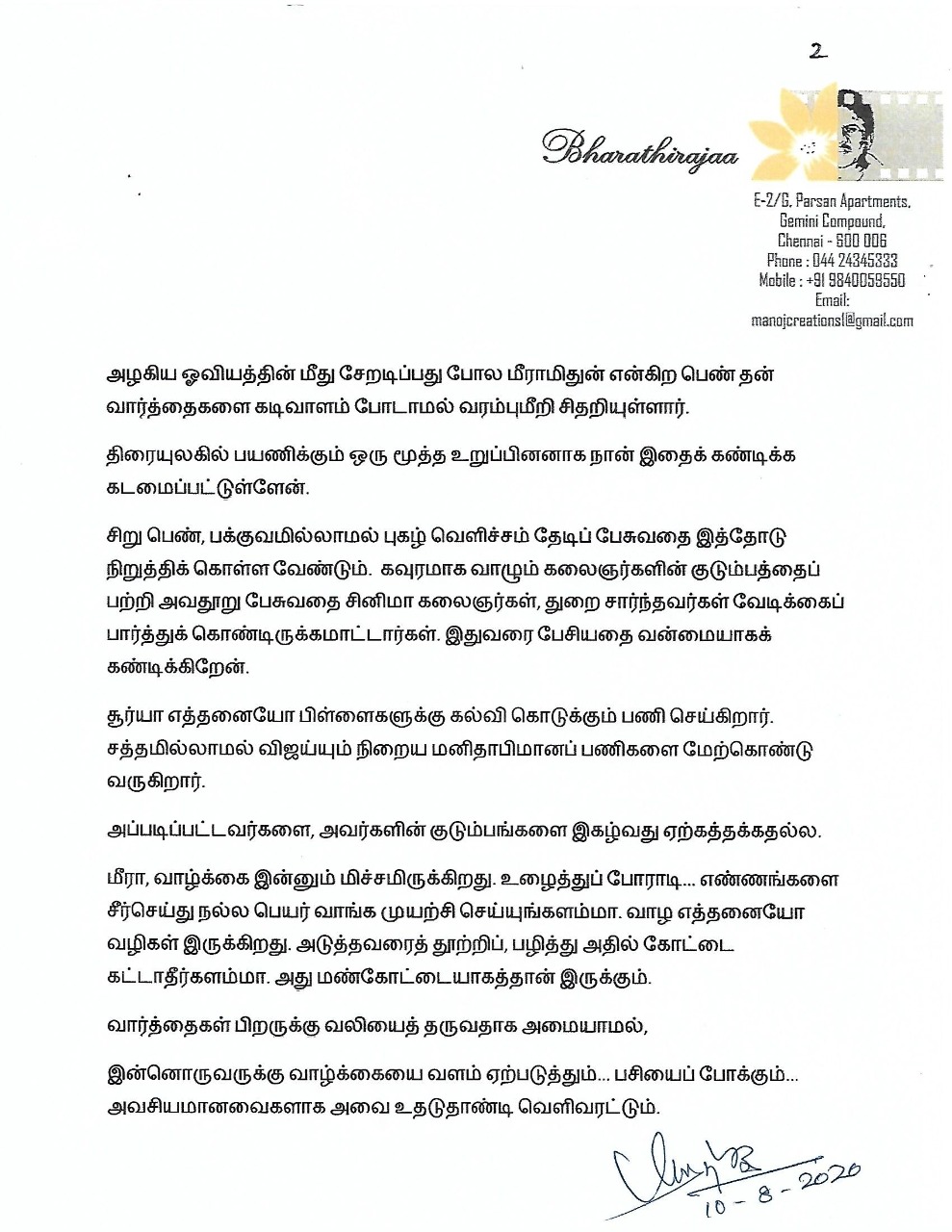 "You have some life left Meera. Work hard and get your thoughts straight to gain a good name. There are so many ways to live a life. The castle you are trying to build by abusing others would last only as a castle that is made of sand. Words should not hurt others but should but should help others." the filmmaker wrote.
[wp_ad_camp_1]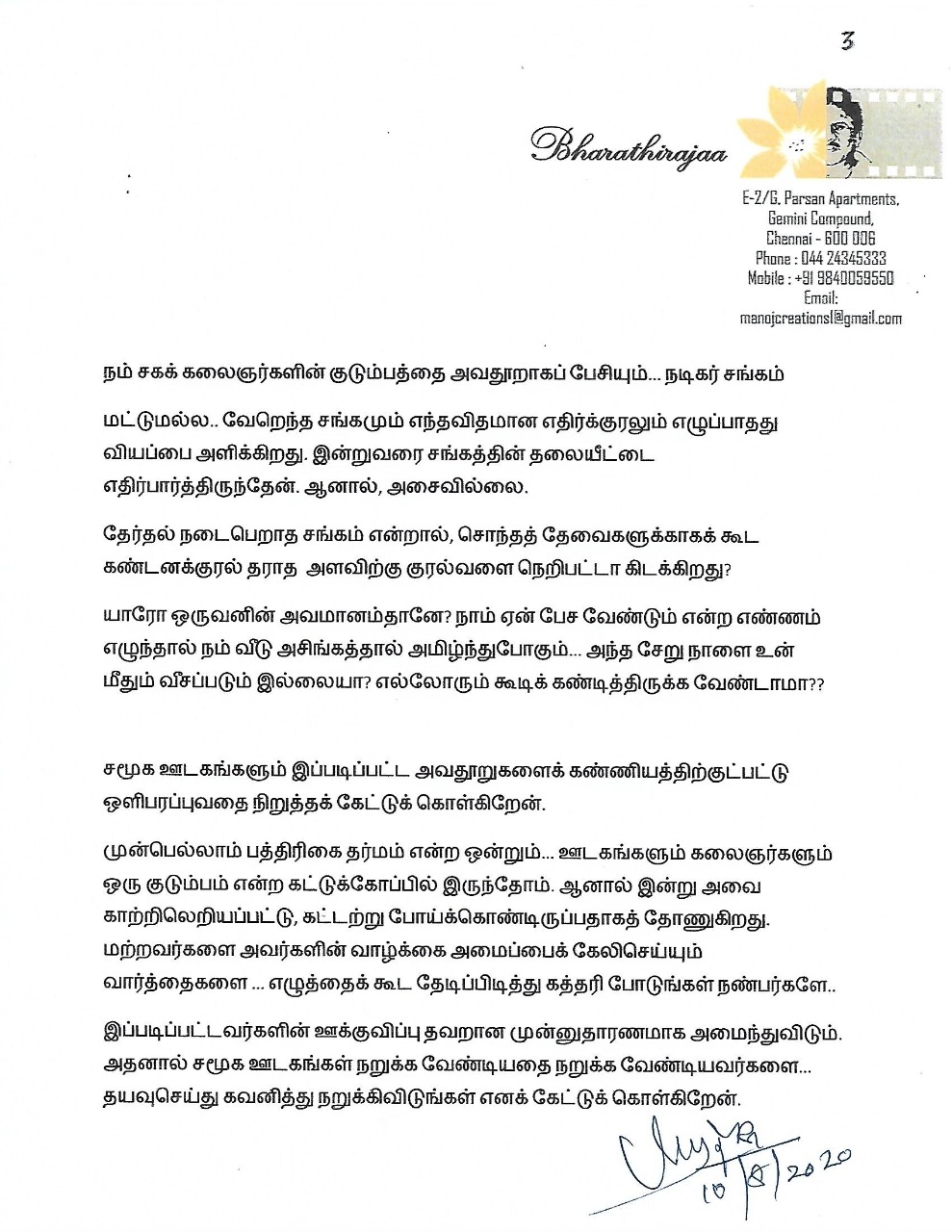 Further he asked why "Nadigar Sangam" hasn't reacted to it yet. The senior filmmaker also said that he has been following the abusive comments of top actors that are being made in the posts of celebrities such as Kasthuri. He asked stars to publish a report to control their fans. "It feels like a timber has fallen on us if even a small dust falls on you people" said Bharathi Raja in a way of expressing his care for the high profile actors.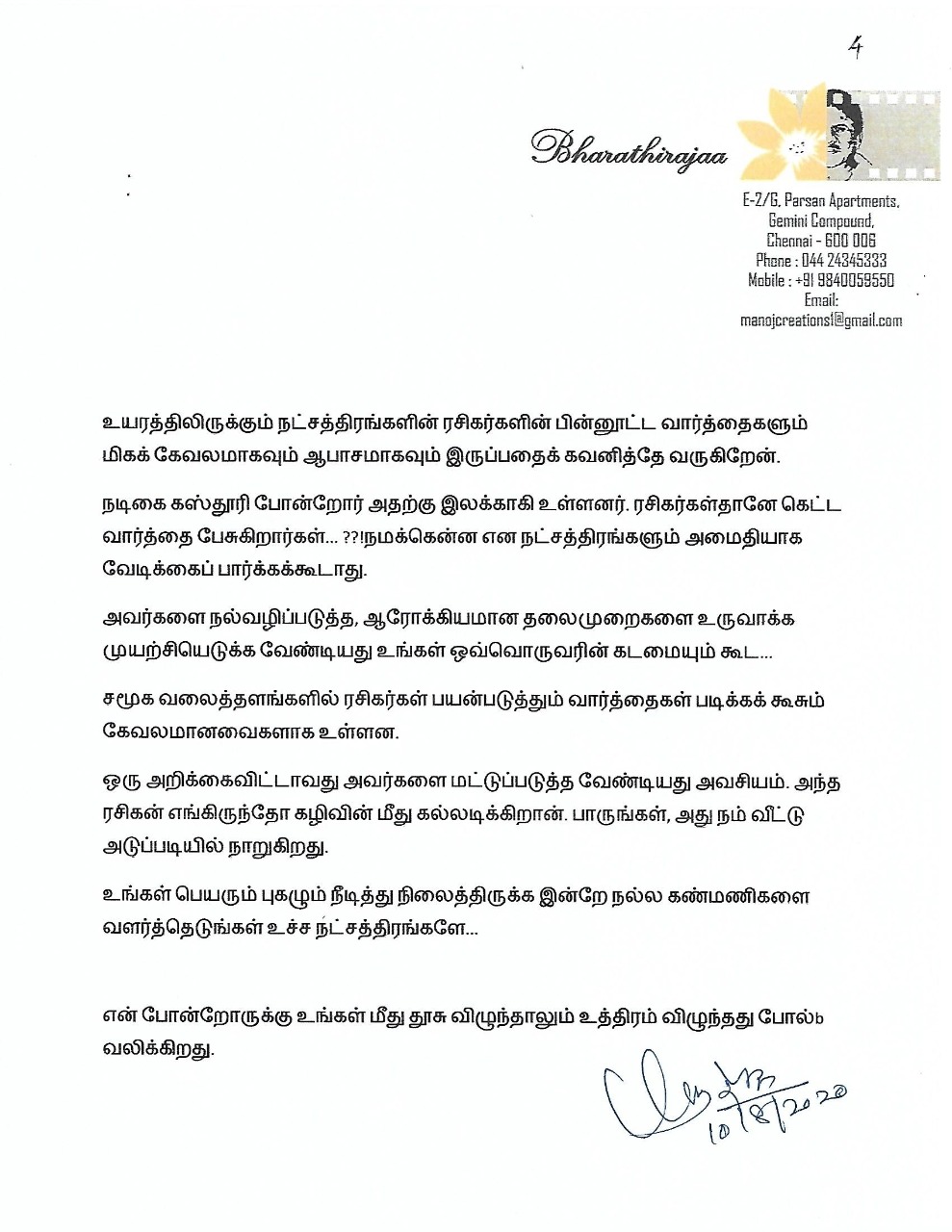 Check out his post here :
August 10, 2020
Meera Mitun, replying to this post of Bharathi Raja, said that he removed her from "Namma Veetu Pillai" film by using his influence.
As a senior director & elderly man,my respect are always thr,why #Kollywood has this partiality to defend the male actors but when it comes to female's in the field,all keep a great silence,be it for me, @Chinmayi,yesteryear actor #REKHA .Hope Kollywood is not a den of only MALE https://t.co/PbudnASTeV

— Meera Mitun (@meera_mitun) August 10, 2020
[wp_ad_camp_1]
Apuram yen sir , Enna " Namma veetu Pillai" padatula irundu neekuneenga, director @pandiraj_dir told me clearly it was ur pressure too that my scens should be not be used in the movie https://t.co/wRgfdElfY6

— Meera Mitun (@meera_mitun) August 10, 2020
I don't do anything for fame, Stop portraying me as bad to the society being a senior citizen of India . Please give a call to @actorvijay @Suriya_offl and enquire what all they have done till date harassing me on social media with Rowdyism in the name of fan club heads. https://t.co/PbudnASTeV

— Meera Mitun (@meera_mitun) August 10, 2020
Despite of getting constantly abused by the fans of the actors in online platforms, Meera Mitun doesn't stopped flooding the twitter feed with her baseless accusations. It is high time for her to stop defaming actors to gain followers and publicity. Comment your views on these replies of her to Bharati Raja !!