Ravichandran Ashwin became a super hero after making a heroic 39 from 128 balls which played a major role in the result of the third test against India and Australia. Hanuma Vihari and Ravichandran Ashwin made a valuable 62 runs partnership from 259 balls. Team Australia declared their innings with a lead of 407 runs to win the match. However, Pujara, Ashwin and Vihari displayed quality batting and managed stay till the end of fifth day to draw the match.
[wp_ad_camp_1]
Wishes from all over the country poured for team India for their collective contributions to the team without big names such as Virat Kohli, Bhuvaneshwar Kumar and Mohammed Shami. Meanwhile, what grabbed the attention of Tamil internet the most from the fifth day of the third test is, the way Ashwin communicated with his batting partner Vihari.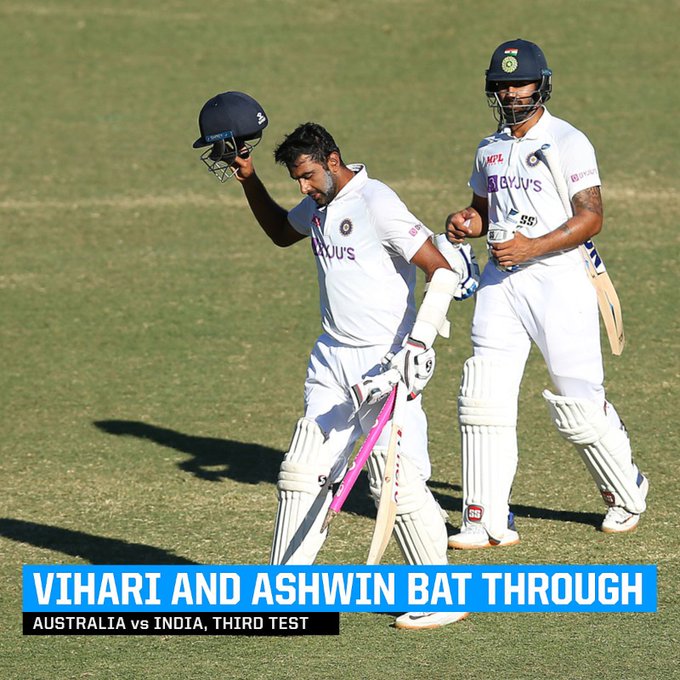 From encouraging him to stay a bit longer in the crease to instructing him some techniques, Ravi Ashwin talked to him in Tamil throughout. Tamil internet celebrated the cricketer by sharing videos of himself and Vihari interacting in Tamil language.
The duo played together for almost four hours. During 122nd over, Ashwin could be heard saying to Vihari that they have to play just 10 balls each to get it under 40. In another occasion, Ashwin instructed Vihari saying that the ball won't come straight to him. The stump mic which was kept to record the rattle of stumps for the Television audience, recorded the chatter of Ravichandran Ashwin too.
Check out the video below :
So @ashwinravi99 and Vihari were speaking in Tamil? 😍#INDvsAUSTest #Ashwin #Vihari #Tamil @SriniMaama16 pic.twitter.com/2fHDkX5xdO

— Gnanashekar (@Gnanashekar) January 11, 2021
[wp_ad_camp_1]
Another one. #INDvAUS #Ashwin #vihari pic.twitter.com/WIqvbPSBkt

— Gnanashekar (@Gnanashekar) January 11, 2021
Generally, Indian players would use their respective regional languages to prevent their foreign opponents from understanding their game strategies. This is not the first time Ashwin using Tamil language in the field. He also talked with Dinesh Karthick in Tamil during test matches.
Now, Ravichandran Ashwin himself came up with a story in his Instagram account reacting to his own video of talking in Tamil with Vihari. "Tamizhan endru sollada thalai nimirunthu nillada" (Keep your head high and proudly say that you are a Tamil) said Ashwin in his Instagram story.
Check out the screenshot here :
Ashwin's batting performance also impressed many cinema celebrities who belong to Kollywood film industry. "You're a legend Ashwin. What quality, class, grit and that never say die attitude. You're my Man of this Match. #Legend nee. Avalodhaan machi. LEGEND." said actor Siddharth in his tweet whereas many other celebrities including Sivakarthikeyan, Venkat Prabhu and Vikram Prabhu posted tweets appreciating the cricketer's rock solid performance.
You're a legend @ashwinravi99. What quality, class, grit and that never say die attitude. You're my Man of this Match. #Legend nee. Avalodhaan machi. LEGEND. 🏏🙌🏽

— Siddharth (@Actor_Siddharth) January 11, 2021
Determination and grit🔥🔥🔥Big salute to #TeamIndia 💪🙏 Best tribute to the G.O.A.T #RahulDravid sir on his birthday 🙏🙏@ashwinravi99 brooo Vera maari Vera maari👏👏👏👏👍

— Sivakarthikeyan (@Siva_Kartikeyan) January 11, 2021
Incredible determination by our Hyderabadi boy @Hanumavihari
It was extremely impressive to see cricketers Ashwin, Pant and Pujara put up a tough fight and take control of the test match today 👏🏼 🤯
Can't wait for Brisbane now. #AUSvIND

— Venkatesh Daggubati (@VenkyMama) January 11, 2021
Your performance today has shown how tough n talented you are @ashwinravi99 brother💪@hanumavihari watching you fight it out in the middle was nothing short of magical. @RishabhPant17 superb innings!
The country is proud of you guys and the entire #TeamIndia 🇮🇳 pic.twitter.com/CWDd2RfLOI

— Vikram Prabhu (@iamVikramPrabhu) January 11, 2021
After ages watched a test match like watching a t20!! What an innings from @ashwinravi99 and @Hanumavihari 131 overs played in da 4th innings!! Well played #teamindia @BCCI

— venkat prabhu (@vp_offl) January 11, 2021
[wp_ad_camp_1]
For me Ashwin is the Man of the Series. Kya bolti publeek?

— Vipul Goyal (@HumorouslyVipul) January 11, 2021
After completing the match, the man himself came up with a tweet comparing test cricket with life. "Doesn't matter if you are bruised and battered, just hang in there and you will have an opportunity to fight another day!! Test cricket teaches you life!! #SydneyTest A big thanks to my team and well wishers." his tweet read.
Doesn't matter if you are bruised and battered, just hang in there and you will have an opportunity to fight another day!! Test cricket teaches you life!! #SydneyTest 🙏🙏 A big thanks to my team and well wishers. 🤩 pic.twitter.com/nBk50tZMK4

— Ashwin 🇮🇳 (@ashwinravi99) January 11, 2021