Leading Tamil Hero Wants The PSBB Teacher To Be Hanged !!
Written by Dhiwaharan Published on May 28, 2021 | 13:28 PM IST | 106
Follow Us
Comments: 0
Leading Tamil actor Vishal released a press note condemning the harassment that took place in the Padma Seshadri Bala Bhavan school. He said that the school should be shut until they make a public apology to the Students/Parents who got affected. Tagging the official twitter account of Anbil Mahesh, Minister for School Education, Vishal requested him to take strong action. He also wanted the accused who harassed the students to be hanged to teach lesson to teachers and school managements.
[wp_ad_camp_1]
Rajagopalan of PSBB got arrested under POSCO and other relevant acts for sexually harassing female students. The school management which reportedly failed to co-operate initially, suspended him. Many other accusations are being made against teachers and other school managements by the former students and current students. Latest report said that Police officials have decided to investigate the colleagues of Rajagopalan to whom he confessed about sharing the videos of the students.
#BREAKING | பத்ம சேஷாத்ரி பள்ளியில் மேலும் சில ஆசிரியர்கள் சிக்குகின்றனர்!#SunNews | #PSBB pic.twitter.com/7ZGYMnnoHe

— Sun News (@sunnewstamil) May 27, 2021
Tamil nadu chief minister MK Stalin has made an order saying that the online classes should be recorded and a committee consisting school administration and parent-teacher associations should review it. The CM has also assured that under POCSO, action would be taken against anyone behaving inappropriately during online classes and a separate helpline would be created for children to file their complaints.
[wp_ad_camp_1]
From singer cum MeToo activist Chiinmayi to "Bigil" producer Archana Kalpathi, several celebrities of Tamil film industry has raised voice against the teacher who misbehave with the students of Padma Seshadri Bala Bhavan school that is located in Chennai. In fact, the series of tweets Chinmayi posted in her twitter timeline brought the matter into the light which helped the issue to reach wider. Along with influential politicians and public, Lakshmi Priya Chandramouli of "Karnan" fame, Actor/ Producer Nithin Sathya, Actress Kaniha and many other people who are related to the cinema industry have been raising voice against the accused.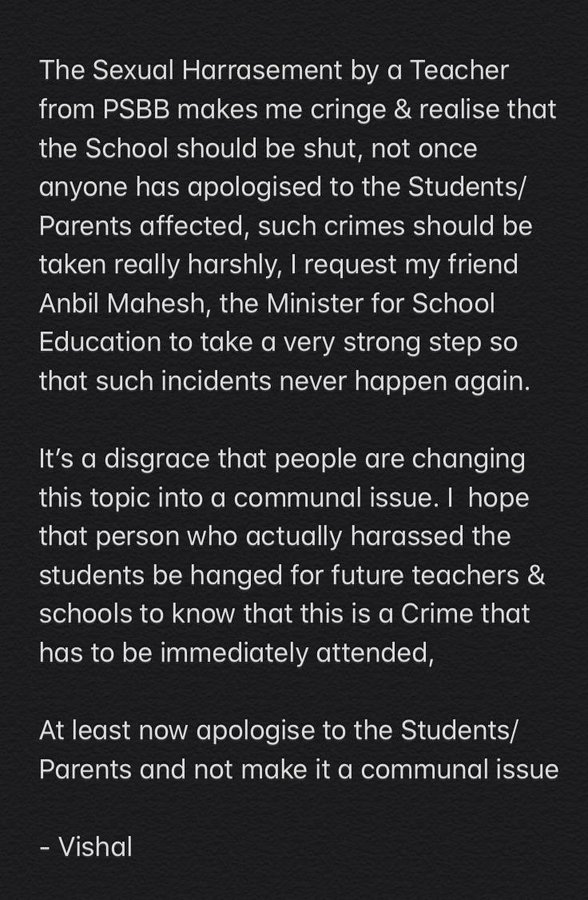 Now, actor Vishal released a press note saying "The Sexual Harrassment by a Teacher
from PSBB makes me cringe & realise that the School should be shut, not once anyone has apologised to the Students/ Parents affected, such crimes should be taken really harshly, I request my friend Anbil Mahesh, the Minister for School Education to take a very strong step so that such incidents never happen again."
[wp_ad_camp_1]

"It's a disgrace that people are changing this topic into a communal issue. I hope that person who actually harassed the students be hanged for future teachers & schools to know that this is a Crime that has to be immediately attended, At least now apologise to the Students/ Parents and not make it a communal issue" he added.
Check out his tweet below :
The Sexual Harrasement by a Teacher from #PSBB makes me cringe & realise that the School should be shut, not once anyone has apologised to the Students/Parents affected, such crimes should be taken really harshly,

I request my friend @Anbil_Mahesh to take strong action pic.twitter.com/jF2MfehyuN

— Vishal (@VishalKOfficial) May 28, 2021