"Kurumpadam" For Janany & Azeem Over Vikraman "Tamil" Issue !! WATCH
Written by Dhiwaharan Published on Nov 25, 2022 | 14:31 PM IST | 92
Follow Us
Comments: 0
In the court room task, Janany and Azeem planned together and filed a  case against Vikraman for hurting Janany by saying that her Tamil language is not upto the mark. Azeem insisted Janany to filed a case against Vikraman and expressed his wish of arguing in the court on behalf of her. While Manikanta acted as a Judge, Queency made her presence for Vikraman.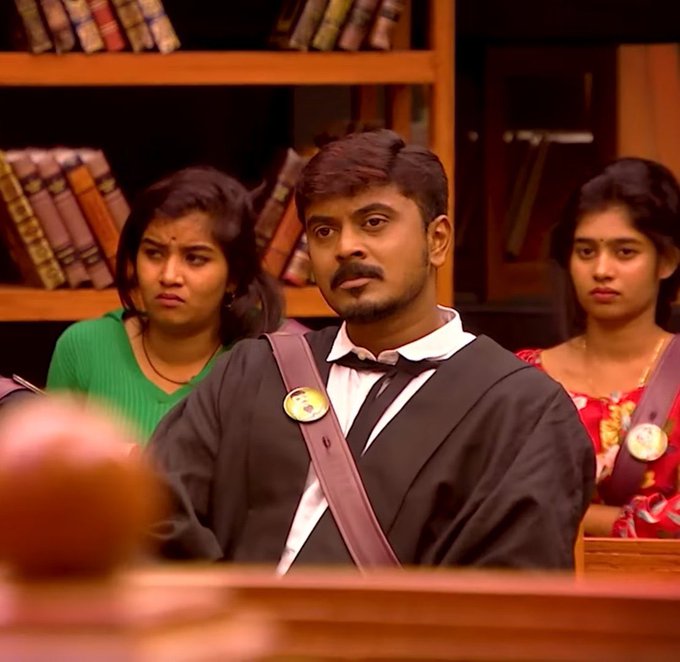 Azeem and Janany claimed that Vikraman's reason to name Janany as worst performer felt personal and asked the judge to punish him for the crime he committed. Amudhavanan appeared as witness and said that Janany got hurt personally due to the words of Vikraman. The trio claimed Vikraman's comment was targeted on Janany's Tamil speaking ability .
Here's the full thread of the issue :
Part 2 Highlights of case where #Vikraman was wrongly accused . #vikraman used the word "SENTAMIZH", looks like he forgot it #Azeem clown #Janany poison lost the case, waiting for a Kurmpadam this weekend.#Kamalhassan #BiggBossTamil #BiggBoss6Tamil #BiggBossTamil6 #vikramanarmy pic.twitter.com/Jqm9sgkvx7

— siva (@winsiva1994) November 24, 2022
However, Queency-Vikraman duo said that he made such point only based on the task and mentioned "Senthamizh", not Tamizh language on the whole. "I myself found it difficult to talk in "Senthamizh" without the mix of English and didn't reason it as her flaw. I only said that her presence was very limited throughout the task as my reason" Vikraman claimed.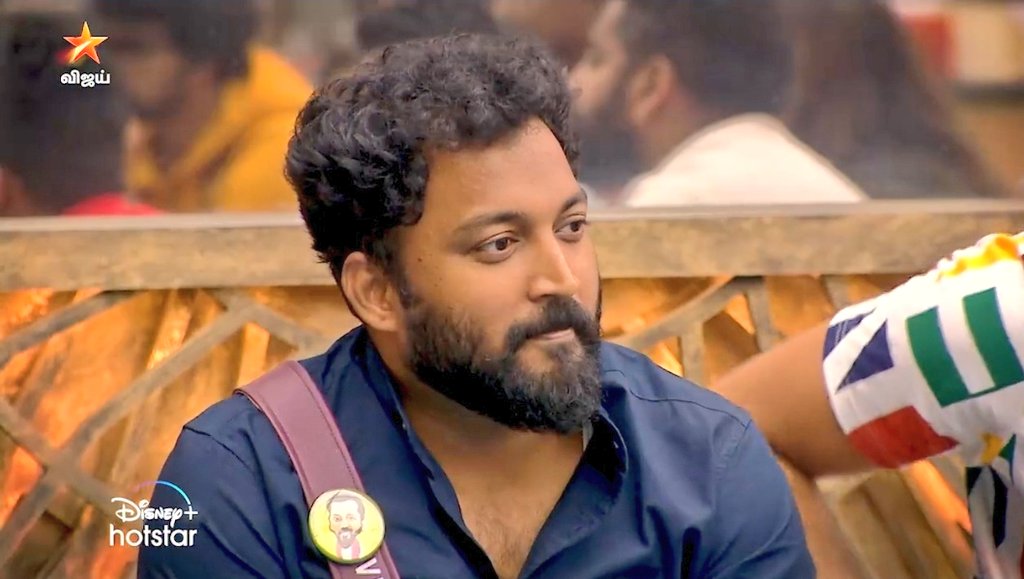 After hearing the arguments and witnesses, Manikanta issued judgement in favour of Vikraman & co. In the meantime, followers of the show, started digging the old videos and uploaded a "Kurumpadam" on what actually Vikraman said. In the video, Vikraman could be heard saying that "Antha" (That) language could have been difficult for Janany and even mentioned it as "Senthamizh".
Watch the video below :
🔴 KURUMPADAM – VIKRAMAN

He says Clearly "Awanga Thamizh" and now he is trying to do what he usually does
"Manipulating and trynna change his words"
But this time he is CAUGHT RED HANDED

Congratulations Azeem and Janany #Azeem𓃵 #Janany #BiggBossTamil6 #Vikraman pic.twitter.com/bCgQaR2Mag

— Bigg BOSS Tamil 6🔴 (@IamTheBiggboss_) November 24, 2022
Here's how followers of the reacted to the whole case filed by Janany and azeem :
Part 1 #Azeem is a Echa, He is asking #Janany to give case against #Vikraman for saying Tamil prachana to her in WP in raja task him as lawyer Where #vikraman actually said jan was not visible may be "SENTAMIZH" prachana ah ? #BiggBossTamil #BiggBoss6Tamil #vikramanarmy pic.twitter.com/gxlNSRzOaw

— siva (@winsiva1994) November 23, 2022
#Vikraman vs #Janani language case

Wait Till End 😂🔥 pic.twitter.com/LrXT1xZ4o8

— Beef Meme (@Selva17705305) November 24, 2022
Here is the proof #Azeem wanted to create Country N language issue in fake way using #Janany against #Vikraman. #clownazeem says "Srilanka country name use panni lock pannuven ".Good that #BiggBossTamil warned not take country N ppl #BiggBoss6Tamil #vikraman #vikramanarmy pic.twitter.com/pQ2cL3RzXL

— siva (@winsiva1994) November 24, 2022
WOW who said #Azeem is straight forward, he wont trigger or influence anyone?? Watch this, how secretly he is influencing #janany against #Vikram #vikraman . #Azeem aim #Vikram should not become judge tomorrow #BiggBossTamil6 #biggbosstamil pic.twitter.com/vzBHFZBMlS

— Shiva's Honest View (@Shiva46975951) November 23, 2022
#ClownAzeem#Azeem is a snake. He purposely manipulated idiot #Janany to damage #Vikraman's name but smeared his face with bullshit! 😂
One of the worst. He assumes he is proficient in Tamizh but he is NOT. He is 'Negative' vibe & morally weak. VANMAM ON #Biggbosstamil #Biggboss pic.twitter.com/qD1m6HVYq7

— Prasanna (@prasannaspeaks) November 24, 2022
#BiggBossTamil    Thanks Azeem for bringing this Srilankan Tamil issue, all your false claims will be exposed 😂#Vikraman didnot insult Elam Tamil language or Janany's Tamil, he just said Janany's participation is less maybe she struggled to speak senthamizh…#BiggBossTamil6 pic.twitter.com/NXuKesa47e

— குருநாதா👁️ (@gurunathaa4) November 24, 2022
#Azeem is best influencer in this house. #Janany suyama yosi, thanniya game plan konjam naal irukalam.
Worst Gameplay from #Janani
Avanga fans ethir pathu irukamatanga.#Vikraman never influence anyone or didn't talk bad.#BiggBossTamil6 #BiggBossTamilpic.twitter.com/P02sBvIj7A

— Ahamed Inshaf (@InshafInzz) November 24, 2022
Finally Expected Win By #Vikraman𓃵 via lawyer #Queency innaiku realy Queency arguments were 🔥🔥

Vikraman didn't Mention "Unga Tamizh"

He Said "Intha Tamizh" and "Sentamizh"

VeshaBottle #Janani & #Azeem try to change the case worst.

Atlast நீதி நேர்மை நியாயம் ஜெய்த்தது pic.twitter.com/amtczG5CYy

— #ClownAzeem 🤡 (@Clown_Azeem) November 24, 2022