MS Dhoni is considered as one of the most shrewd brains of modern day cricket, but at the end of the day he is also a human being and the veteran stumper too sometimes goes wrong with his tips, said India wrist spinner Kuldeep Yadav.
[wp_ad_camp_1]
Kuldeep made the remarks in jest when asked whether he, in any point of time in his career, had questioned the former India World Cup-winning captain about his tips.
At the CEAT Cricket Rating Awards, Kuldeep Yadav said, "There are a lot of times he (Dhoni) goes wrong but then you can't say that to him." "He doesn't speak much. He speaks only between overs if he thinks he needs to point out something."
MS Dhoni-led Chennai Super Kings (CSK) recently finished runners-up in the IPL 2019 after they lost to the Mumbai Indians in the final on May 12 at Hyderabad by one run.  Dhoni is also a part of the 15-member squad that will represent India at the World Cup 2019 at England and Wales. This will be his fourth World Cup participation.
This made the fans of Dhoni get angry and they started to troll him like never before for not getting chance in KKR team in last few matches. RCB's Moeen ali thrashed his over which resulted in his picture of getting emotional getting viral in social media.
[wp_ad_camp_1]
Pointing out this, fans said that it would not happened if Dhoni was behind the stumps at that time :
Dear @imkuldeep18 #KuldeepYadav
I thought you are a game changing cricketer,but you are word changing cricketer😁 pic.twitter.com/vXPUYyWxI9

— Sanjai Sekar (@Sanjai_002) May 14, 2019
There are so many spinners in India that better than this fellow #KuldeepYadav….the new name for this man is #Bluffmaster

— Krishna Raghava (@thisisraghava) May 14, 2019
@imkuldeep18 you have become good player because of @msdhoni . Now you are questing on @msdhoni tips. Shame on you #KuldeepYadav
We have seen your bowling without @msdhoni tips.

— धीरज जोशी🇮🇳 (@DheerajJoshi04) May 14, 2019
#KuldeepYadav F*uk off ….Cunning Fellow

— Jai (@JaiRavana29) May 14, 2019
@imkuldeep18
Remember Moeen Ali.
Remember crying like a little girl.
Remember not playing a single match after that.Thats your maturity!
Remember to watch your mouth!

We know who is MS and you can stop your half baked comments!

🖕FUCKTARD🖕#KuldeepYadav https://t.co/wCTwXujXF4

— Kakkar (@liv_fullest) May 15, 2019
@imkuldeep18 so a/c to u Dhoni's suggestions r not always correct… Well i guess Dhoni was not in KKR and we all saw how great season you had in this year's IPL. As in blue jersey u able to bowl well as Dhoni & Kohli always help u in bowling. YOU lost my respect!#KuldeepYadav

— Ayush (@iamayush312) May 14, 2019
[wp_ad_camp_1]
#KuldeepYadav can you clarify about your recent comments on dhoni bhai, hope this is ur twitter handle and you have praised him for the same #MSDhoni https://t.co/Q0CaUo9RDb

— Parthasarathi (@iam_sarathy) May 14, 2019
I think for #KuldeepYadav this world cup gonna be f*** for sure. Ya he can criticise #Dhoni , but he did that after a big loss under him. That's a real face seen & lets see what's he gonna do in this world cup. #challenge

— Siju (@boostboy33) May 14, 2019
And contradicts now!🚶🚶 ,#KuldeepYadav #MSDhoni https://t.co/QH99p0s8RZ

— VD (@vishaldheena) May 14, 2019
However the cricketer has clarified his statement by posting a Instagram story. Check it out here :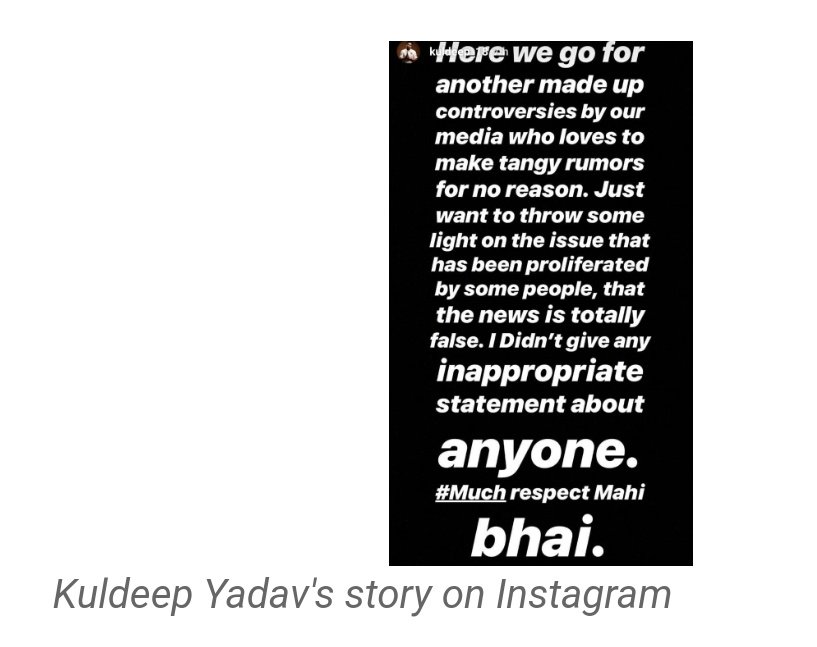 India kick-start their World Cup campaign against South Africa on June 5 at the Rose Bowl Cricket Ground in Southampton.