Kriti Sanon Fell In Love With Prabhas ?? Actress Replied
Written by Dhiwaharan Published on Nov 30, 2022 | 14:25 PM IST | 139
Follow Us
Comments: 0
Actress Kriti Sanon responded to the rumours and speculations on herself dating actor Prabhas during the shooting of "Adipurush". The actress said that the reports being made by leading media portals are completely baseless and confirmed that they are fake news. The actress came up with a story in her official Instagram handle to make the announcement.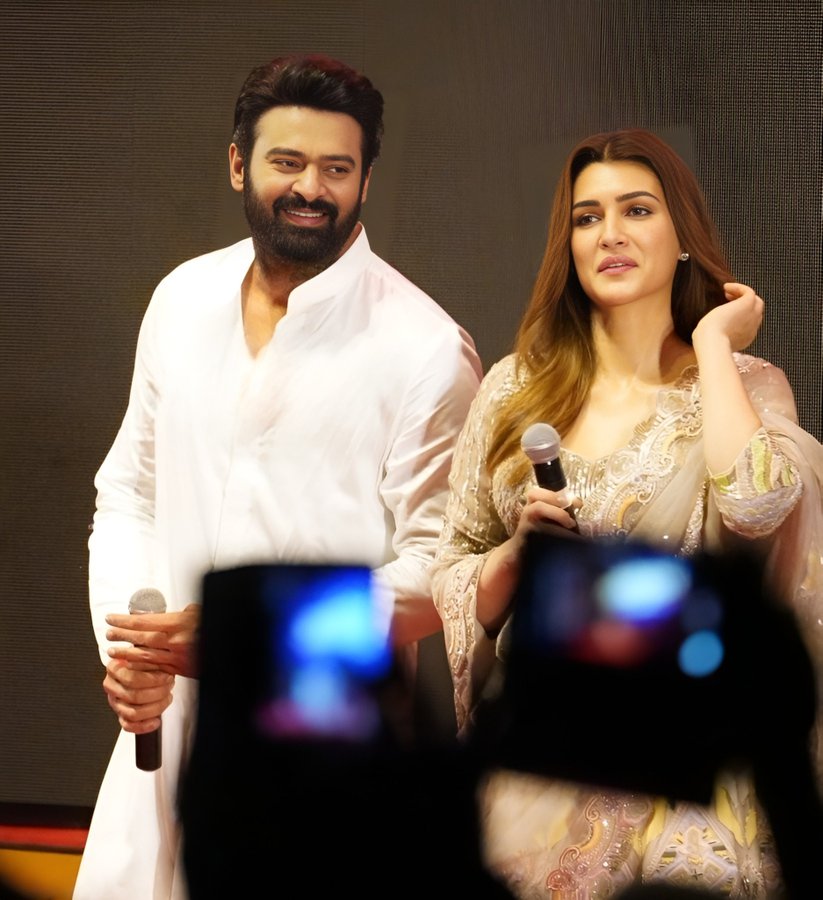 In a reality show, Bollywood director Karan Johar asked actor Varun Dhawan why his " Bediya" co-star name was not in the list of eligible singles. Varun replied that her name was not in the list because her name is in someone else's heart.
Further, Karan asked Varun to reveal the person's name to which Varun hinted that the person who doesn't live in Mumbai but he is currently shooting with Deepika Padukone for his upcoming film.
View this post on Instagram
The actor made it quite obvious that it was Prabhas who was shooting for Project K with Deepika. Kriti was seen blushing as soon as Varun made the revelation. Based on the answers of Varun Dhawan, many media portals came up with reports saying that Prabhas and Kriti Sanon are in a romantic relationship.
Watch the video below :
Has Varun Dhawan officially confirmed Prabhas – Kriti Sanon dating? ❤️
Here is the video⬇️🤔#Prabhas #KritiSanon #KritiSanonPrabhas #ProjectK #KaranJohar #DeepikaPadukone #Adipurush #JhalakDikhlaJaa10 #JDJ10 #VarunDhawan #Bhediya pic.twitter.com/cTWYegzAtW

— Praneet Samaiya (@praneetsamaiya) November 29, 2022
Report of The Times of India said that Krithi Sanon made headlines when she said in an interview that she ever gets a chance she would marry Prabhas. Bollywood life.com says that Prabhas and Kriti had sparked a loving chemistry at the teaser launch of Adipurush.
"The two were seen walking hand-in-hand, hugging and chatting with each other on stage. They were even seen smiling ans blushing while talking to each other. Kriti had even gave her pallu ro help Prabhas wipe out his sweat" said the report of Bollywood life.
Now, reacting to the link-ups and relationship rumours with Prabhas, Kriti came up with a story in her official Instagram handle to clear the air. The actress said that Varun Dhawan's funny banter led to rumours and trolled the portals that are ready to announce Kriti's wedding as per their life.
"Its neither Pyaar, nor PR.. our Bhediya just went a little too wild on a reality show. And his fun banter lead to some Howl-arious rumours. Before some portal announces my wedding date let me burst your bubble. The rumours are
ABSOLUTELY baseless!" the actress wrote in her story space.
Here's the screenshot of her story :
"Ganapath", " Shehzada" and "Adipurush" are the projects of Kriti that are awaiting for the release. Comment your views on the clarification made by the famous actress!!