Kollywood's Legendary Director Shankar Watched KGF 2 !! Here's His Reaction
KGF
Prashanth Neel
Shankar
Yash
10 months ago
By Dhiwaharan
Director Shankar who is considered as Kollywood's face as far as grandeur way of making films is concerned, watched the recent sensation KGF 2 and expressed his emotion over what the film did to him. The filmmaker lauded the film's content, dialogues and screenplay and also gave credits to director Prashanth Neel.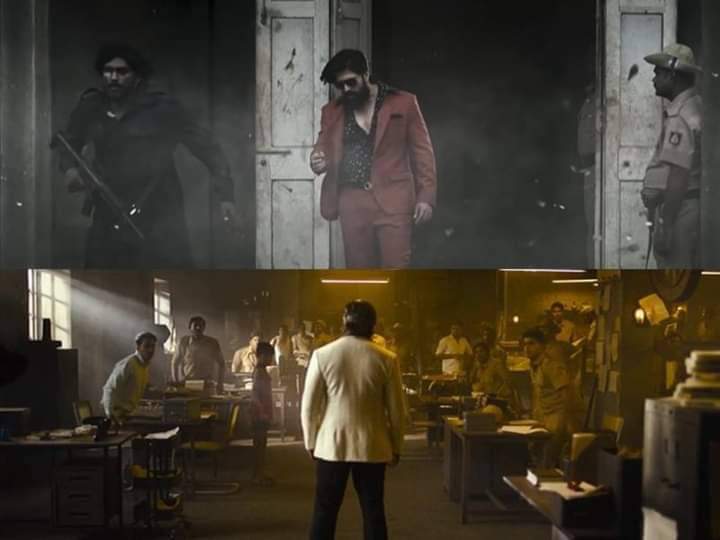 KGF 2 is doing wonders not only in the box office of Kannada and Hindi industries but also in Tamil film industry. KGF 2 revolves around Rocky bhai achieving the promise he made to his mother in his childhood confronting deadly gangsters and cunning politicians, contains high octane action, romance, sentiment and all the aspects that a commercial film should contain. The film has collected more than Rs. 1000 crore world wide so far and is expected to shatter all the other box office records of previously released Indian films including Bahubali.
Along with fans, a number of celebrities from prominent film industries including Tamil are uploading tweets praising the film. Starting from actor Karthi to renowned director Karthik Subbaraj, many influential personalities from Tamil film industry are uploading tweets in their respective social media handles.
Followed by that, now, a month after the film got released, Director Shankar who is known for making films such as "Enthiran", " 2.0″, "Indian" and many more pathbreaking films, uploaded a post in his twitter timeline.
Shankar said that the film consists cutting edge story telling, screenplay and editing and expressed his admiration over intercutting action and dialogue by saying that it's a "bold" move. The filmmaker also mentioned the film watching experience as a "Periyappa" experience.
"Finally saw #KGF2 Cutting edge style Storytelling,Screenplay&Editing.Bold move to intercut action&dialogue,worked beautifully.Revamped Style of Mass 4 the powerhouse @TheNameIsYash Thanks Dir @prashanth_neel 4 giving us a "periyappa" experience.@anbariv Terrific💥👏💐to the Team" read the tweet of the filmmaker.
Check out his tweet below :
Finally saw #KGF2 Cutting edge style Storytelling,Screenplay&Editing.Bold move to intercut action&dialogue,worked beautifully.Revamped Style of Mass 4 the powerhouse @TheNameIsYash Thanks Dir @prashanth_neel 4 giving us a "periyappa" experience.@anbariv Terrific💥👏💐to the Team

— Shankar Shanmugham (@shankarshanmugh) May 17, 2022
Here's how fans reacted to the tweet of Shankar :
Shankar, Rajamouli….now, Prashanth Neel 🔥👌

— Johns. (@CricCrazyJohns) May 17, 2022
Dear Shankar sir please make a movie with #Vijay as hero and #Ajith as villain 🔥

Tamil cinema will be great again.

They're the next people who's going to take Tamil industry forward after Thalaivar #Rajinikanth𓃵 and #KamalHaasan𓃵

— Venkatesh (@Waynekatesh) May 17, 2022
It's your turn Shankar sir ‼️
Waiting for your comeback 💥💥💥

With our #RC15 🔥 pic.twitter.com/D2wXzsxatv

— Self Made (@Self_Mde) May 17, 2022
Thank you so much Shankar sir 😍❤️#Yash19 #KGFChapter2#YashBOSS @TheNameIsYash pic.twitter.com/SnQs35l38w

— 𝐘𝐚𝐬𝐡 𝐓𝐞𝐫𝐫𝐢𝐭𝐨𝐫𝐲 ʸᵃˢʰ¹⁹ (@yash_territory) May 17, 2022
Execution & பிரமாண்டம்தான் உங்களுக்கு கைவந்த கலை. ஆகையால் இனிவரும் காலங்களில் நல்ல கதாசிரியர்களிடம் இருந்து சிறந்த கதைகளை தேர்ந்தெடுத்து இயக்கினால் நன்றாக இருக்கும்.🙏🙏

— Subash@சுபாஷ் (@SensibleSubash) May 17, 2022