Kollywood Directors Trolled BJP's Sumathi Venkatesh For Her Post With Alleged Injury !!
CM / Updated: 2020-09-23
18:24 IST
By Dhiwaharan
Members of the Tamil nadu BJP have conducted a protest against the DMK cadre for allegedly involving in the skirmish over painting slogans on the surface of a compound wall at Nanganallur on Monday. They have conducted the protest at seven places in Chennai, led by various party functionaries, on Tuesday.
[wp_ad_camp_1]
The Deccan Chronicle has reported that a 67 year old intruder who shouted demanding the promised 15 lakh from the BJP government at the centre, was reportedly beaten up by the party men. The man identified as Durai, said to the police that he did not belong to any political party but wanted to know what happened to the promise.
Sumathi Venkatesan, state secretary of BJP, led the protest in Peravallur. The protests took place at the venues such as Ambattur, Saidapet, Chennai Collector's office, Anna nagar arch and Tondaiarpet. It has been reported that both the party members involved in a physical fight over painting slogans on a same wall, on Monday.
Reports suggested that DMK party members had painted their slogan over the messages painted by the BJP in connection with the Prime minister's birthday. As a result of it, men and women of BJP gathered together to whitewash the wall which led to the fight.
A twitter account named as Sumathi Venkatesh which was created in the may month of 2020, has posted a tweet regarding the protest. The post caused severe trolls and reactions across the social media platforms against the BJP party for the spelling errors and the way the bandages are tied in body parts of the party members.
[wp_ad_camp_1]
Here's the tweet :
திமுகவை கண்டித்து பெரவள்ளூரில் இன்று நடந்த யோராட்டம் மாபெறும் வெற்றி. 680 யாஜகவினர் கலந்து கொண்டனர். pic.twitter.com/91XrFqnjWh

— Sumathi Venkatesh (@SumathiVenkat18) September 22, 2020
John Mahendran, director of Vijay's 2005 flick "Sachien" and "Theeratha Vilayattu Pillai" director Thiru posted comments trolling this twitter post as well. Here's their comments :
😂😂😂😂😂😂😂😂

— Thiru (@dir_thiru) September 23, 2020
சும்ஸ்…பேண்டேஜ் கழட்டி அந்த ரத்த காயத்த வீடியோ காட்டி இவுங்க எல்லார் வாயையையும் மூடுங்க..ரொம்ப ஓவராத்தான் உங்களை ஒட்டுறாங்க…

— John Mahendran (@johnroshan) September 23, 2020
இவுங்களுக்கு கோரோனா சோஷியல் டிஸ்டன்ஸ் இல்லையா ? இல்ல கோரோனா இவங்கள பார்த்தா தெறிச்சு ஓடிடுமா…பாவம் கொரோனாவிற்கு ரத்தத்த பார்த்தா தலை சுத்தும் வேற…

— John Mahendran (@johnroshan) September 23, 2020
Check out few of the other reactions that surfaced referring to the above tweet of Sumathi venkatesan.
All grievous injuries cured in just 24hrs… 😂😂

1st Pic Yesterday
2nd Pic Today. pic.twitter.com/Q2Mn3PtFoj

— Mugilan Chandrakumar (@Mugilan__C) September 23, 2020
[wp_ad_camp_1]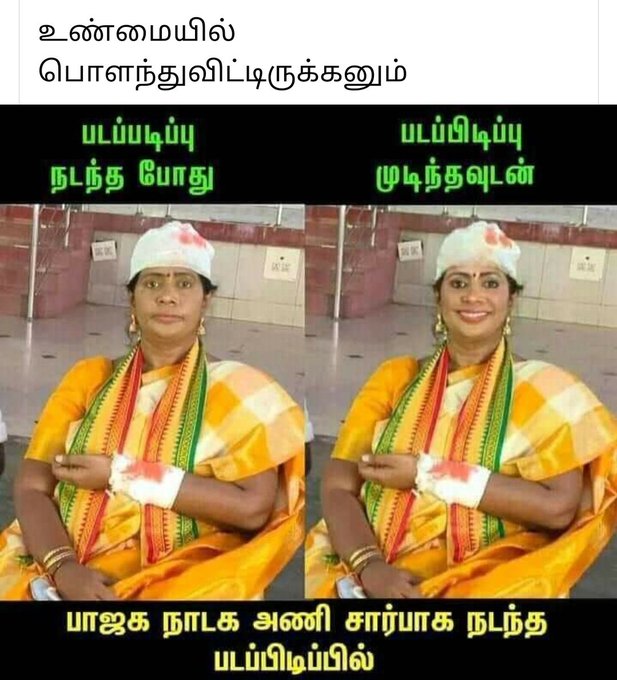 நேற்று நடந்த போராட்டத்தில் எதிர்கட்சியினரால் எங்கள் வீட்டு நாய் தாக்கப்பட்டுள்ளது‌.‌‌…

ஆழமான காயத்தினால் ரத்தம் காவி நிறத்தில் வருகிறது..@savukku @ItsJokker pic.twitter.com/eCVwDXo3RI

— Shridhar (@itshridhar) September 23, 2020
சன்டை மூட்டிவிட எவ்ளோ கஸ்ட்டபட்டு நாங்க கண்டெண்ட் புடிச்சா அதுல கலர் பாக்குறானுக சார் இவனுக… இதே சம்பவத்தை நார்த்ல பண்ணி இருந்தா எங்க பேமன்ட்டே வேற… pic.twitter.com/eS1vMyqp4s

— ⭐ ஜால்ரா காக்கா⭐ CSK (@krishnaskyblue) September 23, 2020
ஊரே சிரிக்குதுடா😂 pic.twitter.com/Duzs15oqLL

— ஜெகதீஷ்.கோ (@Jaisajoints) September 23, 2020
மதுரை எய்ம்ஸ் மருத்துவர்களின் தீவிர சிகிச்சையினால் காப்பாற்றப்பட்ட நபர்கள்..

எய்ம்ஸா.. கொக்கா.. pic.twitter.com/R2bcBDvXsx

— மருத்துவ மைனர் (@iam_DrAjju) September 23, 2020
Comment your views on these reactions !!