Kerala Teen Girl Revealed Why She Went On Horse For Her Exam !! This Is Unexpected !!
Written by Dhiwaharan Published on Apr 11, 2019 | 20:06 PM IST | 130
Follow Us
Comments: 0
A video of CA Krishna, who is from Mala, a town in Thrissur district, riding her horse on the road to her school has gone viral after someone posted it on social media on Sunday.
Really impressed.. this girl from Kerala going on horse back to appear for 10 th std exams.. #IncredibleIndia #EducationOnTheMove pic.twitter.com/v30z55Bxnt

— Manjeet Lamba Hirani (@HiraniManjeet) April 10, 2019
A tweet by Anand Mahindra, chairman of the Mahindra Group, made the 'girl on the horse' a viral sensation across social media platforms. The girl is 15-year-old Krishna from Mala in Thrissur who rode the horse to her 10th examination centre.
[wp_ad_camp_1]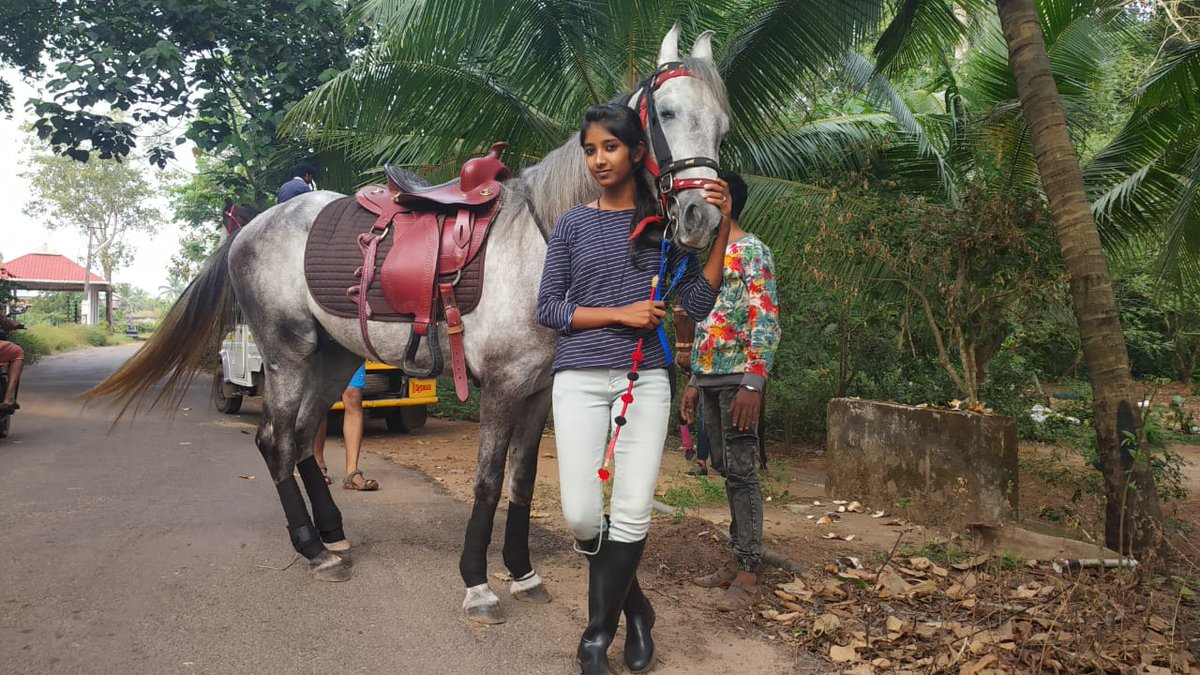 "I never thought that the video will go viral till people came asking for the horse-riding girl. It is not the first time that I rode a horse to school and the residents here know it well. It has been a dream for me to ride the horse and attend my exam, my family and trainers supported me well," says an excited Krishna.
Does anyone in Thrissur know this girl? I want a picture of her and her horse as my screen saver. She's my hero..The sight of her charging to school filled me with optimism for the future… https://t.co/6HfnYAHHfu

— anand mahindra (@anandmahindra) April 7, 2019
"I do not go daily on horses. Only on some special days, or when I get bored or on some exam days also, I ride on a horse to school. If you ask me what was special on that day that was the last day of my Class 10 board exam," Krishna, a resident of Kerala's Thrissur district, told news agency ANI.
[wp_ad_camp_1]
In the video that received praise from industrialist Anand Mahindra, Krishna was seen confidently riding the horse in good speed on a narrow town road, her backpack bouncing as she firmly held on to the straps behind the horse's neck.
Krishna said she took up horse riding when she was in Class 7 and after years of practice, she reached pro level and now can easily ride a horse to school, which she has done sometimes.
#WATCH: Krishna who was seen riding horse to her exams, says, "One of my friend said that riding horse isn't that easy & it's not possible for a girl to do that. He said it's only possible for women like "Jhansi Ki Rani". So I thought why can't a normal girl ride a horse".#Kerala pic.twitter.com/aBtt25G2ND

— ANI (@ANI) April 9, 2019
"One of my friends said riding horse isn't that easy and it's not possible for a girl to do that. He said it's only possible for women like Jhansi Ki Rani. So I thought why not a normal girl can ride a horse," Krishna said.
Brilliant! That's Trissur, Kerala. The girl is riding a horse to her school for her Xth Exam. Girls' education is galloping millions ahead…! #IncredibleIndia pic.twitter.com/YbUMZ8Fdsr

— Psuedo Intellectual (@ravi_barauni) April 7, 2019
 [wp_ad_camp_1]
The first horse she trained on was given to her by her father. It was a small, white horse that helped her gain easy control over the animal during practice.
Overnight superstar, hero, and tweet fame apart, the 15-year-old wants to pursue this professionally and wants to participate in horse races in the future. "My parents have been extremely supportive throughout. I would love to become a professional horse rider, but first I want to do better. I have not yet perfected the art of riding. I want to learn more about horses, I would like to take up courses related to horses," concludes the young rider.