Kasthuri entered the Bigg Boss house as wild card entrant and got evicted in the very first week she got nominated. She doesn't made much impact inside the house during her stint and has appeared in front of cameras for the first time. Since her entry, no contestant liked her company which was evident through their behaviour. In her first week, contestants are not allowed to nominate her. In the next week, contestants including Kavin, Mugen, Losliya, Sandy nominated Kasthuri for nomination which caused her eviction. However, the actress said that she already knew that she would not last more than 2 weeks and packed dress only for 14 days.
[wp_ad_camp_1]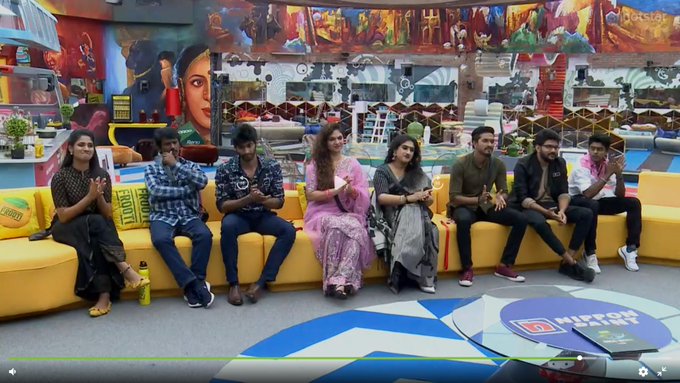 Bigg Boss show doesn't need any introduction in country India. After more than 10 successful shows in Bollywood, the expensive show is currently having its third successful season in Tamil and Telugu language. In Tamil, Kamal Haasan who is fondly called as "Ulaganayagan" by Tamil audience is hosting the show for the third consecutive time.
[wp_ad_camp_1]
Kasthuri in her interview talked about many incidents that happened inside the house. She accused Bigg Boss for not telecasting many of her footages where she talked about the politics and her sarcastic comments about the other contestants.
WATCH HER INTERVIEW HERE :
Source : Galatta
In the interview, she constantly blamed Bigg Boss for various reasons. She even said that Kamal Haasan talking about Amazon forest alone would not help the society to improve. She said that except Cheran, every other contestant are acting inside the house. While talking about Madhumitha's issue, Kasthuri said that she doesn't wants to talk anything about it and she wants to let Madhumitha herself to talk about it. She even said that she awaits her payment from Vijay television. "I guess Kamal Haasan is the only person who has rights to talk about good things. If any contestant talks about any good thing, Bigg Boss would not consider it seems" said Kasthuri in the interview. "I talked about many problems including about the social issues that is happening in tamilnadu. I even talked about cauvery issue while being inside the house but you have to ask the television why they avoided to telecast them" she added.
[wp_ad_camp_1]
She also said that she doesn't wants to talk anything about Kavin as his name has grabbed headlines for his family issue. " I didn't like to talk about those spineless creatures who kept names for me behind my back" said Kasthuri while talking about the Kavin.
Kasthuri is an Indian film actress, model, TV show anchor and social activist. She began her acting career in 1991 in Kollywood and has been subsequently associated with Tamil films. Prior to acting, she has been a model. She is also known for her controversial tweets and verbal spat with the followers of her in social media platforms.