Kasthuri Criticized Those Who Protested Against IPL Last Year !! Check How People Reacting For Her Statement !!
Written by Dhiwaharan Published on Mar 23, 2019 | 21:06 PM IST | 98
Follow Us
Comments: 0
The Indian Premier League 2019, the twelfth season of India's showpiece T20 tournament, gets underway with a mammoth clash. For the opening match, Royal Challengers Bangalore (RCB), led by India captain Virat Kohli, travel to the Chidambaram Stadium in Chennai, home of numerous glories for Chennai Super Kings (CSK), the team led by former India captain MS Dhoni. CSK are making a return to their favourite stadium. Banned for two years till 2017, CSK were forced to play all but one home match in Pune last season, with protests over the Cauvery water dispute having forced the BCCI to shift matches out of Chennai.
[wp_ad_camp_1]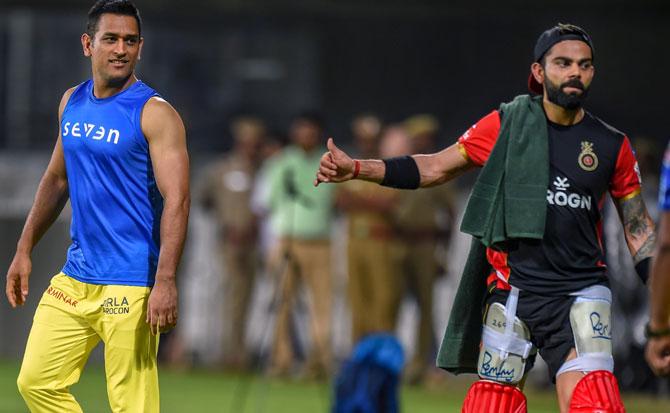 CSK seemed to break little sweat in getting back to winning ways immediately upon returning to the IPL fold last season, and will be looking to continue in the same vein this year.
CSK have won the last six ties between the two teams. The last time RCB won against CSK was in 2014, while the last time they won at the Chepauk was in 2008.
The only apparent weakness for the home team could be a paucity of pace bowling resources. Lungi Ngidi's injury has come as a blow, and with David Willey set to join the squad later, Shardul Thakur and Mohit Sharma can be expected to shoulder responsibilities with the new ball. Shane Watson and Dwayne Bravo are the other seam bowling options CSK can call upon.
[wp_ad_camp_1]
As the fans are eagerly gearing up to witness the initial match of the tournament, Actress Kasthuri who is known for her controversial statements has posted a tweet regarding the last year's protest.
She asked where those good seeking people are. "They are not objecting this year because of the Cauvery water flowing in Tamilnadu without interruption ??" she sarcastically asked.
In her tweet Kasthuri wrote "இன்று #IPL12 விமர்சையாக துவக்கம். போன வருடம் போராடிய தமிழர் நலவிரும்பிகள் ஏன் இந்த வருடம் காணோம்? ஒருவேளை, தமிழ்நாட்டில் காவிரி கரை புரண்டு ஓடுவதால், கர்நாடக பெங்களூரு அணியும் தமிழ்நாடு சென்னை அணியும் கிரிக்கெட் ஆடுவதற்கு இப்பொழுது யாருக்கும் ஆட்சேபமில்லையோ?
#cricketPolitics" 
இன்று #IPL12 விமர்சையாக துவக்கம். போன வருடம் போராடிய தமிழர் நலவிரும்பிகள் ஏன் இந்த வருடம் காணோம்? ஒருவேளை, தமிழ்நாட்டில் காவிரி கரை புரண்டு ஓடுவதால், கர்நாடக பெங்களூரு அணியும் தமிழ்நாடு சென்னை அணியும் கிரிக்கெட் ஆடுவதற்கு இப்பொழுது யாருக்கும் ஆட்சேபமில்லையோ? #cricketPolitics

— Kasturi Shankar (@KasthuriShankar) March 23, 2019
[wp_ad_camp_1]
This tweet of her received variety of reactions from her vast number of followers. Check out some of the reactions here :
நிஜமான(தேர்தல்) களம் அருகில் உள்ளது ..! விளையாட்டு களம் கவனயீர்ப்புக்கு இப்ப தேவை இல்லை என்று அர்த்தம் ..!
உங்களை போன்ற தூண்டிவிடக்கூடிய சமூக ஆர்வலர்களை சமூக வளையதளங்கள் மற்றும் விவாத மேடைகள் தவிர களத்தில் எங்கும் காணமுடியவில்லையே ?! ஏன் ?! #triggerwarning

— Karthik (@karthi_unique) March 23, 2019
காவிரி ஆணையம் அமைத்தது உங்களுக்கு தெரியாதா ?

ஏதோ போராடியவர்கள் எல்லாம் நேரப்போக்கிற்காக போராடினார்களா !

விளம்பரத்திற்காக எதையாவது பேசாதீர்கள் .

— Greesan ✨ (@sathuragreesan) March 23, 2019
உன்னோட மாமாவுக்கு வேலை பாரு இங்க வந்து மாமா வேலை பார்க்காத pic.twitter.com/GBTTTbiVfD

— CSK ரமேஷ் 😎 (@SkRames64579649) March 23, 2019
இனி வரப்போகும் தேர்தல் தான் காரணம், இப்போ போராடினா தமிழர் நல விரும்பிகள் கட்சிகளுக்கு game over தான்…🤣🤣🤣

— பேட்ட காரன் (@jacksoctocat) March 23, 2019
அப்படியே இந்த பொள்ளாச்சி சம்பவம்

— சாகேத் ராம் (@Pollachiyan) March 23, 2019
அடடே நாரதர் வேல start ஆயிடுச்சா 🤣

— KC RAJESH 🤠 (@itisrajeshkc) March 23, 2019
பசிக்குமல்ல

— Kasturi Army (@KasturiArmy) March 23, 2019
இதுக்கு பேரு தான் மாமா வேலை,

— Latchendran(உசிலம்பட்டி) (@Latchithra) March 23, 2019
கிரிக்கெட் ரசிகர்களை இப்போ பகைத்துக்கொண்டால் ஒரு தொகுதியிலும் டெபாசிட் கிடைக்காது.. இளம் தலைமுறை வாக்காளர்களில் 80% மேல் கிரிக்கெட் ரசிகர்கள் தான்…

— Sridhar (@Sridhar32553783) March 23, 2019
பொள்ளாச்சி சம்பவத்தையே மறந்த நம் கிரிக்கெட் ரசிகர்கள். காவிரி நீர் ஒரு விசயமா?

— SANTHOSH (Journalist) (@SanthoshWorker) March 23, 2019
கழுவி ஊத்துவானுங்கனு தெரிஞ்சும் போஸ்ட் போடுதுனா எங்க அக்காவுக்கு எவ்வளவு தில்லு பாத்தியா😁😁😁😁 pic.twitter.com/hN8d3VdSlR

— Sabari (@Sabari07327005) March 23, 2019
மாதம்****

— Noir (@Noirmpm) March 23, 2019