"Kasi Theatre" Got Punished For Allowing More Than 50% Occupancy !! Check Out The Fine Amount
Written by Dhiwaharan Published on Jan 13, 2021 | 18:14 PM IST | 68
Follow Us
Comments: 0
Popular Chennai cinema hall named "Kasi theatre" which is located in Ashok Nagar, got fined for breaching the protocol of COVID 19 restrictions by the Police officials. It has been reported that the authorities of the cinema hall allowed more than 50% occupancy in their theatre and were booked under sections 188 and 269 of Indian Penal Code. After agreeing to provide 100 % occupancy in cinema halls, Government of Tamil nadu reversed the decision after Central Government intervened and ordered to reverse the decision.
[wp_ad_camp_1]
The most awaited Vijay's "Master" released across the theatres of Tamil nadu today and the fans of Tamil cinema are celebrating the biggest event with extreme happiness as they are witnessing a proper mainstream feature film of a top tier Tamil actor after nearly one long year. Reviews and reactions for the Vijay and Vijay Sethupathi starrer are pouring in Internet from all the directions from fans and celebrities.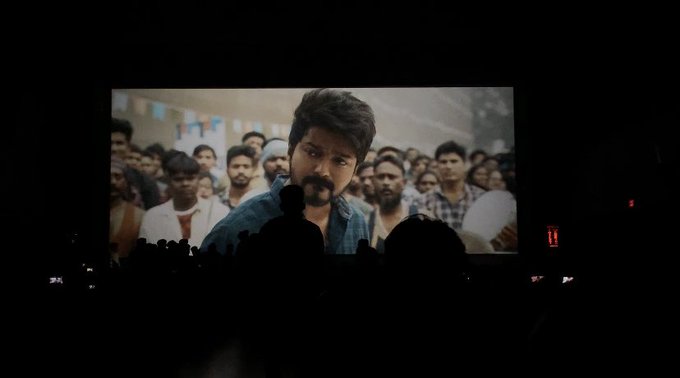 "Master" was supposed to release during April month of 2020 and got postponed due to COVID 19 outbreak. Now, after the makers decided to release the film on 13th of January ahead of the Pongal festival, the film got released in theatres with highest expectations. The star studded high budget action thriller was directed by Lokesh Kanagaraj of "Maanagaram" and "Kaithi" fame.
Tamil nadu government has agreed for 100 % occupancy in theatres ahead of actor Vijay's Master and Silambarasan's Eashwaran release. Ministry of Home Affairs released a press note requesting Tamil nadu government to immediately issue necessary order to bring their Guidelines in line with the MHA guidelines dated 28 December, 2020 and inform compliance to with the central Ministry. As per the order, Government of Tamil nadu said that theatres should only be functioning with 50% occupancy till the further update.
[wp_ad_camp_1]
Now, for allowing more people in their cinema hall to watch the movie, Kaasi theatre got booked under Sec 188 , 269 and fined Rs. 5000 by the police officials of T. Nagar.
#Kasi Theatre in Chennai has been booked under Sec 188 , 269 and fined ₹5000 for allowing more than 50% occupancy for #MasterFilm pic.twitter.com/N1fb9QlWUB

— Mugilan Chandrakumar (@Mugilan__C) January 13, 2021
On seeing the fine amount of Rs.5,000, users of Internet came up with various kind of reactions. "What kind of action is this?. They Should close the Theatre. Just Calculate the Illegal 50% Collection amount. They are ready to pay ₹5000 for every Show and continue the violation." said a twitter whereas another one wrote "They will provide tat 5k for every show and take 100 percent occupancy…"
Check out some of the reactions below :
One how will they get 5000 rupees, they might have to close the theatre

— پربھا (@deepsealioness) January 13, 2021
What kind of action is this?. They Should close the Theatre. Just Calculate the Illegal 50% Collection amount. They are ready to pay ₹5000 for every Show and continue the violation.

— jeyankumar (@jeyankumar) January 13, 2021
5k ?? How can that poor theater guy pay the huge amount?? 🤦‍♂️🤦‍♂️

— HarishMunigela #SaveKBR (@HarishMunigela) January 13, 2021
What is Rs 5000 for a theater?
Under Section 194D, helmetless riding will attract a fine of Rs. 1000, along with 3-month suspension of license.
Why can't they cancel the license of theater for 3 months?

— Association Of Small Tweeter Accounts (@JokinglyCruel) January 13, 2021
HUGE amount of Rs.5000… 10 tkt oda kasu kuda 5000 mela varum. Our punishments are worstu.

— Srivatsan (@srimad) January 13, 2021
[wp_ad_camp_1]
வெறும் 5000ரூ அபராதம்…. 10 டிக்கட் விலை கூட இருக்காது… அப்புறம் என்ன அடுத்த அடுத்த ஷோக்கும் எல்லா சீட்டுக்கும் டிக்கட் வித்திட்டு அபராதம் கட்டிட்டு போயிடுவாங்க

— Jseamlk (@jsamsha) January 13, 2021