Karu. Palaniappan To Quit "Tamizha Tamizha" Show Because Of This Reason!!
Written by Dhiwaharan Published on Mar 08, 2023 | 05:50 AM IST | 395
Follow Us
Comments: 0
Karu. Palaniappan who is known among mainstream audience as a director and actor, on Tuesday, came up with a post in his official Twitter handle announcing that he will no longer be a part of "Tamizha Tamizha" show, a famous debate show in which he acted as a host. The filmmaker, in his tweet, said that he is relieving from the show as he doesn't want to take part in something which couldn't allow the usage of words such as "Dravidam", "Social Justice" and "Self Respect".
Karu. Palaniappan is a well-known director in the Tamil film industry. He made his directorial debut with the movie Parthiban Kanavu, starring Srikanth and Sneha, which turned out to be one of the biggest hits of the year. Following this, he directed Sivappathigaram in 2006, starring Vishal, which also fared well at the box office. His 2008 film Pirivom Santhippom gained significant attention from family audiences.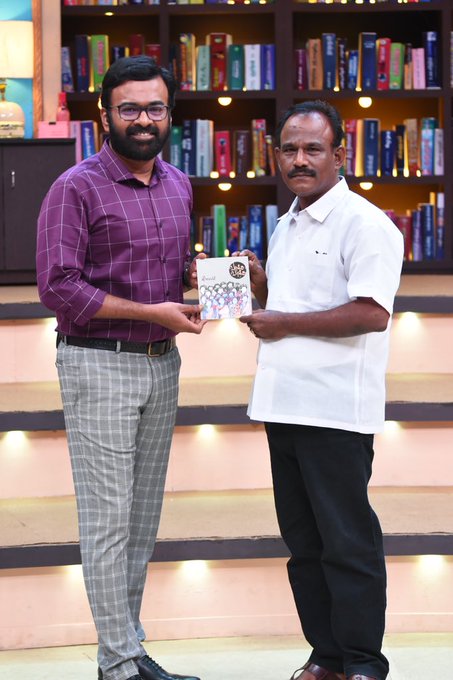 Palaniappan's fourth directorial film, Mandhira Punnagai, marked his debut as a hero. He also directed a second film with Srikanth, called Sadhurangam, which was finished in 2006 but remained unreleased for a long time. Finally, the film was released in 2011, with Srikanth's character named after Palaniappan's close friend who passed away in 2001.
In 2013, Palaniappan directed Jannal Oram, a remake of the Malayalam film Ordinary. The movie received positive reviews from critics and audiences alike. In 2019, Palaniappan surprised everyone by appearing in a negative role in the movie Natpe Thunai. He was last seen in Arul Nithi's "D"  Block as a college owner. So far, Karu Palaniappan has had a successful career as a director, actor, and writer in the Tamil film industry, with his unique storytelling style and ability to connect with family audience.
The filmmaker was actively presenting the show "Tamizha Tamizha" in Zee Tamil as well. Being a debate show, "Tamizha Tamizha" discussed about many socially relevant topics ever since it got inaugurated in the year 2018. Karu. Palaniappan was presenting the show from its very first episode and gained laurels across the media and Television watchers for the way he handles the participants of the show.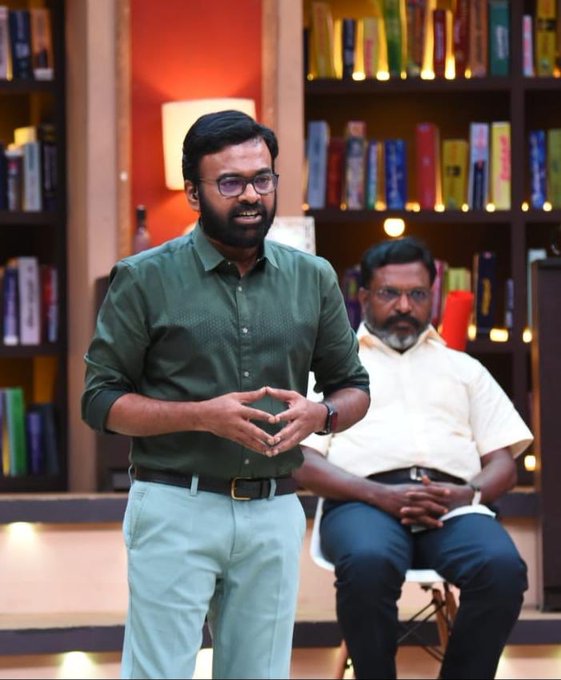 To everyone's shock, Karu. Palaniappan, on Tuesday announced that he is walking out of the show as it doesn't allows the usage of words such as "Social Justice", "Dravidam" and "Self respect".
"My four years long "Tamizha Tamizha" journey with Zee Tamil ends today. If the usage of words such as "Social Justice", " Dravidam" and "Self Respect" tastes bitter to you, it is better to end the journey" the filmmaker said and tagged the official Twitter handle of Zee Tamil.
Here's his tweet :
@ZeeTamil உடனான நான்கு வருட" தமிழா தமிழா" பயணம் இனிதே முடிவுக்கு வந்தது.!சமூகநீதி,சுயமரியாதை,திராவிடம் என்ற சொல்லாடல்கள் கசப்பாய் இருக்கும் எனில் , அந்தப் பயணத்தை முடிவுக்கு கொண்டு வருவதே இனிதானது! …..
நன்றி! @ZeeTamil @sijuprabhakaran … pic.twitter.com/uxwQLfa66o

— கரு பழனியப்பன் (@karupalaniappan) March 7, 2023
On the work front, Karu. Palaniappan recently announced his come back as a filmmaker. After 8 years of hiatus from film-making, Karu. Palaniappan is set to make his comeback with his movie, "Andavar". The film will be produced by Ravindhar Chandrasekaran under the Libra Production banner. Palaniappan announced the movie on January 18th via a tweet, much to the delight of his fans.
The movie will feature music by Yuvan Shankar Raja and will be visually captured by R Valraj. Praveen KL will be handling the editing. While the cast of the film is yet to be announced, the tweet assures that the announcement will be made soon. The movie's name and the experienced team members working on it have already raised expectations for the upcoming film. With this project, Palaniappan's fans are eagerly awaiting his return to the silver screen with high hopes for yet another masterful creation.