Director Karthik Naren who is known for directing "Dhuruvangal 16", "Mafia", came up with a series of Instagram stories expressing his admiration towards director Lokesh Kanagaraj's "Master" and the characterization of "JD" played by actor Vijay. The young filmmaker came up with ideas for a prequel of the Vijay starrer and awed the "Nammavar" connect in "Master" film.
[wp_ad_camp_1]
"Master" which shows Vijay as an alcoholic professor, contains Vijay Sethupathi, Arjun Das and Malavika Mohanan as a gangster, henchman and a college professor respectively. Locking horns with John Durairaj played by actor Vijay, Vijay Sethupathi who represented Bhavani, comes as a ruthless killer who uses juveniles as his pawns to establish his criminal enterprise.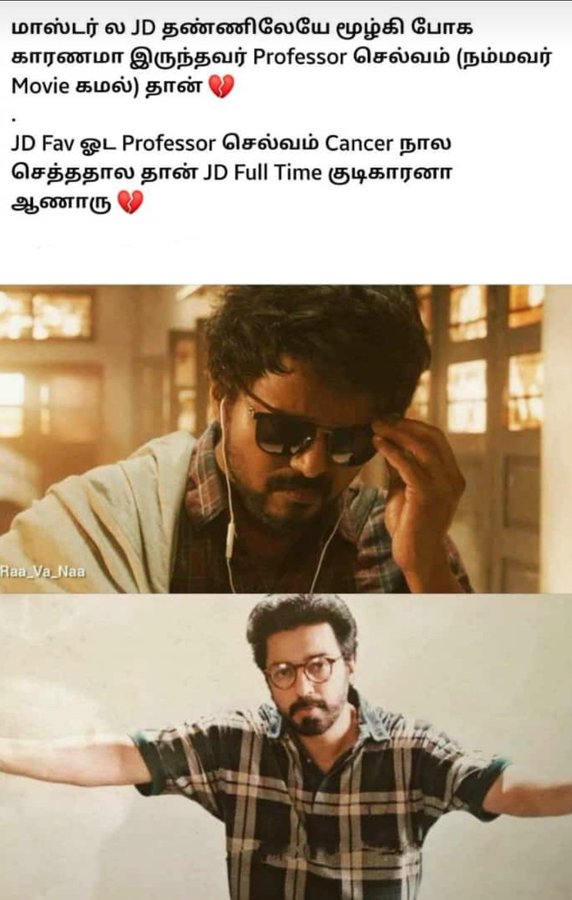 When the protagonist is being loved by his students for his good heart and swag, naturally the college management wants to get rid of him. Circumstances lead him to become a teacher in an observation home where Bhavani is using the kids for his business. The entire second half lies on whether JD managed to save the children from Bhavani and his men or not.
[wp_ad_camp_1]
During a scene when Charu (played by Malavika Mohanan) asks Nasser about JD's past, he could be seen saying that the loss of his professor Selvam made a huge impact in his life. In the film "Nammavar", VC Selvam (played by Kamal Hasan), a professor, would try to reform a spoiled brat in his college. The film would end with Selvam leaving to US seeking a cure for his cancer, hoping the college to be reformed.
"Professor VC Selvam changed JD's life. Unfortunately, he died due to cancer. That really shattered JD. He couldn't sleep after the loss. That bloody alcohol took over him" Nasser says to Malavika Mohanan about his past during a song montage. Referring to the connect made by Lokesh, Karthik Naren, in his Instagram story wrote "A prequel featuring the bond between an innocent John Durairaj & his MASTER VC Selvam which ultimately ends up in the soul crushing death of one & the mass transformation of the other would be dope know? The circle of life!!!"
[wp_ad_camp_1]
Expressing his admiration over the characterization of JD, Karthick wrote "It's easy to pass off JD as an alcoholic when he is just a broken soul who can't make peace with his traumatic past & memories (The mystery is the icing on the cake). It takes him something extremely heartbreaking (The trigger point which was missing in his life for a while) to bring him back to the reality which he was consciously avoiding. Because most of us end up living in our own world eventually! Definitely one of the best characters out there. Lokesh na, more JDs please"
The filmmaker also added a picture of JD as defined him as "spirit animal"
Lokesh Kanagaraj hinted about a sequel of "Master" in some of his interviews but this idea of a prequel sounds fresh and the interest shown by Karthik Naren through his Instagram stories makes us think that he might pitch a plot for the prequel of "Master" to Lokesh or VIjay after finishing "D 43".
Comment your views on "Master" getting a prequel !!