Kanye West Got Slammed For His Inappropriate Birthday Party!!
Written by gokul krishnan Published on Jun 14, 2023 | 11:18 AM IST | 124
Follow Us
Comments: 0
Kanye West, the renowned rapper, recently celebrated his 46th birthday with a private party attended by friends, family, and his new partner, Bianca Censori. However, the event sparked controversy when West chose to serve sushi on a woman's body. Some criticized this practice as misogynistic, while others argued that it could be seen as a form of the Japanese tradition known as Nyotaimori. This article aims to explore the reactions and perspectives surrounding the incident.
On June 10th, videos and photos from Kanye West's birthday party surfaced on Twitter, revealing a woman wearing a bikini as she served as a surface for sushi. The trays of food were placed on her body, covering her chest, torso, and waist. The sight generated a polarized response from social media users, with many condemning West's decision as misogynistic and disrespectful.
Critics argued that the act of treating a woman as a serving platter objectified and dehumanized her, reinforcing harmful gender stereotypes. They expressed their concern about the appropriateness of such an idea for a celebratory event, questioning Kanye West's judgment and respect for women. Some individuals stated their disinterest in attending any future gatherings hosted by the rapper.
also read: Shilpa Shetty's Bikini Post At The Age Of 48 Stunned Internet!!
Contrary to the critics, others mentioned the possibility that West was partaking in a practice known as Nyotaimori, which translates to "female body presentation." Originating from Japan, Nyotaimori involves serving sushi or sashimi on the naked body of a woman. Supporters of this perspective argued that it is an artistic and cultural tradition when executed respectfully and tastefully.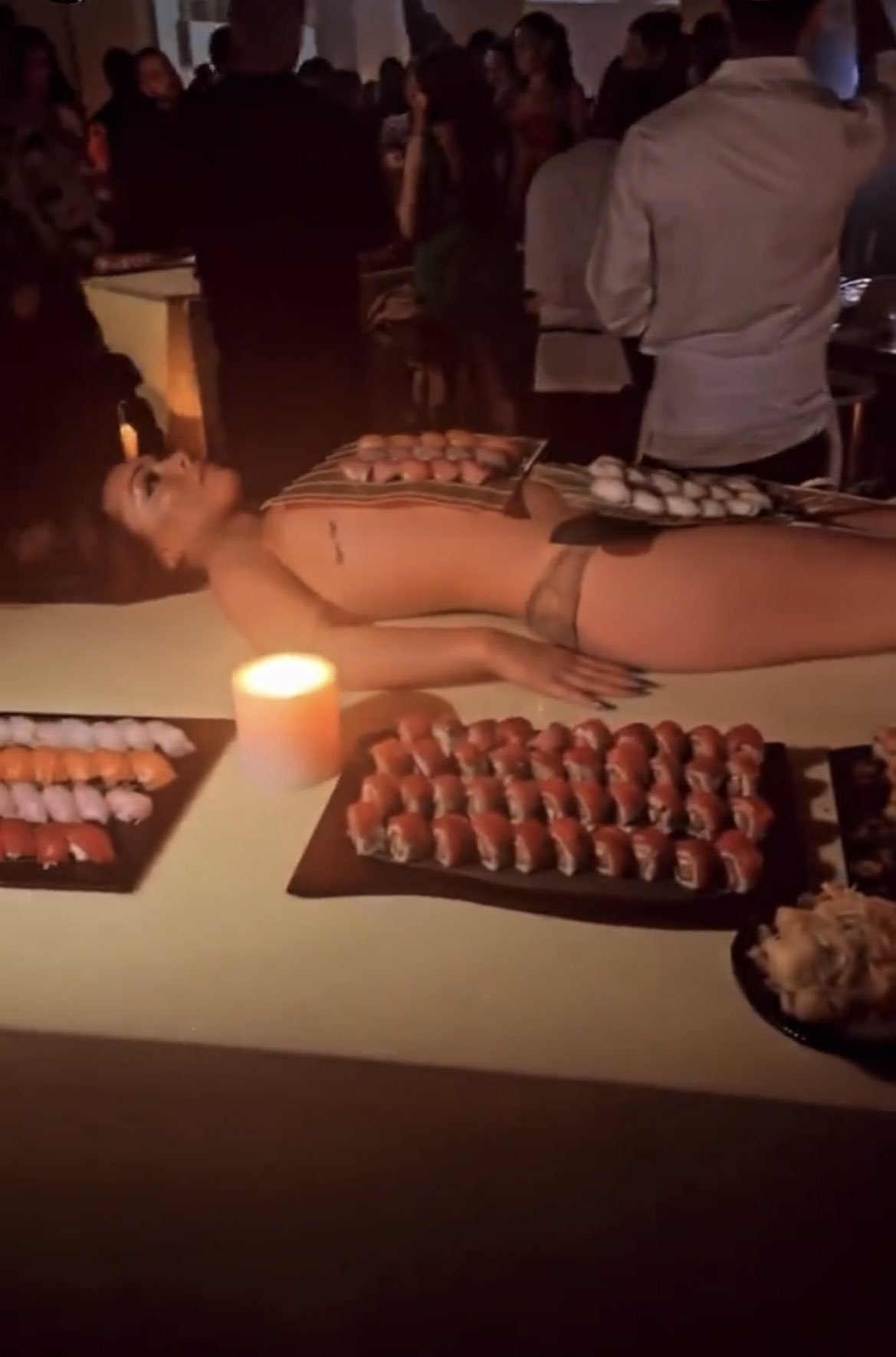 Advocates of Nyotaimori pointed out that in proper instances, the models wear nude bikinis, ensuring a sanitary experience. Additionally, they emphasized the use of banana leaves or other materials to separate the food from direct contact with the model's skin. These practices are intended to preserve hygiene while maintaining the visual aesthetic associated with Nyotaimori.
Also read: திமிரு பட வில்லியா இவர் ? ஆளே மாறிட்டாங்களே !!
Several individuals acknowledged that Nyotaimori is not uncommon and mentioned the existence of restaurants worldwide that offer this experience. They highlighted that the practice is not exclusive to Kanye West's birthday party and has been embraced by various cultures, including catering events for NFL players.
also read: SJ Suryah Dropped A Movie With SilambarasanTR Due To This Reason!
Supporters argued that when approached with cultural sensitivity and appropriate execution, Nyotaimori can be perceived as an art form and a unique dining experience. They urged critics to consider the historical and cultural context behind the tradition and refrain from generalizing it as inherently demeaning or disrespectful to women.
The controversy surrounding Kanye West's birthday party has ignited a broader debate about the boundaries of cultural practices and their interpretation. It raises questions about the potential clash between cultural traditions and contemporary values surrounding gender equality and respect.
While some argue that cultural practices should be respected and viewed in their original context, others emphasize the importance of critically examining these practices through a contemporary lens. This debate allows for a dialogue about the evolution of cultural traditions and the need to ensure they align with contemporary principles of equality and respect.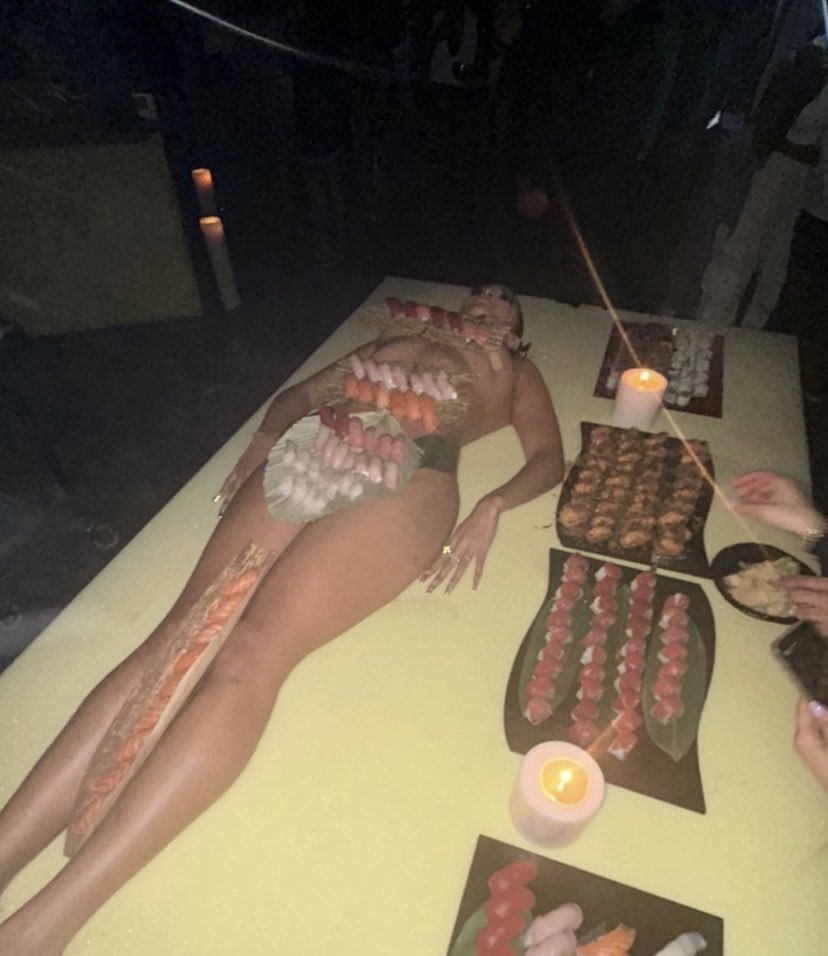 The incident at Kanye West's birthday party prompts a deeper exploration of cultural sensitivity, consent, and the importance of considering diverse perspectives. It highlights the significance of understanding the historical context behind cultural practices and engaging in open dialogue to bridge potential gaps between tradition and modern values.
In the future, it is crucial for individuals and event organizers to approach cultural practices thoughtfully, taking into account the potential impact on participants and attendees. A thorough understanding of the potential implications, both positive and negative, can help ensure that events respect cultural traditions while also upholding contemporary values of equality and dignity.
Here is the tweet below:
Kanye West celebrated his 46th birthday party serving sashimi and sushi off the naked body of a woman. pic.twitter.com/4JcTinutMt

— Spin or Bin Music (@spinorbinmusic) June 12, 2023
Kanye West's decision to serve sushi on a woman's body at his birthday party has sparked controversy and generated diverse opinions. Critics argue that the act objectifies and devalues women, while supporters mention the possibility of it being a cultural tradition known as Nyotaimori. This incident highlights the need for open dialogue, cultural sensitivity, and an examination of the intersection between tradition and contemporary values. Moving forward, it is essential to approach cultural practices with thoughtfulness and respect, taking into account the diverse perspectives and potential impact on all involved parties.