Kamal's Statement About Actors Flexing Their Injuries Caused Speculations !!
Written by Dhiwaharan Published on Aug 05, 2022 | 21:04 PM IST | 48
Follow Us
Comments: 0
Actor Kamal Haasan, in a recent interaction with Galatta youtube channel for the 50th day celebration of "Vikram" movie, mentioned about actors flexing about their injuries to sell their film. As soon as the actor made the statement, fans started speculating that he is indirectly mentioning about a top hero of Kollywood. A number of Vijay fans shared the screen shot from the making of "Valimai" where actor Ajith kumar falls while riding bike and said that Ajith got attacked by Kamal Haasan.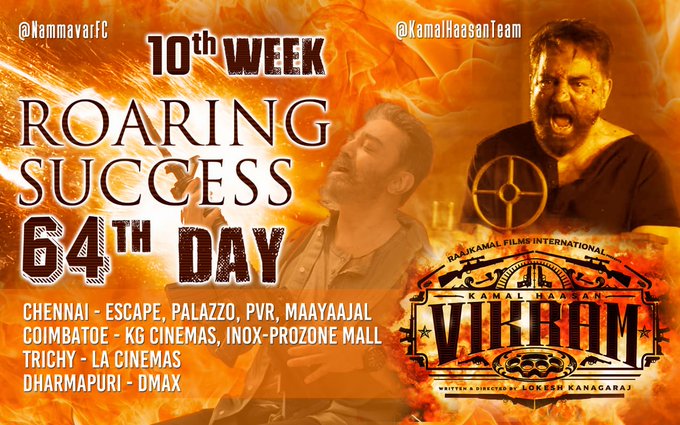 Through the result of his recently released "Vikram", Kamal Haasan who was busy contributing for his political party due to the Tamil nadu assembly elections, came back into the map of top heroes. The film collected more than Rs. 500 crore across the world and the pre release business of it amounted to Rs. 200 crore as well. "Vikram" became the most profitable movie in the history of Tamil cinema, according to the statement of distributor Udhayanithi Stalin. It is notable that the film got produced by Kamal Haasan himself through his own banner Raaj Kamal Internationals.
In the celebration event of the Lokesh Kanagaraj directorial, Baradwaj Rangan asked Kamal Haasan about the toughest film he has ever acted in. Answering to him, the actor said "Actors shouldn't consider physical training as tough" said the actor and continued "No Pain, No Gain is the first rile of the game"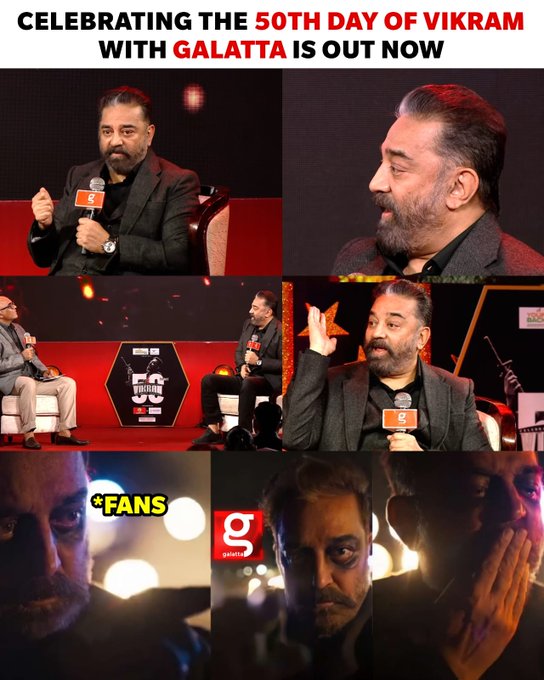 "We couldn't be lamenting to public saying that I got sweat while working and my hip got strained. Audience will be seeing only if I am dancing well, no matter whether I got injured or not" Kamal Haasan said. "I won't be showing my injury to audience and get money from them like I'm a beggar. I will show them my talent and get their money" he added.
Watch the video below :
தாக்கப்பட்டாரா!!! pic.twitter.com/WFMDhMzG3h

— Bruce (@Wayneetech) August 5, 2022
Many users, most importantly fans of actor Vijay, speculated that Kamal is indirectly attacking Ajith kumar. Most recently, through the making video of "Valimai", a shot was placed showing the actor falling down while riding his bike. Few others mentioned other actors a well. Many other online users believed that there is no intention behind the speech of the actor.
Check out some of the reactions below :
ஏகப்பட்ட ஆப்பரேஷன் ஏகே முதுகுல கஷ்டப்பட்ட நேரத்துல யாரும் வந்து உதவுல 🥲🥲🥲 pic.twitter.com/THh5MJIBAD

— பூமர் (@poochandiii) August 5, 2022
Applies to many actors

Ajith – முதுகுல குத்திட்டாங்கடா

SK – எனக்கு அப்பா இல்லடா

Rajini – 10% நிம்மதி இல்லடா

— Day 0 (@WorkMode33) August 5, 2022
தன்னைதானே செதுக்கியவர் தாக்கப்பட்டார்😂🐢

— Mr. Tom🗡️🔥 (@ganeshk12119417) August 5, 2022
இதுவா இருக்காது 🚶‍♂️🚶‍♂️ pic.twitter.com/X8Xni8jhC3

— Beast_Tweets (@BeastFanSays) August 5, 2022
Wattha…. 1000 fire 🔥🔥🔥🔥

முதுகெலும்பு உடைந்து 30 து தையல் போட்டு முதுகுல ஆபரேஷன் பண்ண குரூப் இதெல்லாம் பார்க்காதீங்க… அப்புறம் வருத்தபடுவீங்க😁

— கவண்_ட்வீட்ஸ் 🔥 (@PrasadG_Nandhu) August 5, 2022
இப்ப எனக்கு ஒரு பாட்டு தோனுது பாடிகிட்டுமா.

ஏகபட்ட ஆப்ரேசன் தலையோட முதுகுல
கஷ்ட்டபட்ட காலத்துல யாரும் வந்து உதவல . சினிமால நுழையல டா எவனோட தயவுல. தோல்விய கண்டு தல கொஞ்சம் கூட அசரல …🙏🙏

— sʜᴀɴᴋᴀʀ 🥃 (@90shank) August 5, 2022