Actor turned politician Kamal Haasan uploaded a tweet taking indirect jibe at DMK for their recent announcement on providing Rs.1000 monthly salary of home makers if they wins the upcoming assembly elections. The actor said that "kazhagam" has entirely copied the highlights of MNM's election manifesto and added that he would feel happier if they copy the honesty and righteousness.
[wp_ad_camp_1]
Earlier, while making their promises to the people ahead of the assembly polls, the Kamal Haasan led party said that the contribution of homemakers will be recognized through payments for their work at home if his party MNM gets voted to power in the 2021 Tamil nadu assembly elections. The seven-point Governence and Economic Agenda released by Kamal Haasan said "Homemakers will get their due recognition through payment for their work at home which hitherto has been unrecognised and unmonetized, thus raising the dignity of our womenfolk"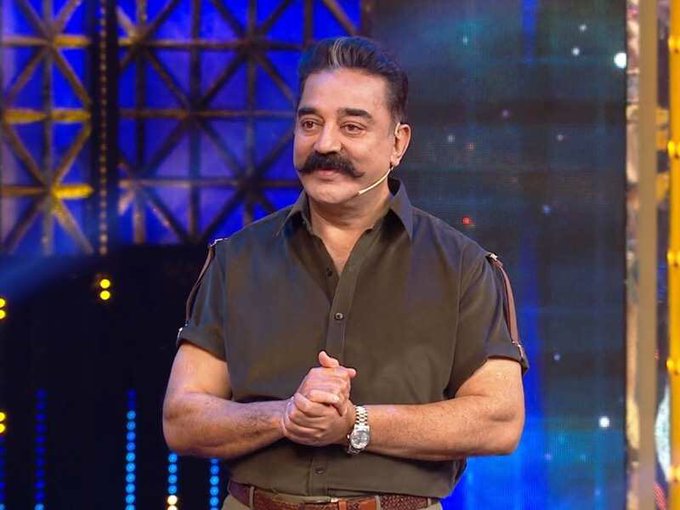 Now, on Sunday, The Dravida Munnetra Kazhagam (DMK) has announced a Rs 1,000 monthly wage for ration cardholder housewives, among other promises if the party was voted to power in the upcoming assembly elections in Tamil Nadu.
"For all the women family heads in Tamil Nadu, we are going to provide every month Rs 1,000 'rights' assistance. As a result, all the families that get food (essential) commodities from Public Distribution Outlets would be benefited for sure," said Stalin at a rally near Trichy on March 7.
[wp_ad_camp_1]
Now, reacting to the announcement, MNM leader Kamal Haasan came up with a tweet saying "I would feel happier if the "Kazham" which completely copied the highlights of our election manifesto, copies the honesty and righteousness from us" "எங்கள் தேர்தல் அறிக்கையின் சிறப்பம்சங்கள் அனைத்தையும் பிரதியெடுத்துக் கொண்ட கழகம் எங்கள் நேர்மையையும், தூய்மையையும் கைக்கொண்டால் மகிழ்வேன். " read the tweet of the "Indian" actor.
Check out his tweet below :
எங்கள் தேர்தல் அறிக்கையின் சிறப்பம்சங்கள் அனைத்தையும் பிரதியெடுத்துக் கொண்ட கழகம் எங்கள் நேர்மையையும், தூய்மையையும் கைக்கொண்டால் மகிழ்வேன்.

— Kamal Haasan (@ikamalhaasan) March 8, 2021
The tweet garnered various kind of reactions from the users of Twitter. While the supporters of DMK party accused him of copying the ides to make films from world cinema, fans and supporters of the actor backed him and trolled the DMK party along with him.
Check out some of the reactions below :
நேர்மையை மட்டும் காப்பி அடிக்க முடியாது. pic.twitter.com/LUkcpDyAFr

— அன்பேசிவன்💙 (@SakalaVallavan) March 8, 2021
பஞ்சதந்திரம்
தெனாலி
அவ்வை சன்முகி
அன்பே சிவம்
மகளிர் மட்டும்
மன்மதன் அம்பு
நாயகன்
குணா
மகாநதி
நள தமயந்தி
பம்மல் கே சம்பந்தம்
நம்மவர்
அராஜ பார்வை னு

நீயே ஒரு திருட்டுப்பய.. எப்புட்றா கூச்சமில்லாம இந்த ட்வீட்ட போட்ட?

— VOTE FOR DMK 🖤💙❤ (@RjAadhi2point0) March 8, 2021
[wp_ad_camp_1]
நேர்மை🤣🤣🤣
ஒலக படங்கள காப்பியடிச்சு ஒலக நாயகன் பட்டம் வாங்குனப்ப எங்க போச்சு நேர்மையும் தூய்மையும்😂😂😂

கொள்கைய வெளியிட்டா காப்பி அடிச்சிறுவாங்கனு அதிமேதாவித்தனமா சொன்ன நாய் இப்ப எதுக்கு காப்பியடிச்சிட்டாங்கனு கதறுது😁😁😁 pic.twitter.com/DIqktXZUBA

— #GOT_TN2021 (@GOT_TN2021) March 8, 2021
மக்கள் நீதி மய்யம்…🔥🔥🔥 pic.twitter.com/5X0R3gSmMQ

— பாரதிதாசன் (@bharathi2241980) March 8, 2021
Political parties of state Tamil nadu are busy campaigning for the upcoming assembly polls. The Election Commission of India announced the schedule for five upcoming assembly elections in the country – Tamil Nadu, Assam, Kerala, West Bengal and Puducherry. While Kerala, Tamil Nadu and Puducherry will have elections in a single phase, polls will be held in Assam in three phases. West Bengal, however, will have elections in eight phases.
Election Commission of India has announced about the voting and counting dates for Tamil Nadu Legislative Assembly Election. The elections for 234-member assembly will be held in single phase. The counting of votes will take place on May 2. All elections in 38 districts of Tamil Nadu consisting of 234 Assembly Constituencies will be held in single phase.