A day after announcing Azeem as the winner of Bigg Boss season 6, Ulaganayagan Kamal Haasan used the word "Aram" in his tweet to express his birthday wishes for freedom fighter Netaji Subash Chandra Bose. On seeing the tweet, many users of the show got triggered and started slamming him based on the Bigg Boss result. It is notable that Vikraman often used the phrase "Aram Vellum" throughout his Bigg Boss journey.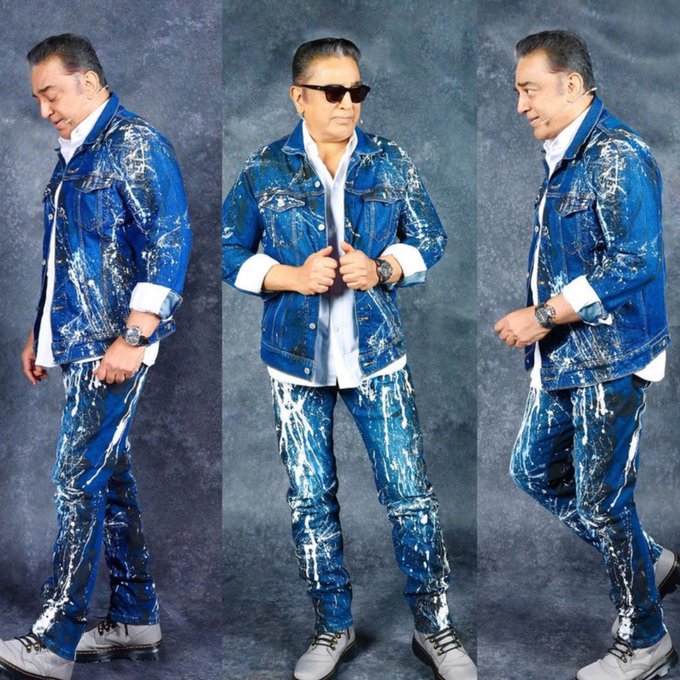 Mohammed Azeem who got condemned by Kamal Haasan throughout the season due to his behaviour towards other contestants, has been announced as the winner of Bigg Boss season 6. Majority number of viewers are not happy with his victory which is evident through the comments that are surfacing against Vijay Television in the internet platforms.
Not only Kamal Haasan, in several occasions, Azeem got severely criticized by the viewers of the show for the way he behaved towards his co-contestants. Now, after it was announced that he won the title, many of the show's ardent viewers couldn't swallow it.
Ever since the announcement on Azeem winning the Bigg Boss title surfaced, various kind of hashtags regarding the same are trending in the micro blogging social media site. Hashtag "Boycott Vijay TV" is trending in the micro blogging social media site as well. Many users who got upset over Azeem winning the title, has been expressing their displeasure through the hashtag.
While the followers of the show were expressing their dejection over the result, Kamal Haasan came up with a tweet in his twitter handle, wishing "Happy Birthday" to national leader The Great Subash Chandra Bose.
Here's his birthday wishes to Leader Subash Chandra Bose :
அறம் எங்கே செல்லுபடியாகும் என்று யோசித்து, இந்திய விடுதலைப் போரில் மறம் என்கிற ஆயுதத்தை ஏந்தி வீரம் காட்டியவர் நேதாஜி என உயர்ந்த சுபாஷ் சந்திரபோஸ் அவர்கள். அவரது 126 ஆவது பிறந்த நாளில் அவரது வீரத்தைப் போற்றுவோம்.

— Kamal Haasan (@ikamalhaasan) January 23, 2023
Check out some of the reactions that surfaced below :
அறத்தை பத்தி இனி பேசாதீங்க தலைவரே pic.twitter.com/t3Fe9eJlkZ

— கூண்டுக்கிளி (@_uvt_) January 23, 2023
ஒரு பிக்பாஸ் நிகழ்ச்சியில் கூட நீதியை நிலைநாட்ட முடியாத நீங்கள் அறத்தை பற்றி பேசலாமா…. நீங்க சிறந்த நடிகன்… ஆனால் நல்ல தலைவராகவோ, மக்கள் பிரதிநிதியாகவோ இருக்க முடியாது…. தங்களின் முகமூடி கலைந்தது…. #BoycottVijayTV #Vikraman𓃵 #KamalhaasanAramatravar

— GG ❤️🖤 (@gr8ston) January 23, 2023
மோசமான ஒரு பாத்திரம் இத்தனை நாட்கள் தொடர்வதற்கு கமல் உட்பட அனைவரும் துணை.
பிக்பாஸ் போன்ற அசிங்கமான வக்ரம் பிடித்த நிகழ்வுகளை புறக்கணிப்பதே நல்லது. அவர்கள் இப்படி சமூக அவலத்தை வெற்றி பெற வைத்து ,பணம் பண்ணுவதற்கு நாம் நமது நேரத்தை விரயம் செய்வது தேவையில்லை #BiggBossTamil pic.twitter.com/BZKyIhtJvM

— tคrคຖi (@tara_views) January 24, 2023
அந்த பொண்ணுக்காவது அவார்டு கொடுத்து தொலைக்க வேண்டியதுதானே. இவருக்கு அவார்டு கொடுத்து அசிங்கப்பட்டது தான் மிச்சம். இந்த நிகழ்ச்சியை கவி கழுவி ஊத்துறாங்க ஜிபிமுத்துக்கு கூட கொடுத்துட்டு போங்க செத்தபயலே நாரப்பயலே பேதில போகனு சிறந்த கருத்த பேசியிருக்காருனு சொல்லிட்டு போங்க.

— 🍁Sivasankari🍁 D.T.Ed., (@srisivasankari) January 23, 2023
நன்றி வணக்கம் 🙂 pic.twitter.com/uvGFRtge5q

— கிங் கோப்ரா🐍 (@the___coder) January 23, 2023
தலைவரே நீங்க என்னதான் காசு வாங்கிட்டு நடிச்சிருந்தாலும் நீங்கள் தொகுத்து வழங்கும் நிகழ்ச்சியில் அறம் என்பதே கிடையாது மிகவும் தவறான முன்னுதாரணமாக நிகழ்ந்துவிட்டது நேற்றைய நிகழ்வு கடைசியில் கெட்டவன் தான் வெல்வான் என்பது ஆகிவிட்டது

— key 🎹 MJ🕊️ (@supermoonlo) January 23, 2023
Arathai aruthu erinjuttu ipo vandhu velakkennai mari pesuringa

Kannu munnadi oru kepamariku title kudukratha thatti keka mudila ningalam election la win panni ennatha pudunga poringa 😂😂

— dongryravai (@dongryravai) January 23, 2023
Sir, in yesterday BB show you have mentioned that Tamil BB is only BB show that is run in a decent and discipline manner.
But that is only until yesterday. You can't claim that it is a show with discipline anymore after allowing a person like Azeem to be the finalist.#Vikraman

— ஹம்சன் (@ivan_hamshan) January 23, 2023
அறம் எங்கே செல்லுபடியாகும்
என யோசித்து…!!!
Vijay TV kitta Aram edhirpakadhinga nu soldringa puriyudhu…!!!

Andha Aram illadha idathula irundhu vilagi Neengalum unga Aratha nilainaatikonga sir..!!#AramVellum #BoycottVijayTV #Vikraman

— Priyadarshini (@Priya_272) January 23, 2023
எந்த நிலை வந்தாலும் தன்னிலை மாறாமல் இருப்பதே அறம்..அந்த அறத்தை உங்கள் கண் முன்னால் போட்டு காலால் மிதித்து விட்டீர்கள்..?

நாங்கள் நடிகர் கமல்ஹாசனை கேள்வி கேட்க வில்லை…அரசியல் வாதி நீதி நேர்மை பேசும் கமல் sir இடம் கேள்வி கேட்கிறோம்…

அநீதி ஒரு நாள் விழ்ந்தே தீரும் .

— சுரேஷ் மகிழன் (@suresh92958625) January 23, 2023
அறம் எங்கே செல்லுபடியாகும் என்று யோசித்து..
Even Kamal is upset with the verdict & doesn't endorse #azeem's win. He is merely a host. He is not a decision maker that. Don't shoot the messenger. #biggbosstamil6#Vikraman #PeoplewinnerVikramanShivin

— Yaya (@Yayaiknownow) January 23, 2023
ஒரு மனிதன் எவ்வளவு தரைக்குறைவாக பேசினாலும் வெற்றி பெறாலாம் என்று நேற்று நீங்கள் தொகுத்து வழங்கிய பிக்பாஸ் நிகழ்ச்சி மூலம் தெரிந்துகொண்டோம் நீங்களும் அந்த அநீதிக்கு‌ துணைபோனதற்கு உங்கள் மேல் உள்ள மரியாதை எங்களுக்கு போய்விட்டது…👎🏼

— VIKRAMAN FAN 🔥 (@HarshitRaja15) January 23, 2023
உங்கள் பிக்பாஸ் நிகழ்ச்சியில் முடிவு ஒரு கரும்புள்ளியாகப் படிந்துவிட்டது! அறிவான புத்தகங்கள் பரிந்துரைத்தும் அறத்தை நிலை நாட்டத் தவறிவிட்டீர்கள்! "முரட்டுத்தனமும், மோசமான நடவடிக்கையும் வெற்றியைத் தேடித்தரும்" என்ற தவறான செய்தியை இளைய சமுதாயத்தின் மனதில் விதைத்துவிட்டீர்கள்!

— Nimeshiga (@Nimeshiga) January 23, 2023