Kamal Haasan Trolled Vijay By Calling Him As "Ayyaa" ?? "Vikram" Actor Responded
Written by Dhiwaharan Published on Jun 09, 2022 | 07:46 AM IST | 88
Follow Us
Comments: 0
Ulaganaayagan Kamal haasan, in one of the promotional interviews on "Vikram", mentioned actor Vijay as "Thalapathy Ayya" and many believed that the actor said it sarcastically. Now, in the success meet of "Vikram", Kamal Haasan brushed off the rumours and said that he said it out of affection and also mentioned how legendary actor Sivaji Ganesan used to mentioned Kamal Haasan as "Ayya" on stage.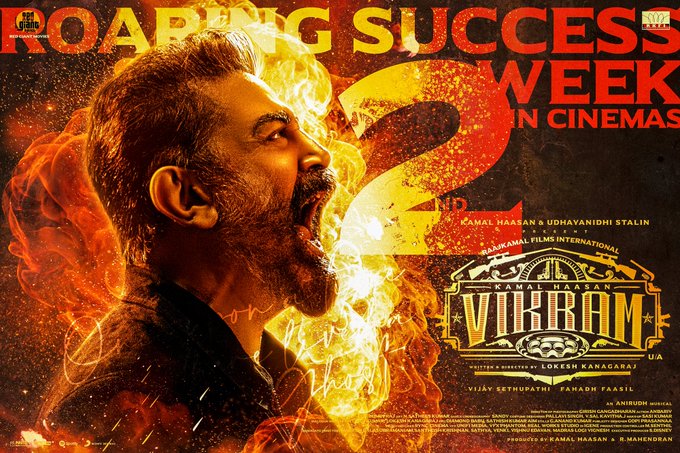 During the promotions of "Vikram", The legendary actor has been facing so many questions about the film and about his future endeavors to which the actor has been answering in a calm and composed manner. In one of the events, a reporter questioned Kamal Haasan on when he is going to share screen space with actor Vijay. Answering to the press reporter, Kamal Haasan said "Thalapathy Aiyya-oda all sheet kedachathu na pakalam"
Watch the video below :
Youtube channels and press reporters questioning celebrities about Thalapathy Vijay and Ajith kumar, two of the most celebrated actors to gain views became a routine. Though Kamal Haasan answered to the question with fans in the auditorium roaring in excitement, many online users thought that the actor cum politician trolled Vijay sarcastically by referring him as "Ayya" (sir).
It is very well known that actor Kamal Haasan is super senior to Vijay and all the other top actors who are currently acting in Tamil cinema. It is believed that Kamal who felt the question on the collaboration between himself and Vijay should have been asked to Vijay as he is his junior, used "Ayya" to troll the reporter who asked the, question.
"Enakku mattum sarcastic ahh solre maari therithu pole" a Vijay fan commented whereas another one said "Vijay ah kalaaikara mathri irukae🤔"
Check out some of the reactions below :
Vijay fans Thanking Kamal for saying
"Thalapathy Aiyaa"

Kamal who actually trolled them pic.twitter.com/7vSE8Mnm3H

— Aandavar Veriyan 20.6cr (@aandavaroff) May 29, 2022
Enakku mattum sarcastic ahh solre maari therithu pole 😬🙊🚶‍♂️

— ᐯengkat ꍏthreya  (@vengkat_athreya) May 29, 2022
Vijay ah kalaaikara mathri irukae🤔

— RoL€X Mouli🦂🔪 (@MouliSuriya5) May 29, 2022
Bro I hear a lot of sarcasm here … he probably meant the CM 😂😂😂

— 𝓡𝓪𝓳𝓮𝓼𝓱💎 (@raj5251) May 30, 2022
Now, in a way of clearing the air, Kamal Haasan, in the success meet of "Vikram" had said that he mentioned Thalapathy as "Ayya" only out of affection. "Sivaji Ganesan would mention me as "Kamal Ayya", it's all love" said the actor cumpolitician who is basking in the sucess of "Vikram".
Watch the video below :
Ellam oru pasathula solrathu thaan – @ikamalhaasan pic.twitter.com/1Q0zbpUUK9

— Wαlk-Mαn ‏Ajíth (@WalkMan_Ajith) June 9, 2022