Kamal Haasan Again Asking "Vekkama Illa?" To DMK !! Check Out The Reason This Time !!
CM / Updated: 2019-02-25
18:52 IST
By Dhiwaharan
Makkal Needhi Maiam chief Kamal Haasan has denied that his outfit is the Bharatiya Janata Party (BJP)'s "B team" and asserted that the party was being targeted as they were growing in stature.
[wp_ad_camp_1]
Addressing a party rally on Sunday, Haasan, without directly naming any outfit, said he was being targeted as his party was growing in stature. One of the attacks was calling his party "the BJP's B team," he said.
என்ன அவமானப் படுத்தனம்னு கெட்ட வார்த்தைல திட்றாங்க..
நான் BJPயின் 'B' டீம் ஆ?

இந்த மாதிரி கெட்ட வார்த்தை பேசினா சரியான பதிலடி கிடைக்கும்..

நான் யாருக்கும் 'B' டீம் இல்லீங்க.. நாம் தான் தமிழகத்தின் 'A' டீம்.🔥🔥🔥#kamalhaasan#MakkalNeedhiMaiam#1YearOfPeoplesMNM @ikamalhaasan pic.twitter.com/2uRPyaHzJa

— 🍃🍁 Rajesh 🍁🍃 (@kaadhale_aadhal) February 25, 2019
Refuting it, he said, "I am not a B team for anyone, this is Tamil Nadu's A team." Days ago, the DMK organ 'Murasoli," had alleged that he was accusing it of corruption due to "BJP's pressure."
[wp_ad_camp_1]
The MNM chief criticised the AIADMK government in his address. Tacitly referring to the police shooting that killed 13 anti-Sterlite protesters last year, he said: "They shoot those who ask questions in the mouth."
உன்கிட்ட சீட்டு கேட்டேனா??

பஞ்சிறும்…. For those hate monger and propagate false claims on நம்மவர் … nice reply… #withDueRespect 😁😂🙏 pic.twitter.com/jud9cOtUW6

— Prakash Sampathkumar (@prakashskumar) February 24, 2019

Mr Haasan, expressed confidence that the party he launched in Madurai last February has evolved enough to take on the behemoths of Indian politics. "We are clean and honest, and we shall remain so. Let's uproot casteism and nurture equality together. Let's teach this generation what democracy actually stands for," he said, adding that they have very little time on their hands to change Tamil Nadu for the better.
Watch the full video here :
He also iterated his earlier statement against DMK where the Makkal Needhi Maiam president slammed byasking "Don't you shame of copying me?". Kamla Haasan yesterday at Tirunelveli said "I am again asking it, Don't you have shame ?"
வெக்கம் இருக்கா இல்லியா, கேட்ட கேள்விக்கு பதில் சொல்லுங்கடா 😃
That voice modulation 👌👌👌 pic.twitter.com/8vXeV6wnZz

— 𝗠𝗮𝘀𝘀 ✺ 𝗠𝗮𝗵𝗮𝗿𝗮𝗷𝗮 (@Mass_Maharaja) February 25, 2019
"Instead of answering my question you are keep confronting me. Can you answer that question. Can you prove that you are clean ?? Would these people believe if you say that you are clean ??" questioned Kamal at the DMK party.
[wp_ad_camp_1]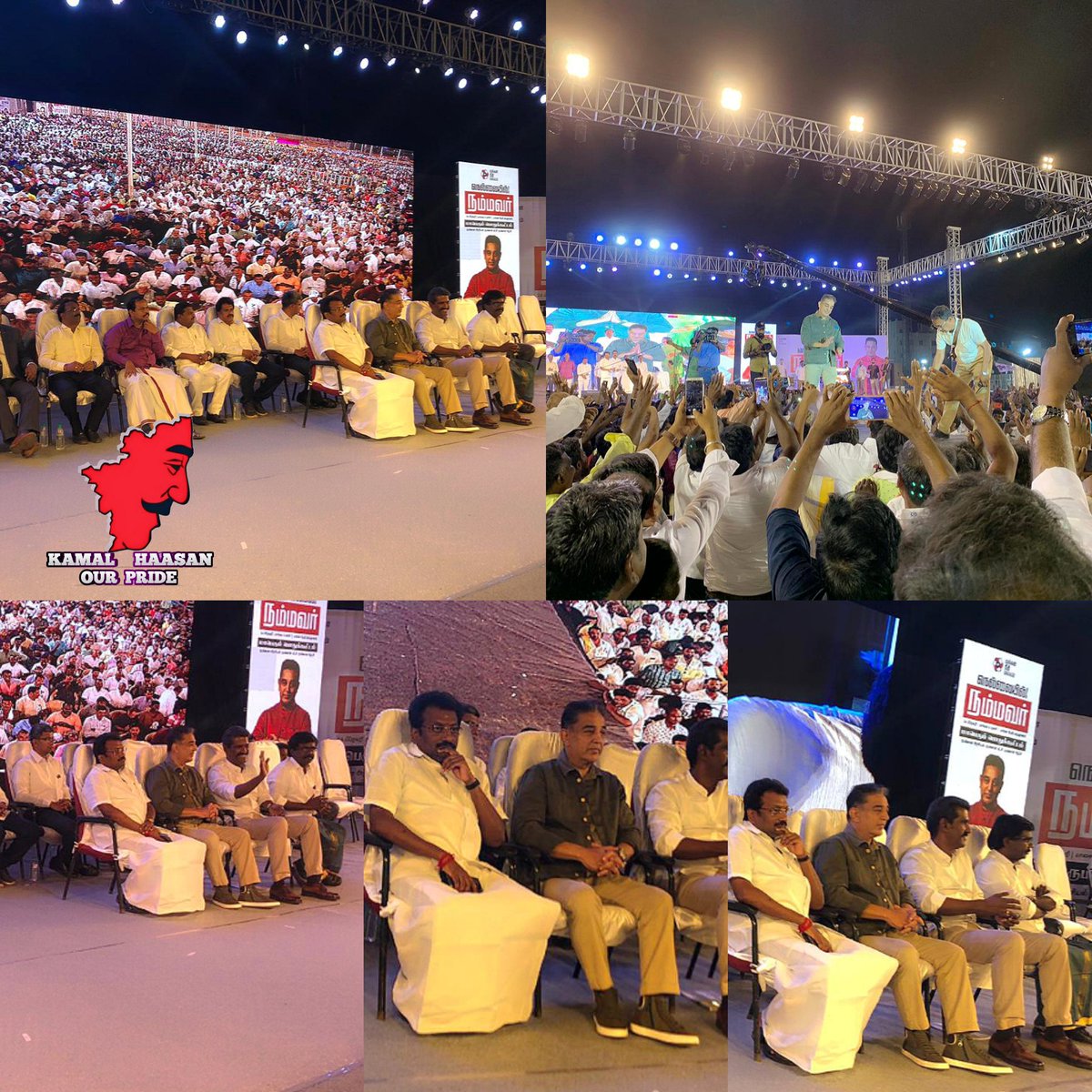 Meanwhile Fellow-actor Rajinikanth, who has also joined politics, congratulated Mr Haasan on the occasion soon after. "The Makkal Needhi Maiam leader has decided to contest the elections just as his party enters its second year. Kamal Haasan, my dear friend, I congratulate you heartily," he tweeted.
கட்சி ஆரம்பித்து, இரண்டாம் ஆண்டில் அடி எடுத்து வைத்து, தேர்தலில் முதல்முறையாக போட்டி இடப்போகும் மக்கள் நீதி மய்யத் தலைவர்…என் நண்பர் கமல்ஹாசன் அவர்கள், பொது வாழ்விலும் வெற்றி பெற என் மனமார்ந்த நல்வாழ்த்துக்கள்…

— Rajinikanth (@rajinikanth) February 24, 2019
Kamal thanked him through his twitter account as well :
நன்றி @rajinikanth, என் 40 ஆண்டு கால நண்பரே. நல்லவர் துணை நின்றால் நாற்பது எளிதே
நாளை நமதே.

— Kamal Haasan (@ikamalhaasan) February 24, 2019
Rajinikanth has decided to skip the upcoming Lok Sabha polls to focus on the 2021 Tamil Nadu elections.