Kamal Disliked This Blockbuster Song Of A.R Rahman !! UNEXPECTED
Written by Dhiwaharan Published on Jun 13, 2020 | 09:44 AM IST | 127
Follow Us
Comments: 0
Kamal Haasan's second episode of "Thalaivan Irukkindran" streamed in social media platforms on the evening of 12th June, Friday. VJ Abhishek who hosted the first episode of "Thalaivan Irukkindraan" which was participated by Ulaganayagan Kamal Haasan and Makkal Selvan Vijay Sethupathi hosted the same show with the same title by having Academy award winning A.R Rahman with Kamal Haasan.
[wp_ad_camp_1]
The film "Thalaivan Irukkindraan" which is going to be an official sequel of 1992 blockbuster film "Devar Magan" is going on floors as soon as the lockdown gets lifted in southern districts of Tamilnadu. As Devar Magan talked against casteism in rural parts of Tamilnadu, "Thalaivan Irukkindran" is going to revolve around political state in the country.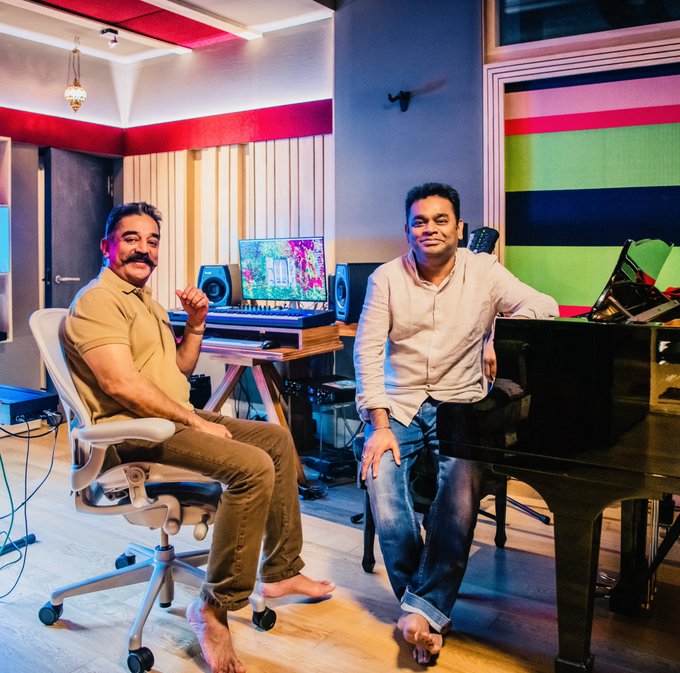 As soon as Kamal Haasan decided to make the sequel, he approached academy award winning musician A.R Rahman and committed him for the project. It is highly believed that Vijay Sethupathi is going to play main antagonist as Nasser's son. Now, as a part of a promotional activity for the film, Kamal Haasan and A.R Rahman appeared together for the first time for an interaction.
In the one hour and twelve minute session, both of them conversed about many things including what defines a "Tamilian" and an "Artist". Kamal Haasan revealed how he blackened by Ilayaraja and missed to notice some of the best works of A.R Rahman. The academy award winning musician shared the things he admired in Kamal Haasan including how he articulates his imagination into words in Tamil.
[wp_ad_camp_1]
Kamal Haasan and A.R Rahman worked together in Indian and Thenali. Talking about the works of Rahman in Indian, Kamal Haasan revealed that he didn't like "Kappaleri Poyaachu" song initially. "When he works with Mani ratnam, there will be an unique pattern in his music. He kept breaking the pattern as well. He avoided using instruments repeatedly in his songs. I liked that qualities him" said Kamal Haasan while talking about the works of Rahman during his earlier stage.
He further revealed how he said to director Shankar about his opinion on "Kappalaeri Poyaachu". "I was not at all impressed while hearing "Kappaleri Poyaachu" initially. "Shankar played the song for me when I was in my make up room. After hearing it, I nodded yes without much interest. But when we shot the song, it was completely different. Because I didn't know his working patterns. It is because of the lack of involvement I had with his works. It's all your mindset" said Kamal Haasan in the interaction.
Watch the video here from 19th minute :
Source : Open Pannaa
Watch the song here :
[wp_ad_camp_1]
Kamal went on to laud the musician for a song he composed for "Thalaivan Irukkindran". "It is one his best work till date. We haven't released it yet, So I couldn't reveal it much. For me, it is the best of Rahman. I have never heard a song like that. I would have felt jealous if that song featured in some other movie. If we couldn't keep the song in the film, I asked him whether we could release it as a separate album. That is such an important song for me. Thing fell on place.