Kalidas & Other Celebrities Penned Emotional Notes On The Demise Of Vismaya !!
By Dhiwaharan
Demise of Vismaya, a 24 year old Ayurveda medical student who lives in Kerala left the entire Internet devastated. She died by suicide in the bathroom of her husband's house at Sasthamkotta district in south Kerala due to dowry demands. The incident that took place on Monday sparked huge outrage among the public.
[wp_ad_camp_1]
Vismaya's husband Kiran Kumar who is working as an assistant motor vehicle Inspector and his family members harassed her and physically tortured her over dowry. As soon as the victim found dead at the residence of her husband, Police arrested Kumar and charged him under section 304B of the Indian Penal Code (dowry death). Based on the complaint of the victim's family, Kiran was taken into Police custody.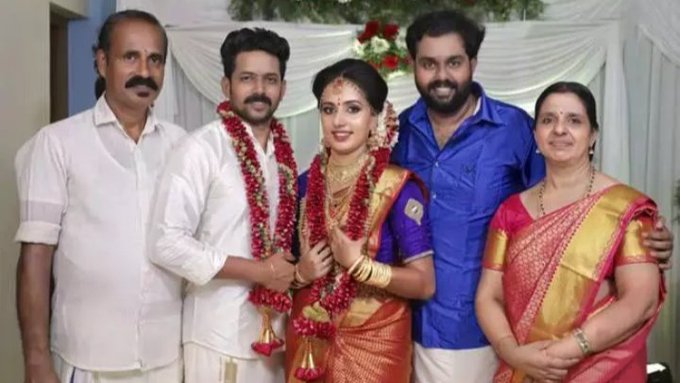 Relations of Vismaya accused Kumar and his family members of beating, mistreating and torturing Vismaya in her in-law's house. It has been revealed that Vismaya sent a series of Whatsapp messages to her family members informing them about the harassment she was suffering from Kumar. The relatives alleged that Vismaya shared the pictures of the wounds she suffered during the recent severe physical torture from Kumar.
Vismaya, in her chat, revealed that Kumar was upset over the car he was gifted by her father and used to thrash her over the disappointment. Vismaya said that she was dragged by her hair and stamped on the face over dowry. Kumar verbally abused Vismaya's father for gifting a car he didn't like. He repeatedly said that he deserve more dowry according to his stature but got only very little.
[wp_ad_camp_1]
According to reports, Vismaya's father Thrivikraman Nair claimed that their family had given 100 sovereigns of gold and over one-acre land, besides a car worth ₹10 lakh car as dowry to Kumar during their wedding in 2020. "He did not like the car but wanted Rs. 10 lakh cash instead. He beaten Vismaya in front of us after coming to our home at midnight last January" father of Vismaya said.
The victim's father also believed that his daughter is not someone who would commit suicide and alleged that it must be a murder. The state police chief Loknath Behera has said that the incident has shaken the conscience of people in Kerala and assured stringent action against the accused. Along with public, cinema celebrities of South Indian film industry raised voice over the dowry issue.
Look what that bastard #KiranKumar has done to #Vismaya#DowryDeath #DowryAbuseKerala pic.twitter.com/YfXVO6unO6

— Rejimon Kuttappan (@rejitweets) June 21, 2021
Actor Kalidas Jayaram came up with a long facebook post expressing his displeasure over the death caused by dowry demand in an advanced state like Kerala. "Truly hoping that strict amendments are made to existing laws and there are necessary actions taken towards educating and empowering people. Let's bring back our girls and let's not reduce them to just another hashtag on social media!" he said in his post.
Check out his post below :
[wp_ad_camp_1]
"Karnan" actress Rajisha Vijayan came up with a post schooling people who wish to earn things through dowry. "A divorced / single woman is always better than an unhappy/dead ones" she said in her post and advised girls to be strong.
"We failed Vismaya. We failed her as a society. She aspired to SAVE lives but eventually LOST hers. Domestic violence & dowry harassment is a serious offence and anybody who considers this a "family matter" & throws it under the rug is equally responsible for her loss! Let dis person be last. We should pledge 2 not let another Vismaya down!" said actress Athmika in her post.
Domestic violence & dowry harassment is a serious offence and anybody who considers this a "family matter" & throws it under the rug is equally responsible for her loss!
Let dis person be last. We should pledge 2 not let another Vismaya down!#VismayaDeath #justiceforvismaya

— Aathmika (@im_aathmika) June 23, 2021