Kalakshetra Professor Got Arrested By Chennai Police!!
CM / Updated: 2023-04-03
16:30 IST
By Surithi J
Kalakshetra Professor has got arrested by the Chennai City Police. Hari Padman, an assistant professor at Rukmini Devi College of Fine Arts under the Kalakshetra Foundation in Chennai, India, has been arrested by the police on charges of sexual harassment. The arrest was made following a complaint from a former female student who had studied at the institution from 2015 to 2019.
also read: Kalakshetra Students Staged Protest Against Faculties Citing S*xual Harassment !!
The Kalakshetra Foundation is a renowned institution for fine arts education, which offers courses in Bharatanatyam, Carnatic music, and other traditional art forms. The institution has been in the news recently for all the wrong reasons, with allegations of sexual harassment and misconduct against several staff members, including Assistant Professor Hari Padman. The issue came to the fore when a former student of the institution filed a complaint of sexual harassment against Hari Padman with the All Women Police in Adyar. Following the complaint, the police booked a criminal case against Hari Padman and other accused under IPC's 354-A and the TN Prohibition of Harassment of Woman Act.
also read: Four More Girls From Chennai & Bangalore Filed Case Against Church Father Benedict Anto !!
After the registration of the case, Hari Padman had gone missing and turned off his mobile phone. However, he was later apprehended, and further interrogation will be conducted before presenting him in court for remand. Only one person has been arrested based on a single complaint, and no other complaints have been received in connection with the ongoing harassment allegations. Students of the Kalakshetra Foundation recently staged protests demanding the dismissal of four staff members, including Hari Padman and three repertory assistants, who have been accused of inappropriate behavior and sexual abuse.
also read: Kalakshetra : Legacy of Rukmini Devi Arundale
All Women Police, Adyar, registered the case against Hari Padman under IPC's 354-A (Sexual harassment and punishment for sexual harassment) and provisions of the TN Prohibition of Harassment of Woman Act. The police have also recorded statements from five other students who are located in Kerala. The case has caused a stir in the country, with many people calling for stricter action against sexual harassment and abuse in educational institutions. The issue is particularly sensitive because it involves a cultural institution like the Kalakshetra Foundation, which has a reputation to uphold.
The incident has also led to widespread protests by students of the institution, who are demanding the dismissal of the accused staff members. The students allege that they have been facing sexual and verbal harassment for a long time, and that the institution has not taken any action despite several complaints.The situation has also brought to light the need for a comprehensive policy to address sexual harassment and abuse in educational institutions. While many institutions have policies in place, they are often not effective in preventing or addressing the problem. There is a need for a more proactive approach that prioritizes the safety and well-being of students and staff.
Watch Video :
source : Liberty Tamil 
also read: Chennai Youth Got Arrested For Filming Women With Hidden Cameras At Hostel!!
In this regard, the government and educational institutions need to work together to create a safe and inclusive environment for students. This can be achieved by implementing policies that prioritize the safety of students and staff, conducting regular sensitization and awareness programs, and creating a conducive environment for reporting incidents of harassment.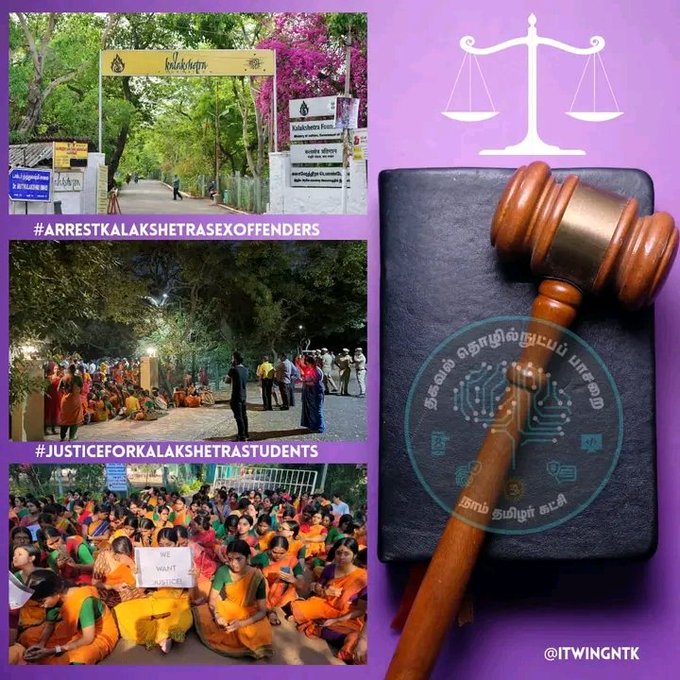 The incident at the Kalakshetra Foundation highlights the urgent need for a more comprehensive and effective approach to addressing sexual harassment and abuse in educational institutions. The problem is not confined to the Kalakshetra Foundation, and many other institutions are facing similar issues. Therefore, it is important that the government and educational institutions take concrete steps to prevent and address the problem, and create a safe and inclusive environment for all students and staff.