"Kaithi" film released along with highly anticipated "Bigil" and running successfully despite of the star value of the Vijay starrer. Having no heroine, songs or flashback, "Kaithi" film impressing the audience for its strong and intense plot. Karthi who already chose to do performances oriented films such as "Aayirathil Oruvan", "Paruthi Veeran", "Theeran Athigaram Ondru", excelled in "Kaithi" in his own way.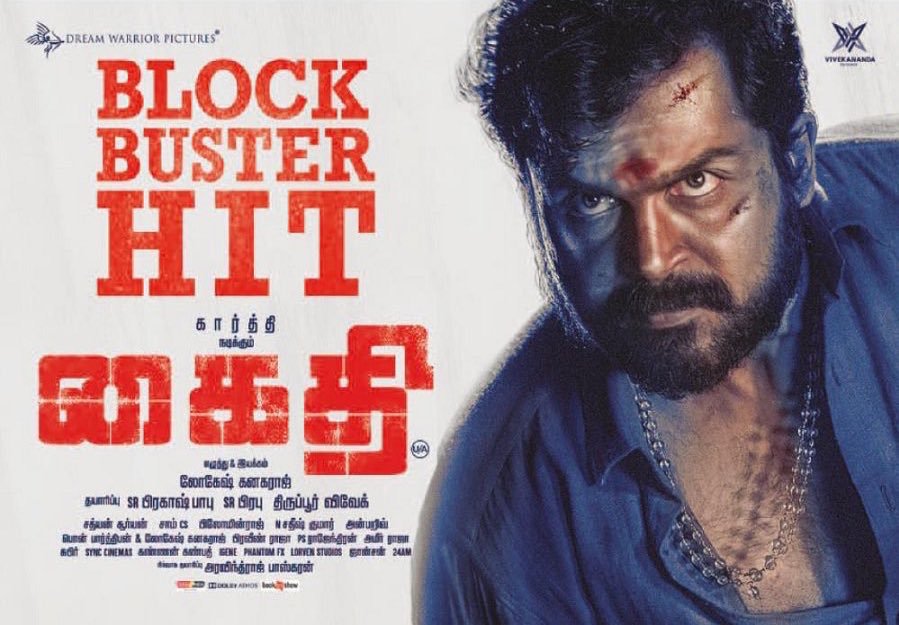 [wp_ad_camp_1]
Kaithi revolves around a story of a released prisoner who spent 10 years of Jail sentence. On his way to meet his daughter for the first time, the protagonist was forced to help a senior police officer from deadly drug lords. When fans of Tamil cinema are complaining about Vijay's Bigil where they feel that the scenes from the movie were already took place in various other films, to our shock, the plot of "Kaithi" directed by Lokesh Kanagaraj is also similar to a famous hollywood film named as "Assault on Precinct 13".
The story of Assault on Precinct 13, which was released in 1976, has a prisoner helping a police officer to get rid of vicious criminals who are trying to attack a police station to avenge for a murder committed. Similar to "Kaithi", in "Assault on Precinct 13", the police and prisoner are finding solution to kill the criminals from the basement of the station. Both the films are the compilation of the incidents that takes place in a matter of hours.
Watch the trailer of Assault on Precinct 13 here :
[wp_ad_camp_1]
In "Kaithi", one of the police character Mariam George's character name is "Nepolean" whereas in "Assault on Precinct 13", the character name of the prisoner who helps the police officer is "Nepolean". However, director, Lokesh Kanagaraj, in his number of interviews has clearly said that he inspired to film "Kaithi" from a news that took place in a old news paper. He even said that films like "Die Hard" and "Virumaandi" helped him to write the screenplay of "Kaithi". Some even accusing the director for copying the concept of Father and daughter from a 1997 crime film "Con Air".
However, users of social media who watched "Assault on Precinct 13" are reacting on the said matter. Check out some of their reactions below :
அண்ணே லோகேஷ் அண்ணே கடைசியில நீங்களுமா இப்படி
Assault on Preciet 13 (1976) படம் அதிலிருந்து மெயின் கதை +
Con air படத்திலிருந்து அந்தப் அப்பா பொண்ணு சென்டிமென்ட் கதை #Kaithi எல்லோரும் பாராட்டுறாங்க ..ஆனா இந்த சட்டையும் பேண்டும் உங்களோடு இல்லைனு நினைக்கும்போது வருத்தமா இருக்கு

— குருவியார் கீச்சுக்கள் (@KuruviyarCinema) October 29, 2019
Kaithi's entire plot is copied from assault on precinct 13 😑 shame on u 💦 @DreamWarriorpic

— சண்டியர் (@_naanavanillai_) October 29, 2019
@Dir_Lokesh – u owe an explanation to the audience.

— UnnalMudiyum Thambhi (@KarthikKumar_80) October 29, 2019
[wp_ad_camp_1]
Lokesh Kanagaraj is all set to direct actor Vijay in his next film which is tentatively titled as Thalapathy64. The director who is considered as one of an important filmmaker in the new generation. In his several interviews, the filmmaker has said that he is a big time follower of Martin Scorsese, legendary filmmaker of American cinema. What do you think on this allegation on "Maanagaram" director Lokesh Kanagaraj ?? Comment your views below !!