"Justice For Srimathi" Is Trending After A School Girl Ended Life In Tamilnadu !!
Girl
K
School
Student
tamilnadu
CM / Updated: 2022-07-15
12:08 IST
By Dhiwaharan
A class 12 student named Srimathi who was studying in a private higher secondary school at Chinna Salem near Kallakurichi in Tamilnadu died by suicide in the night of Tuesday. She reportedly left a note behind alleging two teachers tortured her.
Though the teachers denied the allegations, parents and relatives of the student blocked the Kallakurichi-Salem highway on Wednesday, raising slogans against the school management. The incident took place near Kaniyamoor town.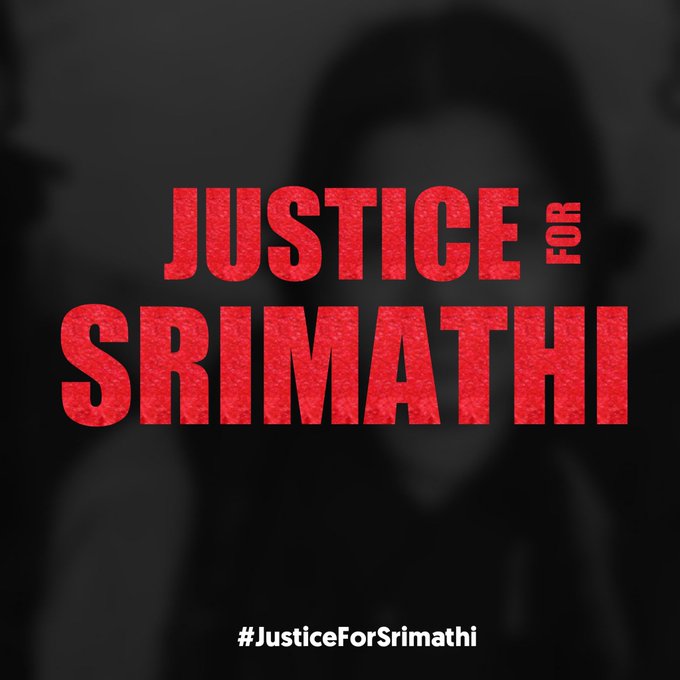 On Wednesday morning, the watchman of the hostel building, allegedly found the girl's body on the ground and alerted the school authorities. The local police were immediately informed and the girl was taken to a nearby hospital where she was declared dead.
In the notes which was left behind, the girl named two teachers and accused them of torturing her and other two students to study always. "The two teachers were brought to the police station for an inquiry. They said that they just casually asked her to concentrate more and study hard as she was very playful" said S Selvakumar, SP of Kallakurichi.
Watch video :
According to Indian Express, Police reports says that the school management informed the girl's parents made them reach the Kallakurichi hospital with their relatives. Close to 50 family members staged a "Road Roko" at the Kallakurichi-Salem highway seeking justice for her death, accusing the school management of pushing her to take the extreme step, said the police.
After the crowd entered the school and prevented teachers to enter the premises, the police reached the spot and pacified the protesters. A case was registered under section 174 of CrPC.
Watch the video below :
Source : Polimer 
"We are carrying out an investigation. The suicide note says that the girl was scolded by these teachers and the other teachers also know about the incident. The post-mortem is being carried out and once it is completed, we will hand over the body to the parents" SO Selvakumar said. Mother of the student said that she has a doubt in the death of Srimathi.
As soon as the report about the news surfaced, users of the internet has been trending "Justice For Srimathi" in the micro blogging social media site with reactions demanding action against the school management.
Pls Share and Take action

RIP 💔#justiceforsrimathi 💔🥺 pic.twitter.com/Ww3LN3ZAMG

— 👑IMMORTAL_AK FC™ (@Immortal_AkFc) July 14, 2022
Pls do watch this video & Spread Max. 🙏🙏#JusticeForSrimathi pic.twitter.com/EQrKIFdDJi

— Sᴀᴋᴛʜɪ ᴠꜰᴄ ❗️ (@Sakthii_VFC) July 14, 2022
To all parties in TN. 😡

— Jailer_Max (@trendsmax_tt) July 15, 2022
This was so heart breaking 💔😢

We are want justice for Srimathi 🙏#Justiceforsrimathi
pic.twitter.com/6aK6pXdlKr

— ஷாஜகான் 🇱🇰 (@JudeOff3) July 14, 2022
A school girl committed suicide in Tamil Nadu after being tortured by teachers. I have also been victim of violence in school😔Its a warning bell. Beating, torturing children is intolerable. It can cost your child's life. Wake up🙏🏻😢 #justiceforsrimathi pic.twitter.com/XjDsU9kXzE

— Jyot Jeet (@activistjyot) July 14, 2022
PLEASE ACTION IMMEDIATELY @tnpoliceoffl 🤬😑#JusticeForSrimathi pic.twitter.com/AHQ42xKDKV

— Rekha (@sameera2802) July 14, 2022
Definitely Money Plays A Major Role In This Case 😡
It's Horrible For A Middle-Class Family 🙏🏻#JusticeForSrimathi pic.twitter.com/NEyTdtxAVD

— 𝙎 𝙐 𝙍 𝙄 𝙔 𝘼 ♔ ᴬᴷ (@Suriya_Twitz) July 15, 2022