"Justice For Pontharani" Trending After A Plus 2 Girl Died Of Sexual Harassment !!
Justice
Justice for pontharani
Letter
CM / Updated: 2021-11-13
15:09 IST
By Dhiwaharan
Hashtag "Justice For Pomtharani" is trending in the micro blogging social media site after a news on a 17 year old girl committing suicide due to the sexual harassment she faced by a teacher. On Thursday, parents of the victim alleged that the extreme decision was made by their daughter only due to the sexual harassment she faced.
[wp_ad_camp_1]
November 12, 2021
Identified as Pon Tharani, the 17 year old deceased was studying 12th standard. Born to Magudeeshwaran, she was living with her family in Kottaimedu, Coimbatore. It has been reported that Pon was studying 12th standard in the Chinmaya Vidyalaya Matriculation Higher Secondary school, where she was sexually harassed. After bringing about the same to the attention of her parents, Pon Tharani was shifted to another school, a couple of months ago.
Reports suggests that the kid could have been traumatized by the incident that happened to her. On Thursday, when there was no one in the room, Pon tharani locked her room and hanged herself from a ceiling fan. Parents of the deceased raised a legal complaint in the Ukkadam Police station. In the complaint letter, the parents have mentioned that their daughter has left a suicide note naming a school teacher and two others who sexually harassed her.
A teacher named Mithun Chakravarthy has been taken into custody after the protest made by the parents of the victim. He was booked under protection of children from sexual offences act and also under the Indian Penal Code section 306 (Abetment of suicide). A letter is doing rounds in social media platforms, claiming that it was written by the victim before taking her life off.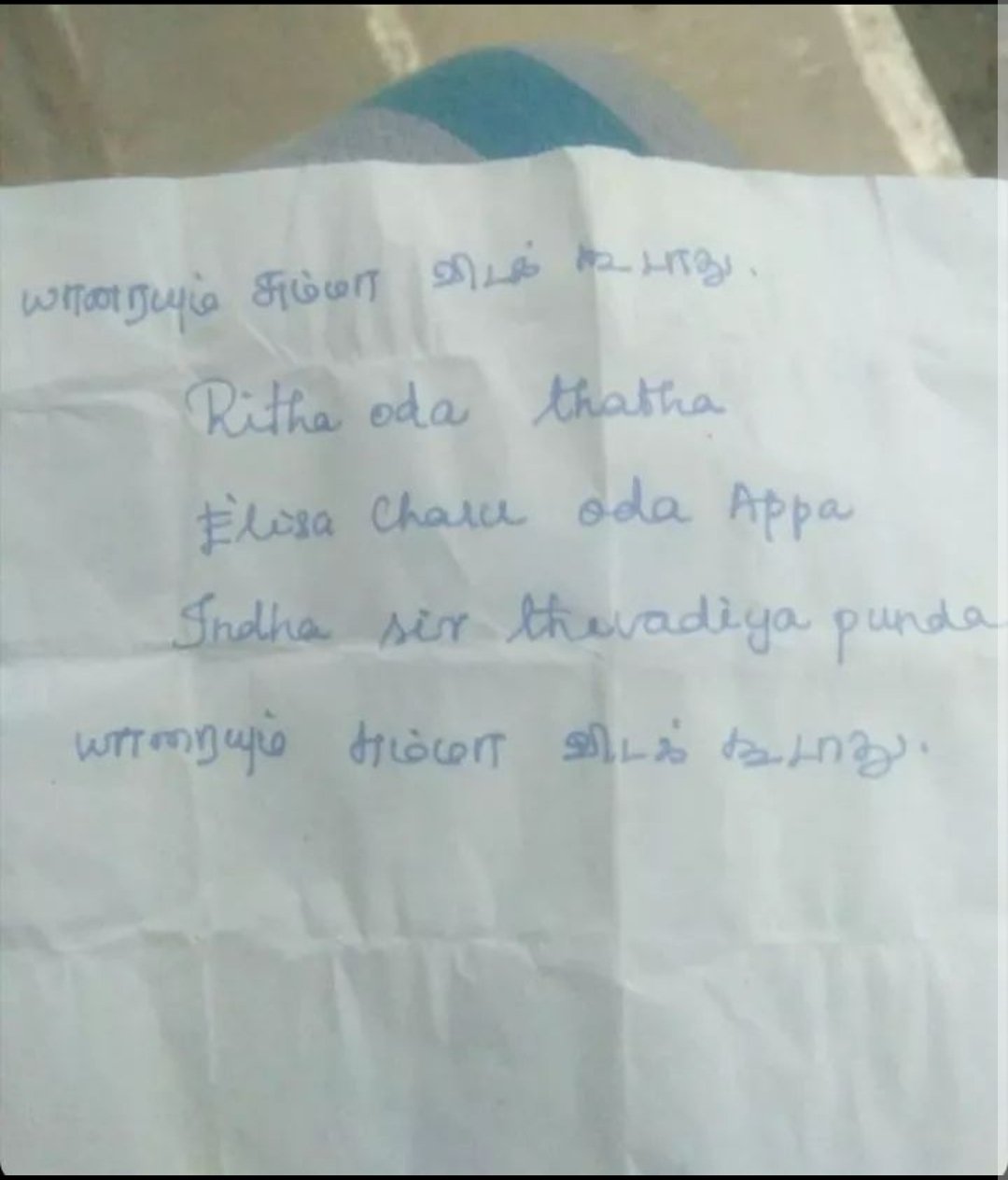 [wp_ad_camp_1]
Check out some of the tweets that surfaced under the hashtag "Justice For Pontharani" :
She Mentioned 3 Members Name In This Letter And Media Highlighted The Main Victim ( Teacher ) What Happened To Other 2 Members She Mentioned It Above As Ritha's Grandfather And Elisa Charu's Dad Need To Find Out Those 2 Bastards Also Who Related To This #justiceforpontharani pic.twitter.com/ZDER4rjUt0

— ♦️𝗞!Π𝗚 𝗠∆𝗞€𝗥♦️ (@_Md_Mustafa_) November 13, 2021
17yr old girl commits sucide after writing letter
😡😡😡#justiceforpontharani pic.twitter.com/Ktd4Ex4dEy

— little princess 👸 (@Meenash07295512) November 13, 2021
From The Morning This Letter Is Stagnant In Mind…!!
@mkstalin Vitraadhinga Sir Avangala…🙏🏻🙏🏻🙏🏻#யாரையும்_சும்மா_விடக்_கூடாது#justiceforpontharani pic.twitter.com/vdF4EmxiyN

— ⚔️𝕍𝕚𝕛𝕒𝕪 ℙ𝕣𝕒𝕓𝕙𝕒𝕜𝕒𝕣𝕒𝕟⚔️ (@Vijay7291Vijay) November 13, 2021
[wp_ad_camp_1]
#JusticeForPontharani

That Bastard teacher,That lady bitch Headmaster should be punished severely
That letter really made me something emotional 😭
Ungaluku lam epdi da chinna ponnungala apdi lam nenaika manasu varuthu
Thu……..
They should be punished severely

— Sanjay (@Sanjay7124) November 13, 2021
#JusticeForPontharani

Her Letter clearly Shows How much she is affected by Mental torture 😢

Let her be the last One 🙏

Punish Those Bastards Brutally 😤 pic.twitter.com/NtbF0f10xF

— IKBAL BASID | ˢᵒᵒʳᵃʳᵃⁱ ᵖᵒᵗᵗʳᵘ (@BasidIkbal) November 13, 2021
#JusticeForPontharani
Everyone talk about only the teacher, What about other culprits mentioned in the letter, Look like they are her friends father and grand father

— thirumadhu25 (@thirumadhu25) November 13, 2021
Odanae saga adikanum adhu vara Nama share panuvom

Oru thadava Nadu road la aruthu saga adicha tha thirunthuvainga 😤😤😤😤😤😤😤😤😤😤😤😤

Pls make it @mkstalin @Udhaystalin anna

Pakurapo erichala varuthu letter eluthuna sis evlo kasta patrupanga 😭#justiceforpontharani pic.twitter.com/7Hp0NTKXwd

— Kaththi Karthick❁ (@Kaththi_karthi2) November 13, 2021