"Justice For Lavanya" Trends After Tamil Nadu Girl Student Died Due To Forced Religious Conversion !!
By Dhiwaharan
Hashtag "Justice for Lavanya" is trending in the micro blogging social media site after a 17 year old 12th standard studying student ended her life due to the harassment she faced from her school. Authorities of the school management forced the teen girl to convert her religion from Hindu to Christian to continue her studies in the school, according to reports. A confession video of the victim is doing rounds in the social media platforms with outrage emerging from all quarters of the online platforms.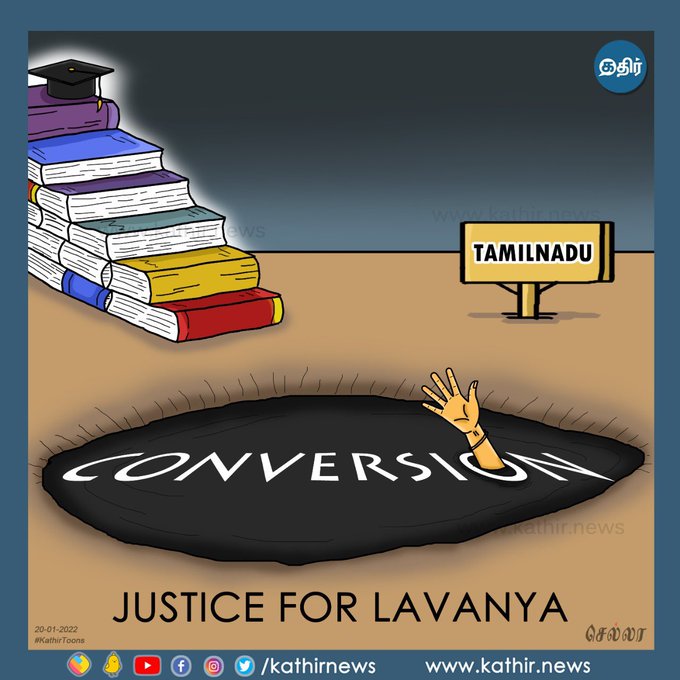 Lavanya was studying 12th standard in the Sacred Heart Higher secondary school which is located in Thirukkatupalli in Thanjavur, Tamil nadu. She faced mental and physical torture from the authorities of her school after refusing to convert into a Christian. The school said that she could continue her studies only if she changes her religion, according to reports.
The victim has been living in a St. Michael's Girls hostel near her school for the pas five years and the government aided Christian missionary school had been pressuring her to convert to Christianity. However, Lavanya refused to convert as a result of which the school management cancelled her leave application for Pongal celebrations.
The minor girl who was supposed to visit her home during the Pongal festivel was forced to do chores such as cleaning toilets, washing dishes and cooking. Dejected Lavanya decided to end her life by consuming pesticide which was used for the school garden. On 9th of January, Lavanya showed some discomfiture and was taken to a local clinic after continuously vomiting.
Warden of the hostel, called the parents of Lavanya and asked them to take her home. Lavanya was then admitted to Thanjavur government medical hospital were she was being treated in the ICU with almost 85 % of her lungs intoxicated. Reports suggests that Lavanya breathed her last on 19th of January while battling her condition in the hospital.
A video of Lavanya revealing about the torture she faced in the school is doing rounds in social media platforms. In the video she could be heard saying that the school management asked her parents if they could make Lavanya convert into Christianity and offered to help her further studies. "Since I didn't accept, they kept scolding me" Lavanya said and named a teacher Rachael Mary as the main harasser.
From Tamil nadu BJP leader Annamalai to many other people has been raising voice against the school with hashtag "Justice for Lavanya" trending in the micro blogging social media site.
ஏழை விவசாயி மகள் லாவண்யா வயது 27, அரியலூர் தூய இருதய மேல்நிலைப்பள்ளியில் நன்றாகப் படிக்கும், பன்னிரண்டாம் வகுப்பு மாணவி.

இவரை மதம் மாறச் சொல்லி, பள்ளியில் கொடுத்த மன அழுத்தத்தால், விஷம் அருந்தி தற்கொலை செய்து கொண்டுள்ளார். pic.twitter.com/7dDioLpIJE

— K.Annamalai (@annamalai_k) January 20, 2022
Protest in Tanjore by BJP seeking #JusticeforLavanya and also demanding closure of the school that is allegedly involved in proselytism. #saynotoconversion pic.twitter.com/llBCLKyZtb

— karthik gopinath (@karthikgnath) January 20, 2022
A Christian School trys to convert a student and she attempts suicide… Listen to what the Padres have done…. pic.twitter.com/S3fg3iWczH

— Indu Makkal Katchi (Offl) 🇮🇳 (@Indumakalktchi) January 19, 2022
Few Muslim students were not allowed in class because they were not following the dress code of college and it became International news.

But a Hindu girl committed suicide because of continuous pressure for conversion in the school is nowhere in the news.#JusticeforLavanya

— Vijay Patel🇮🇳 (@vijaygajera) January 20, 2022
A school student has committed suicide after being forced by a Christian school administration to convert to Christianity!!

Hindus are sleeping well🙂#JusticeforLavanya pic.twitter.com/2iyo419JaT

— Mugesh 🕉️ (@Mugesh01757000) January 20, 2022