JUST IN : Vijay's BIGIL AUDIO LAUNCH SPEECH Copied ?? Kavitha Jawahar Clarifies !!
Written by Dhiwaharan Published on Sep 26, 2019 | 12:58 PM IST | 155
Follow Us
Comments: 0
Vijay's speech in the audio launch of Bigil is talk of the town since it took place. Right from addressing each and every person in the film by their names to requesting fans to use social media responsibly, Vijay struck the right chords with the audience. The actor even spoke about Subashree, a young woman who recently died in Tamil Nadu after an illegally placed hoarding fell on her scooter and killed her. He offered his condolences to the family and asked fans to put hashtags and trends to a better use. The audio launch was officially streamed on Sun Tv during Sunday evening.
[wp_ad_camp_1]
In his speech, along with opening to his fans about the happenings that took place during the making of BIGIL, Vijay also said a short story to his fans to educate them on how to let people work their respective works instead of placing them in inappropriate positions and getting the work ruined.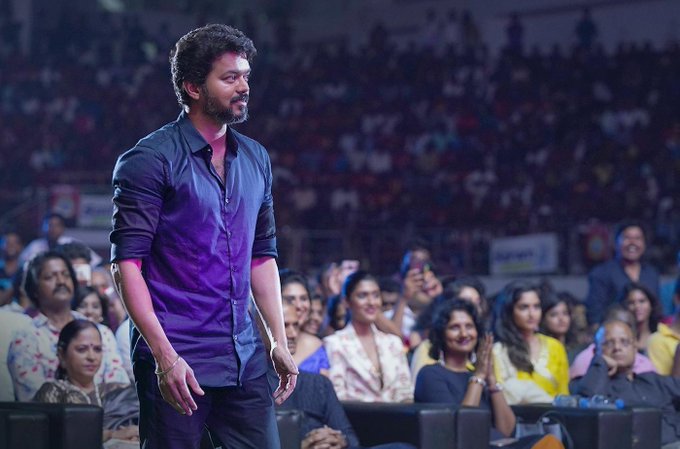 He also said a "Tirukkural" before telling the short story on making a flower shop boy to work on a Crackers store. Vijay said in his story, a man places his friend who worked in a flower shop in a cracker shop to get him a job. "The guy who is new to the job started to sprinkle water on crackers as he did it for many years in his flower shop. So one must know whom do give what job" the Bigil actor said.
[wp_ad_camp_1]
As the speech went viral, a separate set of fans alleged that the short story said by Vijay was copied from one of a speech of famous debate speaker Kavitha Jawahar. They also made troll videos regarding the same.
Watch one of them here :
இதுவும் காப்பியா 🤭 pic.twitter.com/mSPuULlPLE

— Tirunelveli Nadar (@arabianstrong) September 25, 2019
Now, Kavitha Jawahar herself has made it clear that it is not at all copied as the story was used by many in the previous occasions. "First of all, the thirukkural which was said by Vijay was not written by me. It was written by Thiruvalluvar 2000 years ago as we all know. The shot story was also not created by me as many of the debate speaker would use it for reference in their speeches." said Kavitha to the reporter.
Watch the video of Kavitha here :
Source : News7
[wp_ad_camp_1]
"Vijay Sir could have heard it from anyone else. As I heard from some one else, Vijay sir could have heard it from someone else as well or else he could have read it somewhere. I believe that it is completely happened by chance. I also want to say that I am an ardent fan of actor Vijay and it is happy that my speech was compared with his. He delivered it better than me and now I became a fan of his speeches as well" she added.
What do you think this clarification given by Kavitha Jawahar ?? Comment your views below !!