JUST IN : This Contestant Left The Home With Money Box!!
Written by Dhiwaharan Published on Jan 19, 2023 | 23:28 PM IST | 208
Follow Us
Comments: 0
After Kathiravan left the Bigg Boss house with the money bag that consisted Rs. 3 lakh, Bigg Boss announced that there a money box is going to be placed again for the finalists. This is the first ever Bigg Boss season to witness two offers back to back in the history of the Tamil version. Now, as soon as the brief case was lifted by another contestant, viewers of the show couldn't keep calm.
Bigg Boss is a reality game show that is being hosted by political party leader, actor and filmmaker Kamal Haasan. The show will see 20 plus plus celebrity contestants locked into a house with weekly elimination based on audience's vote. The one who survives till the 100th day with highest number of votes will be announced as the winner. So far, aspiring model and actor Aarav, "Madras" fame Riythvika, Malaysia based singer Mugen, Actor Aari, TV star Raju have won the titles.
In every season, Bigg Boss would announce a cash prize for the contestants who are competing for the title during the final weeks. A contestant who feels that he won't make it to the title, can leave the house with the money. Gabriella, Kavin are some of the contestants who left the home with the money box.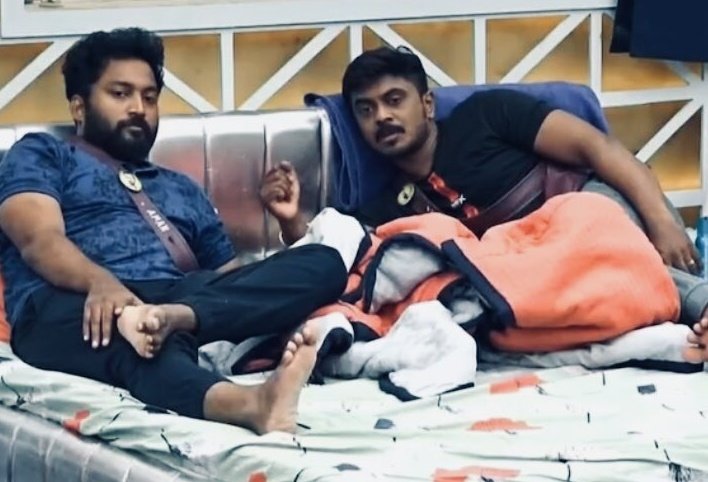 Earlier, Kathiravan of Sun Music fame left with the money bag. The cash prize he chose to take home is just Rs. 3 lakh which is less comparing to the amount took by other contestants of previous seasons. Kathir stated that money is not important for him as he already decided to take the cash prize that was going to be announced.
To everyone's surprise, Bigg Boss came up with money box next to tease the finalists. As time went by, the amount kept increasing. Now, it has been reported that Amudhavan of "Kalakapovathu Yaru" and "Athu Ithu Ethu" fame decided to leave the house with the money box. The amount he left home is Rs. 13 lakh, according to reports.
View this post on Instagram
Amudhavanan played the game well and gave touch competition to his housemates as far as physical tasks are concerned. He won many hearts through his Bigg Boss stint but failed to grab the top spot through the decisions he made inside the house.
Check out some of the reactions that surfaced for the decision made by Amudhu :
Proud of u #amudhavanan U r most talented hardworking sincere contestant in bigg boss tamil season 6. Smart move by u going out with 13 Lakh cash box .U have taught lesson for #Kathiravan jealous #Dhanalakshmi #BiggBossTami6 #BiggBoss6Tamil #BiggBossTamilSeason6 @kadermeeran pic.twitter.com/PsrazvfDmh

— Badhri (@itisba3) January 19, 2023
Great decision by #Amudhavanan

Slipper shot to both #Azeem and #Vikraman toxic fan groups

He never had support from audience or any political group. He came to the top only because of his hard work and talent and he deserves this money 💰#BiggBossTamil6 #BiggBossTamil

— Liar (@raj91709727) January 19, 2023
Congratulations #Amudhavanan. After Mani and Dhana you're good in task 🙌 hence deserving for the case.

Be happy with your family out there. #BiggBossTamil #BiggBossTamil6

— Vanathi 💜 (@JayZee7456) January 19, 2023
Rushers walked out with cash !#BiggBossTamil6 #BiggBossTamil#Kathiravan left with 3 lakhs#Amudhavanan left with 13 lakhs#SAISANGO #TAMILTVHouse #VijayTelevision pic.twitter.com/m0xWOKndbJ

— TAMIL TV House (@tamiltvhouse) January 19, 2023
Seems #Rachita wants to be a good friend to both #Amudhavanan & #Shivin by advising to wait till 15L

Maybe it was best for Amudha to take it at 13L 🧐…anything more & there could have been competition for the case😅

— PJ (@param4porul) January 19, 2023
#Amudhavanan is one lucky contestant
Faced only 2 nomination ✅
Never brutally roasted in weekends ✅
TTF tasks designed for his benefit ✅
Second time cash box only for him✅
Saw the special AV ✅
Bonus 13Lakhs ✅
Vazhkkkaaa 😒#BiggBossTamil6

— YoursMini (@YoursMini) January 19, 2023
View this post on Instagram
As of now, Myna, Shivin, Azeem and Vikraman are the four contestants who are competing for the trophy. Kamal Haasan is expected to announce the winner in a couple of days.