The highly anticipated Saturday's episode of Kamal Haasan streamed and it can be declared as one of the best weekend episodes in BIGG BOSS history. BIGG BOSS viewers in social media were mentioning the official twitter id of Kamal Haasan by asking him to do justice to the Cheran issue.
[wp_ad_camp_1]
With his very own sarcasm and of course with responsibility, the actor ripped Meera Mithun apart for accusing  person like Cheran. He started with Meera Mithun by asking her what really happened. When she said her story, Kamal to the audience said it is a mere "Icon Bashing". Later he tried to explain to Meera about the causes of her accusation. Kamal also wondered on the fact of Meera continuing the accusation till yesterday without realizing the consequences she is going to face.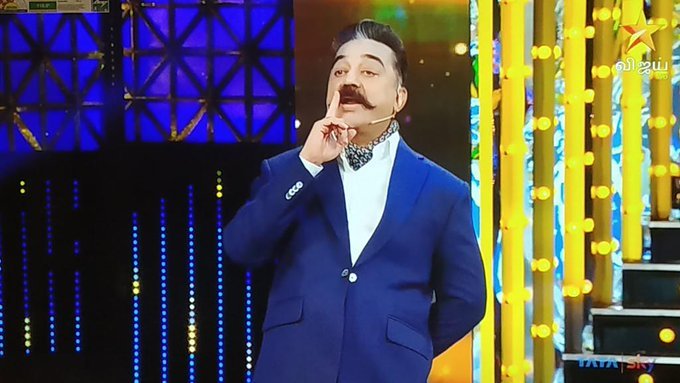 At one point Kamal Haasan, who got enough of her words, asked Meera to recreate it. She did it by demonstrating the incident with Sandy. Kamal Haasan, right away ordered for a "Kurumpadam" of the entire incident which went in favour of Cheran.
It all started when Meera started to accuse Cheran in front of everyone for physical harassment. Saravanan who has opinion difference with Cheran from the first day, came in to defend the veteran director at first. "In a game it is usual for such things to happen, you don't have to make an issue out of it in front of everyone" he said. As the argument took to next level, Cheran left the place and removed his mic.
[wp_ad_camp_1]
At one point Cheran broke down and worried by thinking the future of his daughters. As soon as watching it, not only the crowd, even the contestants started laughing. Every female contestant inside the house said that it has been exaggerated by Meera unnecessarily. As a result of thursday's episode, Cheran garnered highest number of votes and save among the 6 nominated contestants.
Now it has been revealed that Meera Mithun got eliminated from the BIGG BOSS house. For her hypocritical statements and blatant lies, Meera Mithun confronted with almost everyone inside the house. Starting from Cheran to Dharshan, Meera involved in verbal spats for no proper reason. She even questioned Losliya for striking her picture infront of Kamal Haasan.
Source : Bad Boss
[wp_ad_camp_1]
Meera Mitun, is an Indian film actress, super model and beauty pageant titleholder who works predominantly in Tamil films. She won the title of Miss South India in 2016. She made her film debut in Sri Ganesh's 8 Thottakkal. She also played role as Kalaiyarasan's wife in Surya's Thaana Searntha Kootam.
What do you think on Meera Mithun getting eliminated from the reality show ?? Comment your views below !!