JUST IN : Suriya Released Press Note Regarding His Wife's Speech !!
Written by Dhiwaharan Published on Apr 28, 2020 | 17:04 PM IST | 105
Follow Us
Comments: 0
Actor Suriya opened for the first time regarding the controversy that is taking place in social media for the past three days. Even since the video clipping of Jyothika's speech in JFW award function surfaced in Twitter, it is being a subject to debate among two different set of people in social media platforms. Producer S.R Prabhu, a close relative of Suriya's family posted a tweet on 24th of April, in a way of replying to those who are spreading hatred against Jyothika. Now, actor Suriya himself has released a press note addressing the issue, on behalf of his wife.
"A speech made by Jyothika long ago in an award function, has turned out to be a news and subjected to online debates"
"Many are finding flaws and equating the statement made by Jyothika as a crime. In her speech she asked everyone to respect schools and government in the same way they are respecting Temples. The same was quoted by Spiritual leader Swami Vivekananda. "Helping people is nothing but an offertory paid to God" is a belief since "Thirumoolar" times. There is no chance for People who didn't read or listen to those legends to know about it.
"People belong to all the religions are accepting that schools and hospitals should be considered as God's living place. The immense support we are getting even amidst this Corona crisis makes up happy and gives us confident"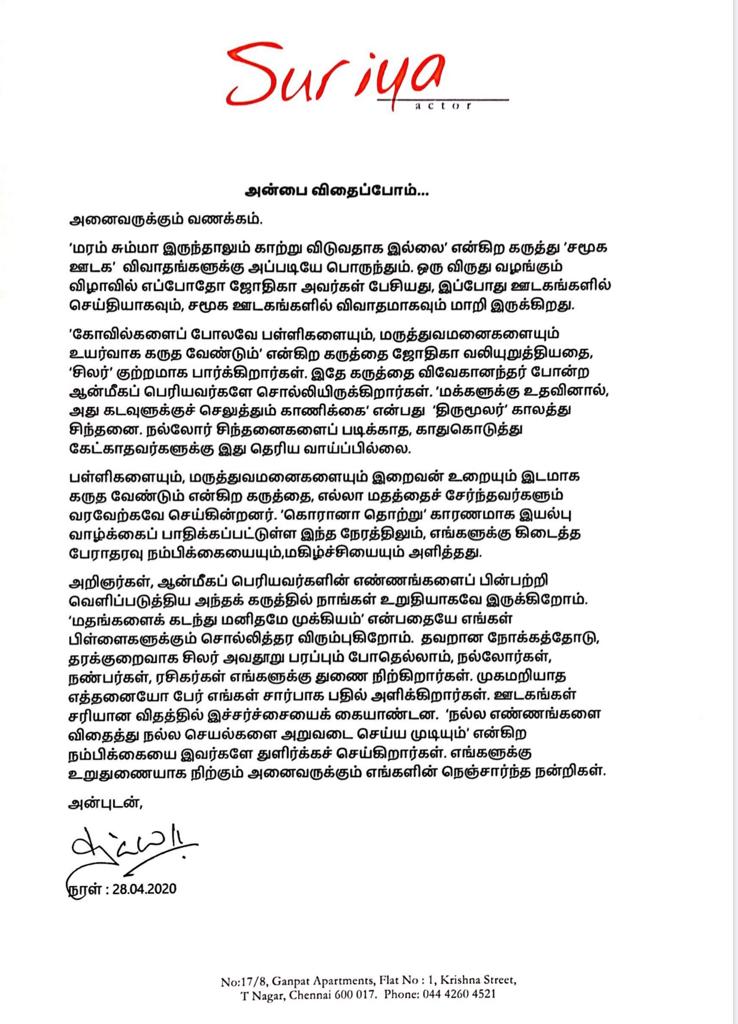 "We are still standing by the statement we made which was an outcome of the thoughts of scholars and philosophers. We love to teach our children that humanity is important more than religions. Whenever few intend to spread hatred against us, friends, fans and good hearted people are backing us. People whom we don't know personally are answering on behalf of us. Media handled this controversy in a right way. This proved that one can receive good deeds by having a good intention. My hearty Thanks to those who stood by us" Suriya's statement read.
Check out his tweet here :
#அன்பைவிதைப்போம் #SpreadLove pic.twitter.com/qjOlh8tHtV

— Suriya Sivakumar (@Suriya_offl) April 28, 2020
This statement from Suriya surfaced after so many people tried to accuse Jyothika for abusing Hindu religion. After receiving an award from actress Simran for acting in "Ratchasi", Jyothika explained her experience while shooting for her film in Thanjavur. In her speech, Jyothika said that people asked her to visit Brihadishwara temple before leaving the town. "They asked me not to miss witnessing the grandeur of the temple. I have already went there. It was so beautiful that their maintenance is on par with the palace in Udaipur. Next day my shooting was in a hospital. It was very badly maintained and I couldn't put words to what I saw in the hospital. My request is, people are spending lots of money in maintaining a temple and paying lot of money to temples as devotees. Please spend the same amount of money in building schools and hospitals." said Jyothika amidst the loud applause of people from the auditorium.
• Temple's Are Maintained Like Palace. But I Couldn't Tell How Bad Hospital Was , During The Shoot Of My Film. As We Told In Film #Ratchasi Just Like We Donate To Temple We Must Donate To Schools & Hospitals – #Jyothika | pic.twitter.com/KCuUZn33Vi

— BHUVAN SURIYA💥ˢᵒᵒʳᵃʳᵃⁱ ᵖᵒᵗᵗʳᵘ (@BHUVAN_SURIYA) April 22, 2020
"I felt so bad and I haven't went to the temple. After seeing the state of the hospital, I didn't go to the temple. Hospitals and Schools are as important as temples" the actress added.