JUST IN : Seeman Raised Voice For Vijay
By Dhiwaharan
Director cum Politician Seeman who is running a party named "Naam Tamizhar" came up with a press release supporting actor Vijay regarding the recent controversy that emerged against him based on the tax exemption he proposed for his imported Rolls Royce Ghost in the year 2012. Seeman, in his press note, referred to a popular lyric from the actor's film and encouraged him to be strong. He said that the right wing supporters and party members are spewing hatred against the actor as he raised voice against the BJP government through his films and public events.
[wp_ad_camp_1]
Seeman, in his press note said that the judgement of Madras High court is only for the petition he filed seeking tax exemption in the year 2012 and added that he didn't commit any tax evasion. "But ever since the judgement arrived, right wing supporters are attacking him by portraying the situation as if he had evaded paying tax" Seeman said in his press release.
Seeman also mentioned about the IT raid that took place at his house last year and said that it was conducted to terrorize the actor. "No case was initiated against him for evading tax and no documents were release proving that he committed tax evasion. The whole country knows that the IT raid was conducted to threaten him and to make him not to speak against the Modi government in his movies" Seeman said. "It was completely intended to ruin his reputation and to make him shut" he added.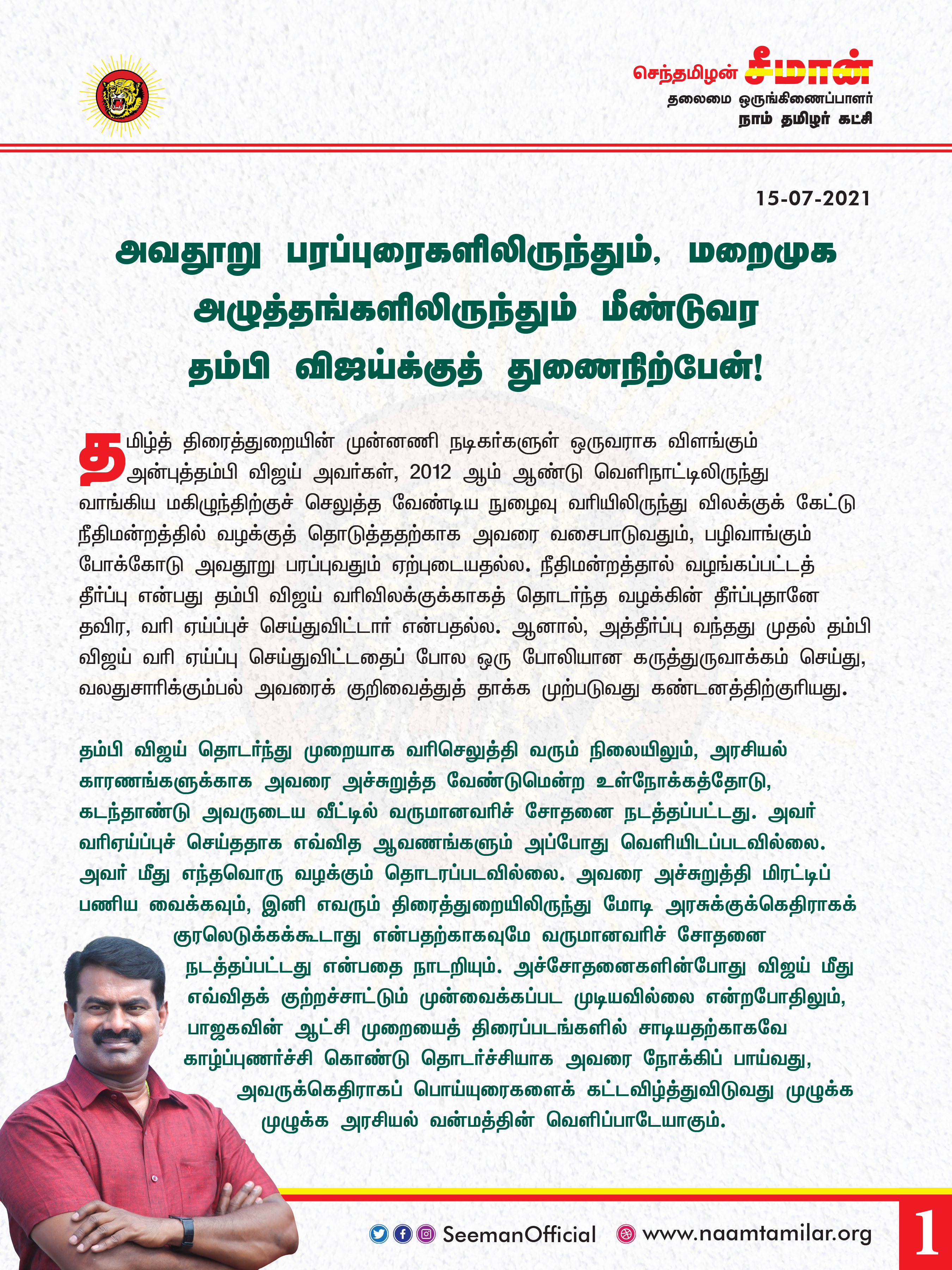 [wp_ad_camp_1]
"Nothing wrong in approaching court after feeling that the tax amount demanded to him for a product he bought is excess. Every citizen of the country has the rights to approach court to get justice. Brother Vijay had did the same. He got the rights to accept the judgement or to appeal as well" said Seeman and mentioned about how government offered tax exemption for Sachin Tendulkar's Ferrari in the past.
Further, in his press note, Seeman talked about how government is hurting people in the name of tax. "This is not a problem of an individual named Vijay. The tax polity and rules of this country is flawed. It should not exploit the poor" Seeman said.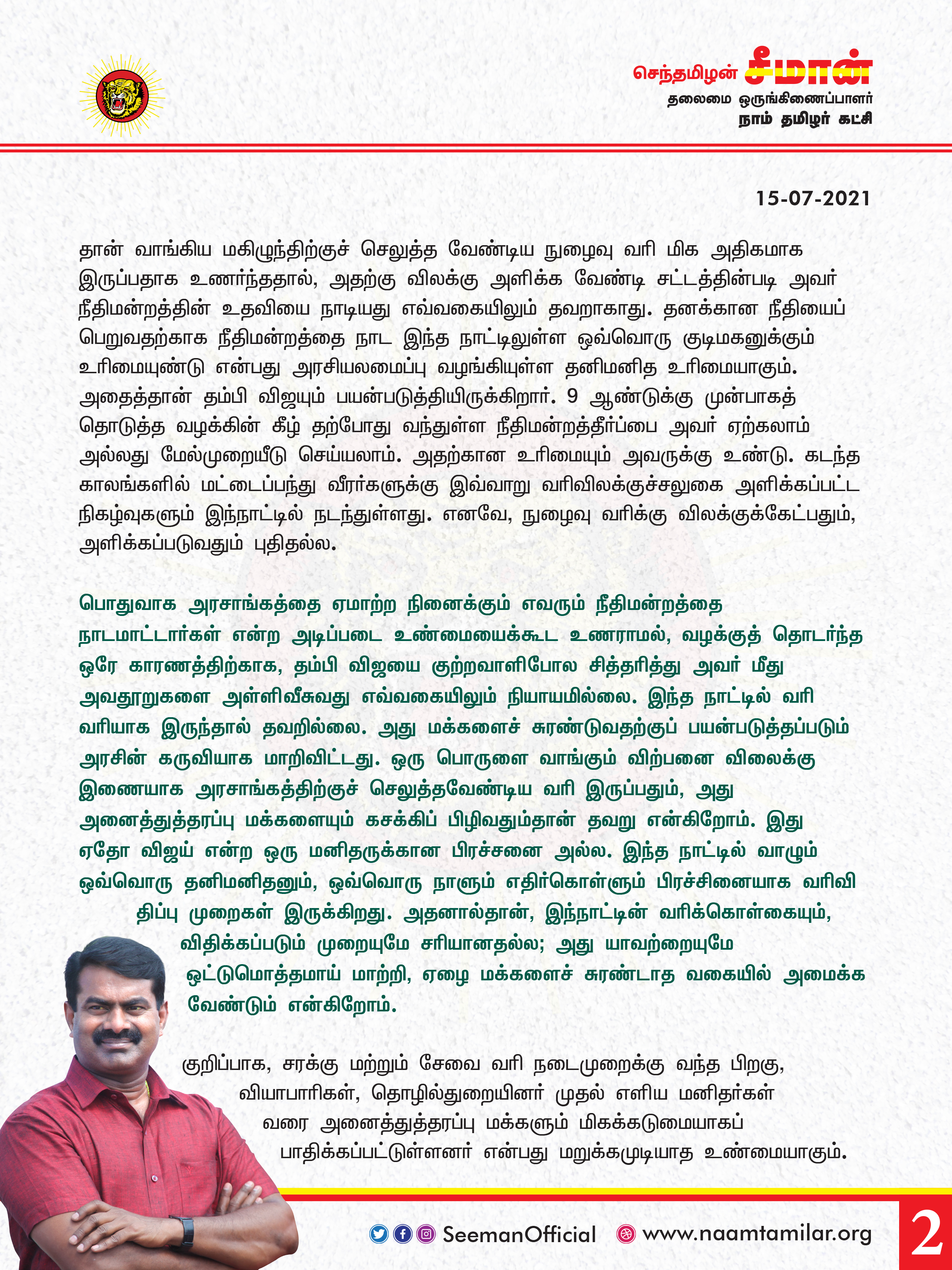 The politician also referred to a kid named Mithra from Namakkal who was suffering from a rare disease. "For her treatment, Rs. 16 crore was needed and people from across the globe donated money to save her through the hard work of her parents. But, to import the medicines, Indian government demanded Rs. 6 crore more as tax. Even to save a life, we have to pay Rs. 6 crore for Rs. 16 crore product. Where is our country headed ?" he questioned.
He further questioned about how Lalitha Modi and Vijay Mallaya were spared by the government. "Where would the people who are condemning Vijay for seeking tax exemption go when Vijay Mallaya and Lalith Modi escaped the nation. What criticisms were kept on the Modi government which merely watched them escape ?" he asked and added a "Thirukkural" of Thiruvalluvar to express his emotion.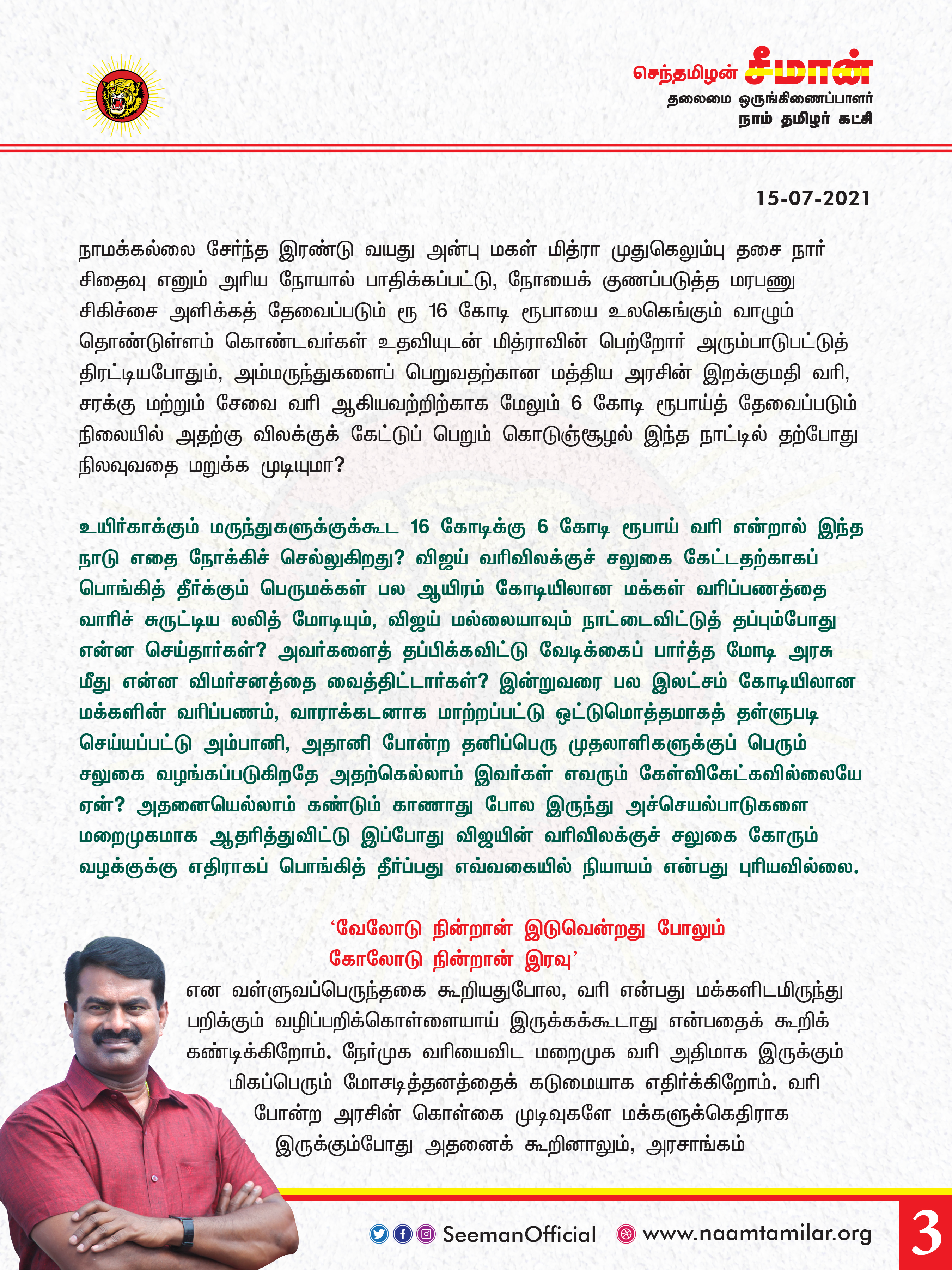 Seeman concluded his press note by saying that the ruling government in the centre targets Vijay only for voicing against it through his movies. "It is really cheap to revenge him by using the current situation for the opinions he stated against the central government through his movies." said Seeman and extended his support for the actor. He also ended his note by adding a popular lyrics from "Singapenne" song of "Bigil" to encourage the actor.
[wp_ad_camp_1]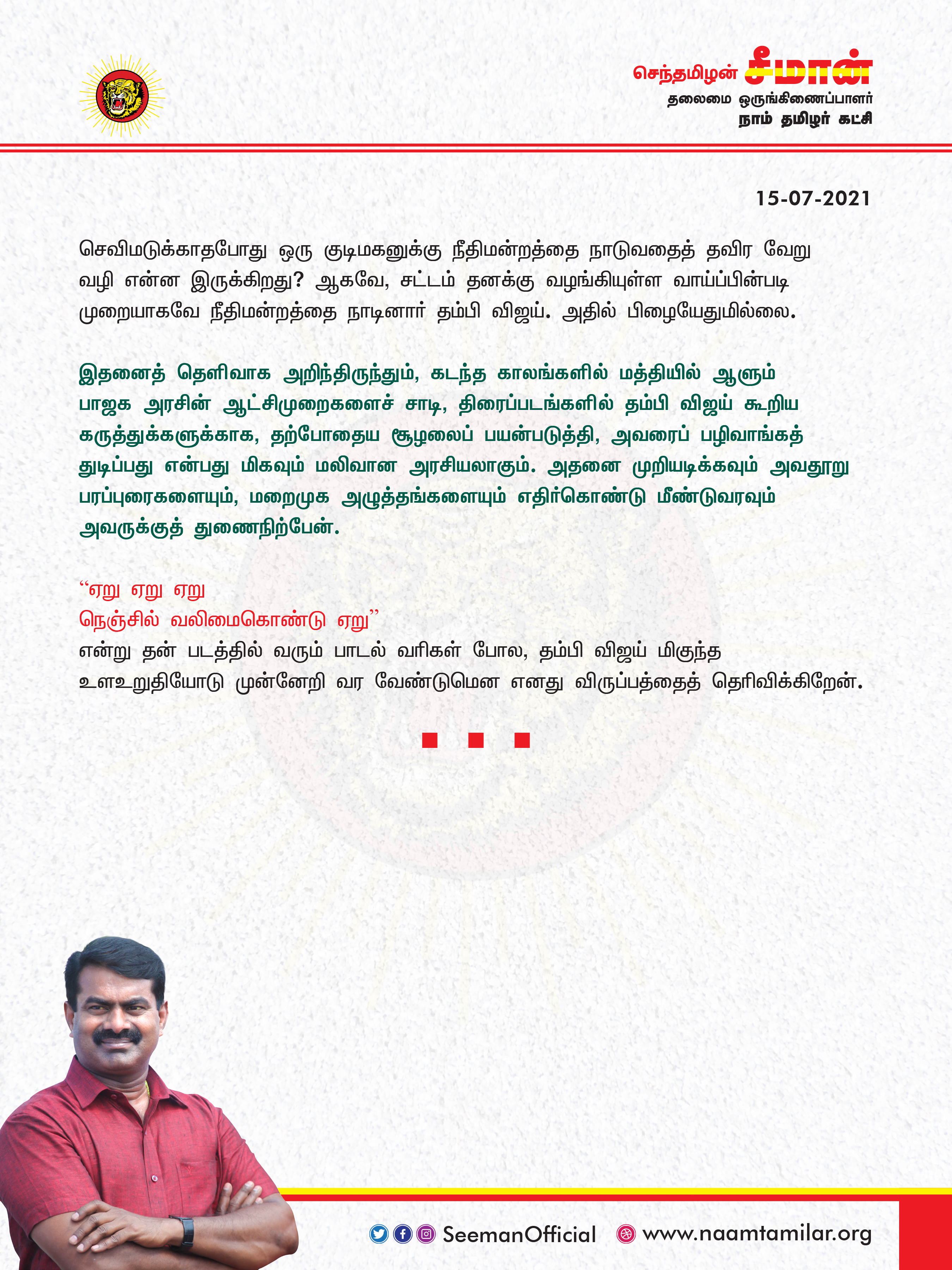 Here's the tweet Seeman added supporting the actor :
அன்புத்தம்பி விஜய்!

அஞ்சுவதும் அடிபணிவதும் தமிழர் பரம்பரைக்கே கிடையாது!

துணிந்து நில்!

இது அவதூறுதானே ஒழிய, குற்றம் இல்லை!

தொடர்ந்து செல்!

"ஏறு ஏறு ஏறு
நெஞ்சில் வலிமைகொண்டு ஏறு"
என்று உன் படத்தில் வரும் பாடல் வரிகள் போல மிகுந்த உளஉறுதியோடு முன்னேறி வா தம்பி! @actorvijay pic.twitter.com/0Ooa7lp2pm

— சீமான் (@SeemanOfficial) July 15, 2021