JUST IN : Danny Secretly Married His Girlfriend As Soon As Coming Out Of Bigg Boss !!
Written by Dhiwaharan Published on Sep 03, 2018 | 00:09 AM IST | 107
Follow Us
Comments: 0
The Sunday's episode of Bigg Boss season 2 began with Kamal Haasan getting straight to the point – this week's eviction. The host, however, did not give away the name immediately. He made Balaji, Janani and Daniel participate in a few tasks before he revealed the name of the contestant who would be leaving the house.
[wp_ad_camp_1]
Firstly, he had Balaji, Janani and Daniel pick through a case of eggs. It is announced that the contestant who finds a green egg will make it to the protected zone. After tense moments, Balaji gets a green egg and was told that he was in the safe zone. Then Daniel and Janani were locked in a box. The housemates expected that the person whose box could be unlocked first would be safe. Senrayan finds the key to unlock Daniel's box, but Kamal threw a twist here and said that Daniel would be the one to leave the show this week.
Daniel is not too worried and is in fact excited to leave the house. He left the house after going on his knees in front of Mumtaz, who blessed him. He then joined Kamal on the stage and was asked to match appropriate adjectives to each contestant in the house. As Daniel matched each word, the contestants in the house watched what he had to say about each person. They are shocked to hear what Daniel has revealed on stage and when he is about to bid his goodbyes, they tell him that they watched everything. Daniel, however, doesn't take it too seriously and wishes everyone all the best.
[wp_ad_camp_1]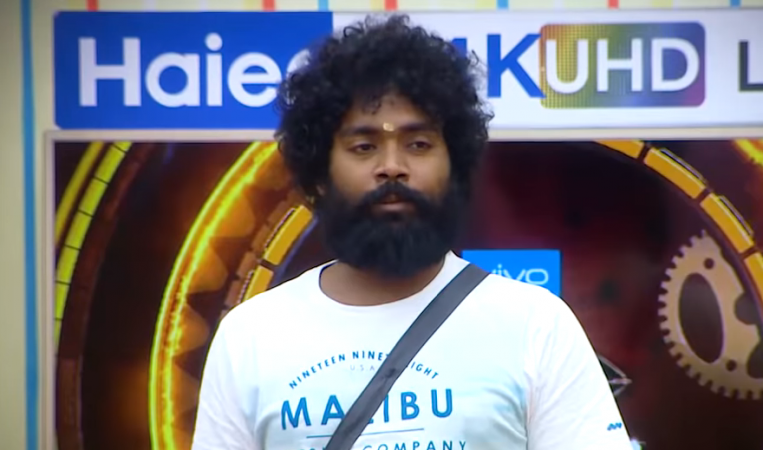 After Kamal says bye, the housemates discussed what Daniel had revealed on the show and also wondered how he is any different from Mahat who left the show last week. They also point out how he was mean for leaving the side of Yaashika and Aishwarya, who happened to be the two contestants that supported him from the beginning.
To our surprise he married his girlfriend today morning. We have witnessed the depth of their love in the past episode where the contestants family visited the Bigg Boss house. They shared lot of love kisses on air and she gave him some advises to survive in the house as well.
[wp_ad_camp_1]
He married his girlfriend named Denisha, this morning (Sept 3). This marriage took place in a register office, with the support of the couple's friends and well wishers. This news has come as a very pleasant surprise for everyone.
He took to his Instagram space to share pictures from the event. He posted, "I am extremely happy to introduce to all of you my beautiful kuttu as my wife Mrs. Denisha Daniel. We had a small register marriage . I was unable to share this beautiful moment of our life with you guys until now due to some family issues.
We seek your well wishes and blessings as we start with our beautiful journey as husband and wife. ❤🙏🏻🤗❤ #happily married #husbandandwife #weddingbells #familylife #biggbosstamil #vijaytv #thanks #need #blessings @tamil_bigboss #nomore #bachelor"
Check out his instagram post here :
 Well, let us wish them all success for their newly married life. Comment your wishes for the young couple.