Followed by Boney Kapoor's tweet on "Valimai" update, an official press release from the desk of actor Ajith himself has released and he requested his fans to behave through it. The press release surfaced in twitter after videos on fans asking "Valimai" update to Prime minister Narendra Modi and to cricket players in Chepauk stadium.
[wp_ad_camp_1]
Since the release of Ajith kumar's "Nerkonda Parvai", fans of actor Ajith didn't see a single release. The film got released on 8th of August 2019 and did good in the box office. However, the limited number of action sequences that took place in the court room drama made fans to crave for the next film of him. It was announced that director H. Vinoth is going to direct Ajith again and fans became happy as the filmmaker is known for his intriguing narratives in his films.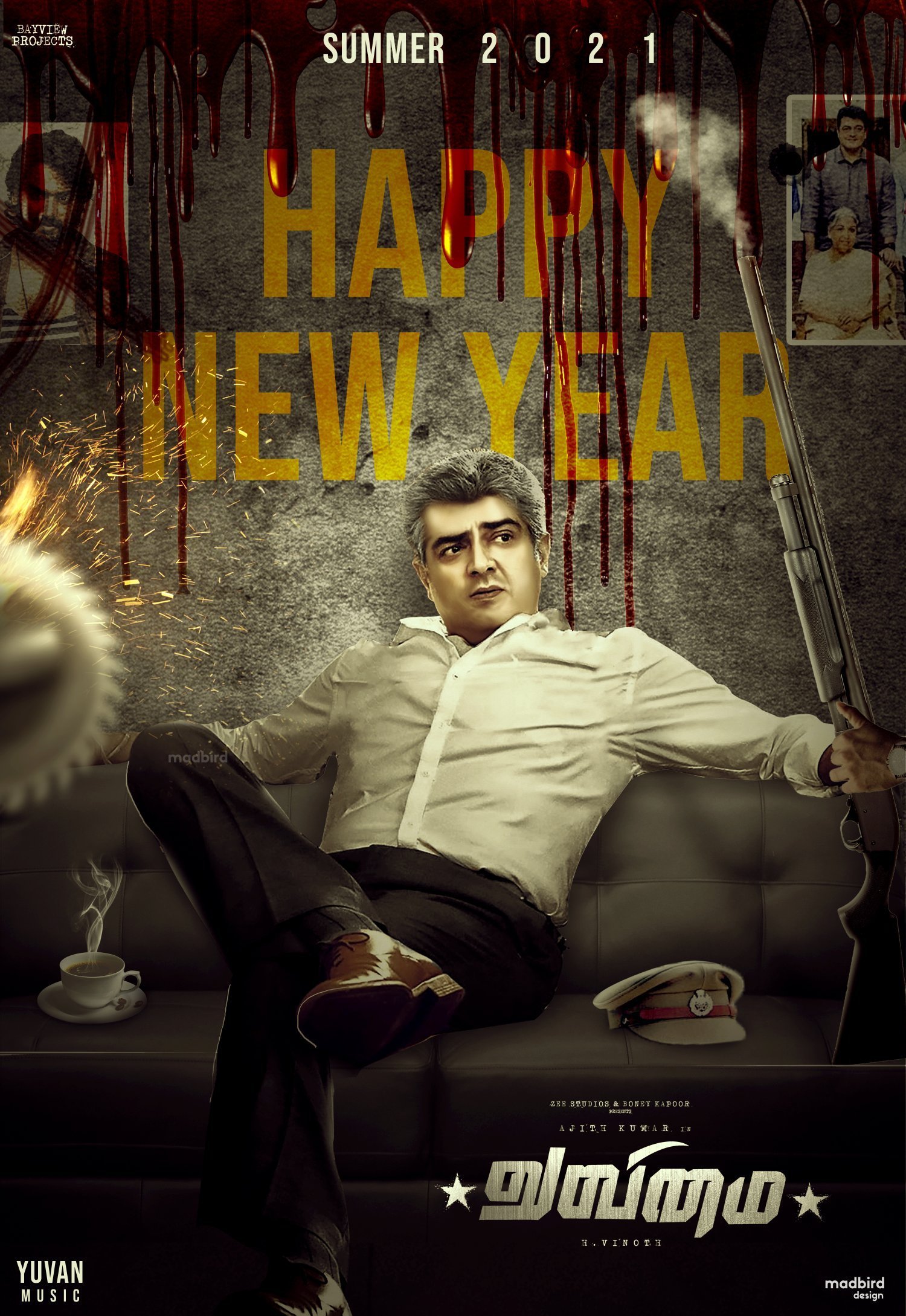 Titled as "Valimai", the film is being produced by Boney Kapoor under his production manner "Boney Kapoor production". Principal photography of "Valimai" began on 13 December 2019 at Hyderabad. Unfortunately, shooting of the film was suspended in March 2020 due to the COVID-19 pandemic, but resumed in September. It was reported that Valimai is going to get released by the third week of November 2020 coinciding with Diwali. However, the release has been delayed indefinitely due to the COVID-19 pandemic.
Fans of the actor who are eagerly waiting for the release of the film got extremely upset and requesting for a trailer or teaser update from the film crew. They could be seen expressing their emotions in the comment section of every tweet of the producer. They also kept asking update from the makers by trending hashtags in the micro blogging social media platforms in a constant manner.
Acclaimed celebrities and sports personalities started receiving "Valimai Update" tweets from the fans of Ajith kumar. Recently, when Prime minister Narendra Modi made a visit to Chennai, fans asked "Valimai" update to him as well and it is notable that they made similar demand to Tamil nadu chief minister Edappadi K Pazhaniswamy.
This is Pure Crazeeeeeee 🔥

Finally Fans asking #ValimaiUpdate To Honourable PM @narendramodi when he Visited Chennai Yesterday 😊

The Most Wanted News and Talk of the Town is THALA AJITHs VALIMAI Movie Update's

Hope it strikes Us Very Soon 🤗#Valimai pic.twitter.com/U7o9WpvIzN

— AJITHKUMAR FANS CLUB (@ThalaAjith_FC) February 15, 2021
[wp_ad_camp_1]
In Chennai Chepauk cricket stadium where the second test between India and England is being progressed, fans asked "Valimai update" to English all rounder Moeen Ali and carriied placard demanding the same.
Guess what are #Ajith fans asking #MoenAli about @BoneyKapoor's #Valimai? 😎😎😎 pic.twitter.com/u13WeHXQ75

— Joginder Tuteja (@Tutejajoginder) February 13, 2021
Now, reacting to these videos, actor Ajith kumar released a press note through his manager Suresh Chandra. Starting the note with a warm greeting to his fans, Ajith kumar said that it worries him to see people who identifies themselves as his fans demanding "Valimai" update in government, political and sports events.
"As I earlier said, the updates will arrive during appropriate time and I would decide after co-ordinating it with my producer. Till that, I want you to be patient. For you cinema is an entertainment whereas it acts as my main occupation. The decisions I make are based on my occupation and social wellness. It is our behaviour which would increase the respect for us in the society" Ajith Kumar's press release read.
The actor further asked his fans to maintain dignity in social media platforms and in public places. "I believe that people who truly love me would realize what I said and act accordingly" he concluded his note.
[wp_ad_camp_1]
Here's the press note :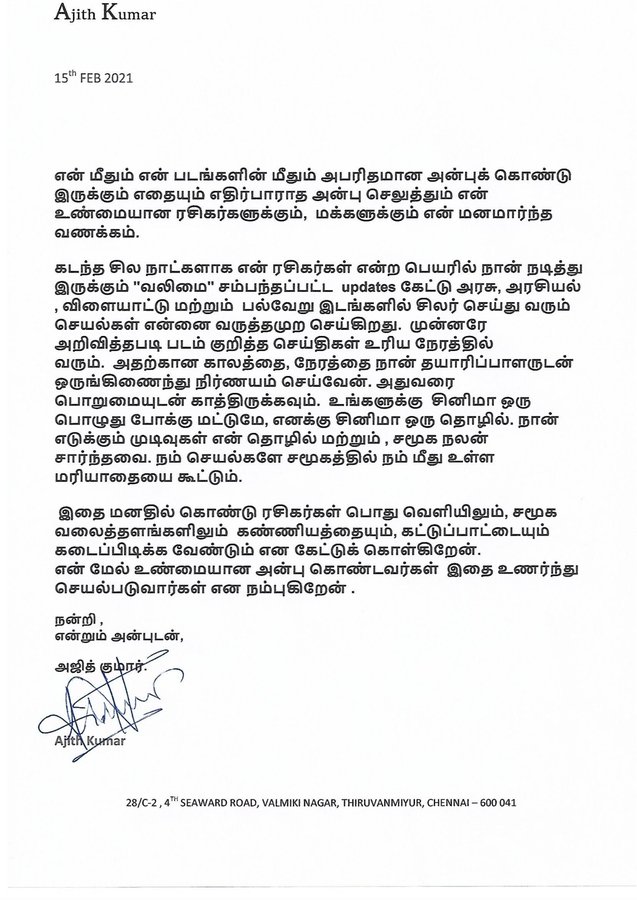 Earlier, Boney Kapoor, came up with a tweet addressing the fans of actor Ajith kumar. "Wanakam. Humbled by your love towards our film "Valimai". Bear with us as we work on presenting the First look soon. It's in the best interests of the film. #Valimai #ValimaiUpdate #AjithKumar" read the tweet of the producer.
Wanakam. Humbled by your love towards our film "Valimai". Bear with us as we work on presenting the First look soon. It's in the best interests of the film. #Valimai #ValimaiUpdate #AjithKumar

— Boney Kapoor (@BoneyKapoor) February 15, 2021