JUST IN : Abhirami's Video Reply To Madhumitha's "Dress Code" Accusation !! WATCH VIDEO !!
Written by Dhiwaharan Published on Sep 10, 2019 | 01:29 AM IST | 91
Follow Us
Comments: 0
Abhirami was very much expected to give a direct reply on Madhumitha's allegation who said that 8 housemates harassed her and she was compelled to get out of the house for expressing her opinion. Adding to that she also said that Abhirami went against Tamil culture in various occasions while being inside the Bigg Boss house.
[wp_ad_camp_1]
As many social media users and followers of Abhirami stormed into the comment sections of Abhirami Venkatachalam's instagram posts to question about the allegations of Madhumitha, she has finally gave a direct statement regarding Madhumitha's interview by posting videos in the stories of her official Instagram account.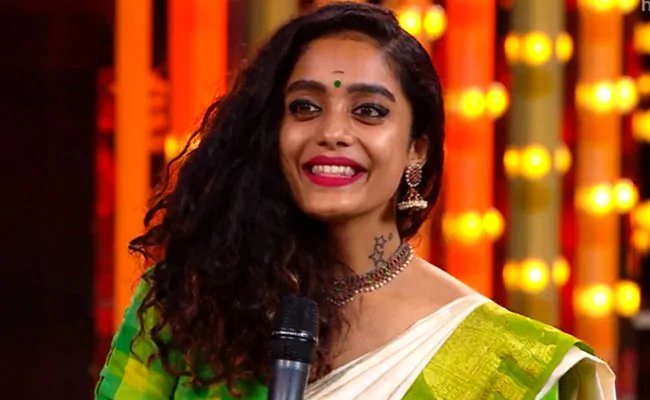 "So many of you have so many of questions and doubts it seems, But let my friends come out of the house. I am waiting for the finale of Bigg Boss to end. You guys will have a treat" said Abhirami in her story.
#Abhirami #Madhumitha#BiggBossTamil3
Abhirami gives back !! pic.twitter.com/9lY5T5uQ9x

— Unknown (@Mysteri13472103) September 10, 2019
September 10, 2019
"So let them come. After their arrival, we all could talk." she added. In her other stories, she was seen donning the T-shirt with "We are the Boys" wordings and said that it was gifted by Sandy. She also asked her followers to support the gang as they are lovely. She also stated that they are good as people.
September 10, 2019
September 10, 2019
This clearly indicates that Abhirami is very much taking the side of "Boys Gang" which was accused by Madhumitha for "Gang Harassment". "If self destruction leads to termination, Abhirami hurted herself on the day she had that problem for having Mugen's bottle baby. Mugen damaged the property of Bigg Boss house which is should also lead to termination. Why me alone?" asked Madhumitha in the interview.
[wp_ad_camp_1]
While talking about one of a female contestant, Madhumitha says that she avoided wearing inner wears in the evening times. "After 4 days, me and Vanitha warned her not to do that. But it continued to happen." said Madhumitha who now revealed that she is talking about Abhirami Venkatachalam.
All you idiots supporting Madhumitha and calling her a champion of women rights, and a lady who fought against toxic masculinity, please listen to this talk and decide for yourself. This is why I've been saying that Madhumitha is slutshaming contestants. #Biggbosstamil3 pic.twitter.com/VdMOSlZfLb

— Mr.பழுவேட்டரையர் (@mrpaluvets) September 9, 2019
"She started loving Kavin initially, after his rejection she transferred her love on Mugen the next day and gives birth to bottle baby on the 6th day. It disturbed me a lot while being inside the house which made me to confront against her.
[wp_ad_camp_1]
She clearly said that she has been harassed by the gang which consists of 8 members on that day of the incident happened. "Even after cutting my hand, no one cared" said Madhumitha. She thrashed the contestants for their behaviour on that day and expressed her gratitude for Cheran and Kasthuri.
What do you think on this video of Abhirami ??Comment your views below !!