Julie Released The Teaser Of Her Upcoming Film "AMMAN THAAYE" !! Fans Went ROFL & Trolled !!
By Dhiwaharan
It is a known fact that Jallikattu and Bigg Boss sensation Julie is playing the lead in the film, 'Amman Thayee', a film based on the said Goddess. Debutant Anbu plays the male lead.
[wp_ad_camp_1]
The social activist turned actress speaks to DC as to how she was initially apprehensive to play the Hindu goddess role while she is a Christian and how she turned a vegetarian for the whole of three months of the shoot and about her preparations for the role.
"Though I am the lead female in the movie, there's a transformation at a certain stage where I need to take Amman avatar. So, I was hesitant to accept the role of a Hindu deity when the makers approached me. Would I do justice to the role, I asked myself. But, the directors convinced me and took the look test. After I saw the pictures of me sporting 'Amman', I was convinced that I can pull it off," says Julie.
Julie also prepared herself to learn the Hindu traditions and culture, the body language to be followed, etc. "Having accepted, I wanted to give my 100 percent. I even fasted during the days when I shot for Amman portions. I also learnt the ways people worship gods etc. It was a mind-blowing experience (smiles)".
[wp_ad_camp_1]
Julie's cooperation for the climax song where the goddess annihilates the evil villain was enormous, claims the director duo of Maheshwaran and Chandrahasan. "It's a ferocious dance and Julie took training from the master, rehearsed and then performed it."
The movie has extensive CG work, and was shot in Vadakkampatti in Madurai and Bhairavakona, a holy place in Andhra.  Anbu, a VJ, debuts as the hero and Charan plays the villain.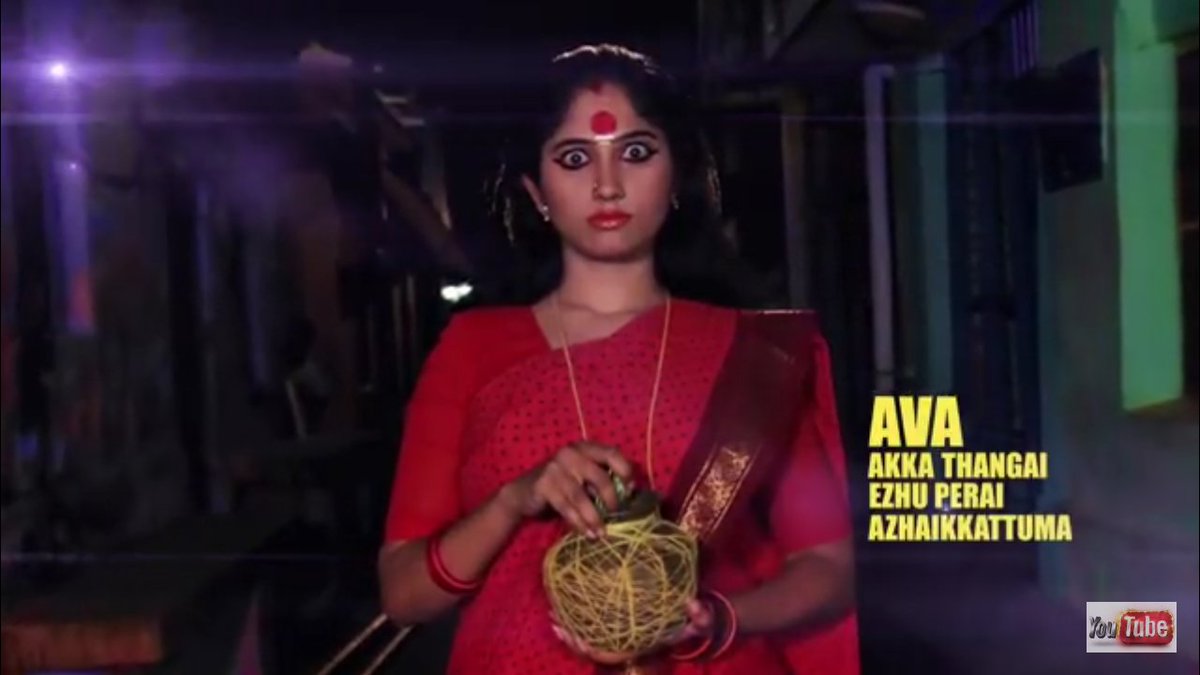 Bankrolled by Kesav Productions and RA Thamizhan Productions, Amman Thayee is directted by Mageshwaran and Chandrahasan.
[wp_ad_camp_1]
Meanwhile, Julie also has two other films in her kitty, i.e., Dr Anitha MBBS, and Uththami. Here's the teaser of the film :
On seeing the teaser fans literally laughed at it. Chaeck out some of the main comments that took place in Julie's comment section:
hahahahahahaahahahahahahahhhhahahahahahahahaha vandhutom da ini evanavadhu vandhu parungada katti thalaikeela thonga vidura

— sriram (@Srammad) September 19, 2018
Itu pattutu ettana nal neya taniya poi sirichu irupa

— Manoj vm (@manojvm00) September 19, 2018
என் தலைவியின் முதல் படம் வெற்றி பெற…வாழ்த்துக்கள் ….தலைவி ஜூலி

— நான் எனக்கானவன்..💔💔 (@Nathan92e) September 19, 2018
இந்த படத்துல காமெடி ரோல் பண்ற போல🤔 லாஸ்ட் சீன் செம காமெடி விழுந்து விழுந்து சிரிச்சேன்😂😂😂

— 😎Mr.G🔫 (@G2_twits) September 19, 2018
Dey ennangada ithu.. innum ennalam pakaporano 😣😣😣😣

— Viga 💖 Oviya (@Gobinishagmail2) September 19, 2018
வாவ் 😍😍😍😍😍 என்னா அழகா இருக்கீங்க

— Kαииαи Kя (@krrkannan94) September 19, 2018
என்ன ஒரு கென்றாவியான teaser

— பிரபாத் (@prabath_views) September 19, 2018
இந்த மூஞ்சிக்குலாம் வீடியோ கேமரா வேணானு, மொபைல் கேமராலயே படத்து எடுத்து வச்சிருக்கானுங்க 😂😂😂

— செலிபிரேட்டி செல்வா வாரியர்ஸ் (@ActorselvaFansC) September 19, 2018
1000 கோடி அவதார் படத்தையே மிஞ்சுற அளவுக்கு இருக்கு.. இத பாத்துட்டு எத்தன பேரு சாக போறாங்களோ…

— Fawmy Samad ® (@Fawmy) September 19, 2018
யாரு பெத்த புள்ளையோ புரோடியுசர் வச்சி செஞ்சிட்டாங்க…எந்த கோவிலோ😢

— ஷரண் (@Charan_Cristy) September 19, 2018
— praveen (@praviyn_01) September 19, 2018
Sathyama flop thaan

— Mersal karthi (@Remokarthi5) September 19, 2018
அய்யோ ஆத்தா நீ 5ருபாய் குடுத்தா பத்து ருபாய்கு நடிப்ப

— Mohi (@mohideenjmm) September 19, 2018
உனக்கு வெக்கமே இல்லையா டி எவ்வளவு தான் உன்ன அசிங்கமா திட்டுறது

— Afzal தமிழன் (@Afzal59494991) September 19, 2018
Yemma ithellam short film ah kooda yosika mudiyala new eppadi MA ippadi oru film ku othukitta

— Mithu (@Mithu46448894) September 19, 2018
காலக்கொடுமை😤

— Vedalam Aravind (@vedalam_ngl) September 19, 2018
like97, dislike 300 😂😂😂😂😂 அப்போ படம் வந்தா????

— ☀☀ஜண்டா☀☀ (@KANNANMUTHU11) September 19, 2018
எதும் ஷார்ட்பிலிமா தோழி

— sakthi (@imsakthi1) September 19, 2018
பேசாம டைட்டிலை அம்மா தாயின்னு வச்சிருக்கலாம்..இனி தயாரிப்பாளர் நிலமை அதான்

— Thala Rasigan😎😎💪 (@Mhrj20) September 19, 2018
What do you think on the trailer ?? comment below !!