Abdul Basit, the former High Commissioner of Pakistan to India, on Monday, made an embarrassing goof-up in an attempt to convince the public that the Kashmiris on the other side of the Line of Control were being shot down by pellet guns.
[wp_ad_camp_1]
The picture that he tweeted was that of popular adult film industry actor and YouTuber Johnny Sins.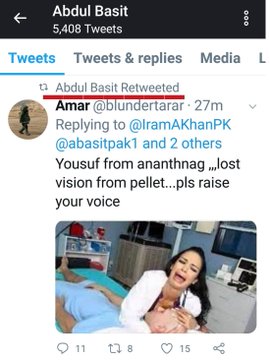 Netizens, of course, did not let go of the opportunity to create memes out of this faux pas after Pakistan-based journalist Naila Inayat published screenshots of the post from her account.
Former Pakistani high commissioner to India Abdul Basit, mistakes Johnny Sins for a Kashmiri man who lost vision from pellet. Unreal times these, really. pic.twitter.com/9h1X8V8TKF

— Naila Inayat नायला इनायत (@nailainayat) September 2, 2019
Now. in a way of adding fuel to this, Johnny Sins himself reacted to this bizarre in a hilarious way. He thanked Abdul Basit for the new twitter followers who started following him after this . He also made sure that his vision are good.
[wp_ad_camp_1]
In the tweet, Johnny wrote "Shout out to @abasitpak1 for all the new twitter followers! Thanks but my vision is fine😂😂"
Shout out to @abasitpak1 for all the new twitter followers! Thanks but my vision is fine😂😂 https://t.co/Rk4QdiGBlq

— Johnny Sins (@JohnnySins) September 3, 2019
Check out some of the reactions for this post of Johnny sins :
international insult 😂😂

— मुकेश पाल مکیش پال۔ (@mukeshp41468273) September 3, 2019
It is nice to hear that you are fine. @JohnnySins . @abasitpak1 was worried about your health. 😂😂

— KaMal KuMaR (@KamalAs13256) September 3, 2019
From now you are a RAW agent 😂😂😂#PKMKB

— THANOS (@TitanKaThanos) September 3, 2019
..Johnny jii I am the one who fooled this brain less Pakistani….hope you enjoyed the fun… May god bless you &long live… pic.twitter.com/tMNYIcdKnJ

— Amar (@blundertarar) September 3, 2019
Can you request brazzers to provide a month of free access to pakistani's for educational purpose. It seems they really need it.

— HMP Cracked Clown (@fingerincrimson) September 3, 2019
I don't think we need guns or armour. Johnny is enough to destroy Pakistan 😹

— GodOfThunder (@TheGuyYouWant1) September 3, 2019
That awkward moment , when a j!h@adi Ed ambassador , gets a mention from a p0rnst@r.

— Paid_Media (@PaidMedia_007) September 3, 2019
Johnny Sins, now f*cking Pakistanis with his tweets…

😂😂🤣🤣😝😝😝😝😝😝😝

— सस्ते नशे का व्यापारी👨🏻‍⚖ (@ThePaapii) September 3, 2019
However, Basit later deleted the tweet from his timeline. This is not the first time Pakistanis have indulged in such goof-ups.
[wp_ad_camp_1]
Ever since the Government of India announced its decision to abrogate Article 370 which gave special status to Jammu and Kashmir, many people from Pakistan have resorted to propagating fake news.
A number of verified Twitter users from Pakistan, including politicians and journalists, have been sharing doctored, misinterpreted and old videos, and photos claiming them to be from Kashmir.