John Abraham Got Thrashed For His Comment On Acting In South Indian Movies!!
Written by Dhiwaharan Published on Apr 05, 2022 | 20:33 PM IST | 195
Follow Us
Comments: 0
During the promotion of his recently released film "Attack", Bollywood actor John Abraham made a strong statement saying that he will never do movies in regional languages just to be in the business and added that he still thinks Bollywood is at No. 1 in India. His statement didn't go well with the fans of South Indian cinema who could be seen trolling the actor after "Attack" failed to do perform well in the box office.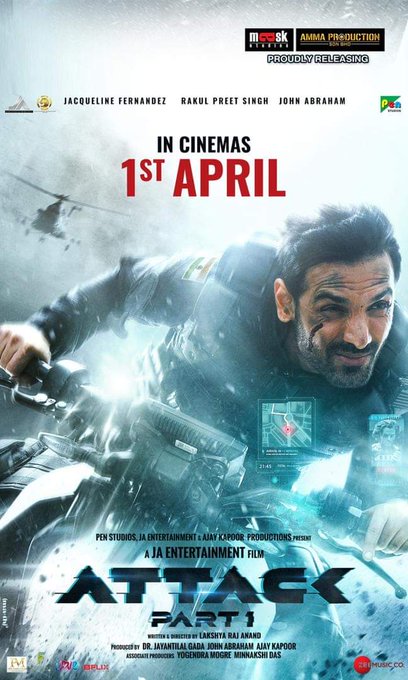 John Abhraham enjoys a separate fan following for the kind of films he is doing for Hindi audience and his extremely fit physique. Known for delivering some of the high-octane action sequences in his every film, John recently made a strong statement saying that he considers himself as a "Hindi" hero and added that he won't do Telugu or any kind of regional language movies. The actor made the statement while brushing off s rumour on himself doing a direct Telugu film.
"I will never do a regional Telugu film. I am a Hindi film Hero. I will never do a film as a second lead just to be there. I am not going to do a Telugu film or any regional film like other actors just to be in that business" the 49 year old actor said in the interview, according to reports.
View this post on Instagram
Many prominent heroes of Bollywood cinema are interested in doing movies for South Indian film industries of late. From Nawazuddin Siddiqui playing the antagonist role in "Petta" to Akshay Kumar doing the role of "Pakshi Rajan" in 2.0, the collaboration is pretty much healthy. Most Recently, Ajay Devgan took part in  Rajamouli's "RRR" and garnered overwhelming response from fans.
Apart from that, South Indian movies such as "Pushpa", "RRR" are doing well in Hindi region and many original films of Tamil cinema are being remade in Hindi. Thus, the untimely statement of John Abraham didn't go well with many of the fans which is evident through their reactions in social media platforms.
Poor performance of "Attack" in the box office added fuel to the fire as fans of South Indian film industries started trolling the actor in every possible way. Check out some of the reactions below :
நான் பாலிவுட்டில் பெரிய ஹீரோ. தென்னிந்திய படங்களில் நடிக்க வேண்டிய அவசியமில்லை என்று கெத்து காட்டிய ஜான் ஆப்ரஹாமின் அட்டாக் திரைப்படம் இந்த வாரம் வெளியாகி படுதோல்வி அடைந்தது. #JohnAbraham pic.twitter.com/qJJ4iNUlWa

— Blue Sattai Maran (@tamiltalkies) April 3, 2022
Can you touch even our debut heroes' 1st-day collection in South.?
Silly fellow.. @TheJohnAbraham

IT'S TIME FOR #ATTACK! 🦾 on #Attack#BanAttack @LakshyaRajAnand @Rakulpreet @Asli_Jacqueline @prakashraaj @jayantilalgada @MogreYogendra @minnakshidas @Sumit_Batheja pic.twitter.com/aYzCke9bLx

— శ్రీ ஸ்ரீ #BEAST (@srinath_adv) April 2, 2022
When we are marching towards the rise Indian Cinema. Then there is @TheJohnAbraham who is passing this kind of comments.We people from South has appreciated your work for films like Parmanu, Madras Cafe.We never expected this from you.#indiancinema pic.twitter.com/H3l5bza9b2

— Sai Sriram BV (@BvsSriram) March 31, 2022
Lol you talk about South cinema.
Telugu – Big budget
Malayalam – Strong content
Tamil – High action
Kanada – Unique concepts
Even if you want to act in south no one's gonna give you offer.#AttackMovie #JohnAbraham @TheJohnAbraham

— #Adipurush🏹 (@imSravankumar11) April 2, 2022
Gem of a human being @BeingSalmanKhan. Promoted #RRRMovie , 2.0 in North. Acting in chiranjeevi movie for free and now releasing #VikrantRona teaser. Bsdk @TheJohnAbraham kuch seekho inse. Its not north and south it's 'Indian' cinema. https://t.co/uR6AwFSNPC

— JK🌊ᵀʰᵒᵏᵏᵘᵏᵘⁿᵗᵘᵖᵒᵛᵃᵃˡᵉ (@JonasK36) April 1, 2022
Ayyo @TheJohnAbraham bhai #AttackMovie Utterflop…
What you said on pressmeet about south movie mind your bloody tounge Mr.Johnbhai mind it we are not at all North,south west,east we are indians mind it once again we are all indians #Indianfilmindustry pic.twitter.com/7Gttj2CFJS

— 🅱🅴🅽🅰🆁🅹🅸 🅱🅷🅰🆂🅺🅰🆁 (@benarji_bhaskar) April 3, 2022
No one cares bro @TheJohnAbraham, ur arrogance for being a Hindi hero is clearly seen. The south cinema is being dominant for the past few years, u please come to reality insecure Bollywood guy. #RRRMovie https://t.co/iRDgQSwNgI

— Naveen Kumar (@Only_Naveen) March 31, 2022
#JohnAbraham #Attack no one wants you in southern film Industry. Just be in Bollywood better for us -South Indians. Acting in movies like madras cafe shows that you are a pure disdain. Even for free of cost your movies will not be watched by us. @TheJohnAbraham

— Priya Tiger (@PriyaTiger_) April 1, 2022
While the humble South stars like #JrNTR and #Yash say "Call it Indian Cinema. We are all one" , we have pseudo actors like John Abraham who assumes b-town is mighty and above all. 😆😆😆 #Bollywood 😑😑

— Harsha (@R_H_A_R) April 1, 2022
Please 🙏 don't come to South movies if they offered 100 cr ,,we don't need six pack body ,, we need best actors to entertained us #Bollywood #bollywoodactress #bollywoodhungama #JhanviKapoor #JohnAbraham #indianmemes pic.twitter.com/S5CQ7cbDrl

— @ALWAYSABHI (@BARIGELAvijaya1) March 31, 2022